By Pat Bellinghausen
Don Taylor spent part of Tuesday morning fixing a flat tire on his combine and then cut wheat till dark on his Kolin farm, the same central Montana land his grandfather farmed. Winter wheat probably will be Taylor's only crop this year. With continued hot, dry winds and no rain, his spring wheat and malt barley "are near history," he said in a late-night telephone interview. Some of Taylor's Judith Basin County neighbors were already haying their wheat. They're feeding wheat to their cattle because there's no value in cutting the poor crop for grain.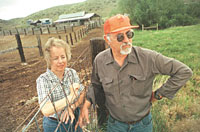 Drought is adding stress and expense to what was already a difficult situation for many Montana farmers and ranchers, said Taylor, a founder of the Campaign to Reclaim Rural America. The grass roots group has organized farm rallies to call attention to the plight of Montana farmers and to call for changes in U.S. trade and farm policies. Springs and creeks that have never run dry are dry now. He's hauling water to his cattle, something the 53-year-old farmer did last year for the first time.
"It's just so depressing," Taylor said. "It's like putting salt on a wound. Droughts are hard work. I check my cattle three times a day, sometimes more."
This is shaping up as a tough year for many Montana agriculture producers. Several years of depressed livestock and grain prices have pushed some to the brink of bankruptcy and into foreclosure on land that had been in their families for generations. The toll goes beyond financial disaster: Many rural families are dealing with a loss or possible loss of their farm lifestyle. Many have let go of the dream of passing their farm or ranch onto their kids. The agricultural crisis is taking a toll on the mental health of people who work in agriculture or depend on the ag industry for their work.
"For many farmers, the 'farm crisis' never ends so long as they are in farming," Peter G. Beeson, president of the National Association for Rural Mental Health, wrote in a newsletter last year. "Rural Americans and their way of life are under siege."
In the past two years, Nebraska, Iowa, Illinois and some other states have organized summits on the farm crisis and mental health, Beeson said in an interview last week from his office in Lincoln, Neb., where he is a division administrator in the Nebraska Department of Health and Human Services.
"There's been a lot of work by church groups, too," he added.
Interchurch Ministries of Nebraska, for example, administers a farm crisis hotline and a voucher program providing free mental health counseling to rural Nebraska residents. The hotline logged 2,983 calls in the past year and distributed 1,228 vouchers, according to a report published this summer by the National Association for Rural Mental Health. Funding for the hotline and the Counseling Outreach Mental Health Treatment program comes from the Nebraska Department of Health and Human Services and from Nebraska's share of a multi-state grant by the federal Office of Rural Health Policy.
In Miles City, psychiatric nurse Patty Lavin said that she is seeing more depression, family and marital problems among rural clients. She attributes the increase to the increasing pressures on farm and ranch families.
"We are seeing a lot of marital problems, depression, related to stress," Lavin said in her office at the Eastern Montana Community Mental Health Center.
In Lewistown, Kathie Bailey, Fergus County commissioner, said that more local farm families seem to be in a financial bind. She recognizes a need for rural mental health care. She is on the board of the Mental Health Center, which serves 13 south central Montana counties, and she is a member of the state Mental Health Oversight Advisory Council. There are no mental health resources available for education and outreach or group sessions, Bailey said in an interview in Lewistown. And it's not easy to nail down the number of farmers needing help.
"We need to break those barriers down and let people know help is available," Bailey said.
Dealing with stigma
While people involved in agriculture may need help dealing with the emotional toll of the farm crisis, they aren't always getting that help, according to farmers and mental health professionals. Intensely proud, farmers and ranchers are used to solving their own problems. Add to that the stigma associated with mental health counseling, and the barrier to getting professional counseling grows.
"It's a pride thing," Taylor said. "Headstrong rural Americans don't want to admit they have problems. They bottle stuff up."
Cost also can be a barrier. Self-employed farmers and ranchers may not have health insurance or they may have costly individual policies with high deductibles. That means counseling sessions would have to be paid out of pocket by people already stressed by their cash crunch.
Few mental health counselors are available in small Montana towns. Although community mental health centers have a mission of meeting community needs, most of their funding comes through state programs that cover only people on Medicaid and low-income people with serious mental illness. No state funding is available for people who don't fit into those two programs, which already are struggling with a budget deficit.
Further complicating the problem, the state is considering withholding a long-promised pay increase for mental health care provided in "frontier counties," which includes all of sparsely-populated Eastern Montana. By not paying the frontier differential, the state Department of Public Health and Human Services projects it would save $210,000 this year.
The Eastern Montana Community Mental Health Center counted on the rate increase when its board set the budget for the year, Executive Director Frank Lane said from Miles City last week. Without the increase, operations in the 17-county area will be difficult, Lane said. He declined to say what changes the center would make if it has less money.
'A death without a funeral'
Sharon Kindle is raising spring wheat on her irrigated farm near Malta, but she hasn't done any irrigating this year. A low-snow winter has left little water in Nelson Reservoir.
A third-generation Montana farmer, Kindle is active in farm advocacy as national secretary for WIFE (Women Involved in Farm Economics), area director for Montana Farmers Union and an organizer of the Campaign to Reclaim Rural America. She survived the 1980s farm crisis, although her farm did not. Kindle and her first husband lost their farm in 1984 and they divorced.
"It's like a death without a funeral," Kindle said of losing the beautiful land she farmed near Fort Belknap Indian Reservation. "Some neighbors avoid you like it's contagious."
The farm crisis didn't start the problems in the marriage, but "definitely finished it," Kindle said.
"I did have individual counseling. I did come to Malta for counseling. My husband and I were splitting up. I needed someone to talk to," Kindle said. "It was very hard. We're in a county of less than 2,000. We had the only blue and white Suburban in the county and when it was parked in front of the mental health center for an hour a week, everyone knew whose it was."
Counseling helped Kindle. She hoped that if other people knew she was getting help, they might have the strength to get help, too.
After concern about the crisis of the 1980s died down for a few years, several consecutive years of low commodity prices have put many farms in peril. Once again, the stress is taking a toll on mental health. When Kindle gets together with farmers from around the country, such as at a March rally in Washington, D.C., she hears about suicides on the farm. Usually, the suicides involve men. Kindle believes that feelings of failing the family drive men to take their own lives.
Suicide statistics from the Centers for Disease Control confirm that suicide rates are higher in rural areas than in urban areas and higher still in sparsely-populated rural areas, Beeson reported in an article published this summer by the National Association for Rural Mental Health. There is little definite evidence to show why there would be generally higher rates of suicide in rural communities, Beeson said. But untreated mental illness is a major risk factor for suicide. Less access to mental health care, rural isolation and stress also have been cited as possible factors in suicides, Beeson said.
Meanwhile, Kindle said, a farm crisis hot line, such as the one that served Montanans a decade ago, would help people by giving them a confidential way to share their problems with someone who wouldn't be telling the neighbors. An attempt to reinstate a farm crisis hot line failed in the 1999 Legislature, but Kindle hopes it will be approved by the 2001 Legislature.
In Nebraska, Beeson said, a farm crisis hot line has been in continuous operation since the 1980s. The hot line has been getting an increasing number of calls and a voucher program to offer callers free professional counseling was reinstated last year.
Careers in ranching and mental health
Gilles and Joan Stockton have a deep understanding of both agriculture and mental health. Gilles is the third generation of his French-speaking family to raise livestock in the hilly rangeland east of the Snowy Mountains and just outside the town of Grass Range. He and his wife, Joan, a psychiatric nurse for 25 years, raise rambouillet sheep, angus cattle and hay for the stock.
As a rural mental health professional, Joan Stockton sees people young and old for counseling at the Mental Health Center satellite office in Lewistown. On Tuesdays, she makes a 180-mile roundtrip to a smaller office in Harlowton. Some of her clients have serious mental illnesses, others have less severe problems that require shorter term therapy.
Stockton sees herself as a member of a team that includes local primary care doctors, the community hospital, law enforcement officers and human resource agencies.
"We don't have many services, so we depend on each other," she said.
Lack of money and insurance is a barrier to care, Stockton said. Most of the Mental Health Center clients have some type of health coverage. Some have private insurance; more have Medicaid or the Mental Health Service Plan, which covers low income Montanans with certain serious mental illnesses and low income. People who lack money, but don't fit into the state programs have trouble accessing care, she said.
Stigma is a major factor keeping people from seeking care. "Not being able to take care of yourself is viewed as a weakness, not an illness."
The farm crisis today is "quieter than the one before, even though it's worse economically," Gilles Stockton said. "I think people have given up. Even neighbors whose ranches are magnificent say they will be the last ones on the ranch, they tell their children not to come back."
Used with permission of the Billings Gazette, copyright 2000