By Rosalynn Carter
When I began speaking about mental health issues in the early '70s, the stigma of mental illness kept many from seeking help, and treatment options were virtually nonexistent outside of institutionalization. This year, as we celebrate the 25th anniversary of the Rosalynn Carter Symposium on Mental Health Policy, I pause to consider just how far we have come.

We have a greater understanding of brain disorders and their causes, and most people diagnosed can be successfully treated and live normal lives. Yet access to treatment for all who need it remains a huge hurdle, and our mental health system still falls far short.

In 1985, our symposium was the first time national mental health leaders came together to try to work cooperatively on important issues. Over time, attendance grew as participants recognized the power of collaboration, and the symposium earned a reputation for setting an action agenda for the nation's mental health community. Issues have included children's mental health, health care system reform, the mental health consequences of the attacks of Sept. 11, 2001, mental health services as part of disaster preparedness, and other crucial topics.

One longstanding goal has been to eliminate unfair coverage limits in health insurance plans for mental health conditions. Working together, policy-makers and mental health organizations finally won passage of parity last September. We like to think that our symposia played a role in making this happen.

As debate about health care reform ensues, our anniversary symposium in early November tackled integration of mental health care into primary care — how to ensure that primary care physicians have needed resources to identify and care for patients with mental illnesses.

We've made progress since the 1970s, but there's still so much more to do. Our symposia will continue to bring attention to issues of the day, influence policies that will make a difference, and spur action to get the job done.

For more information and to watch the archived webcast of this year's symposium, please visit www.cartercenter.org.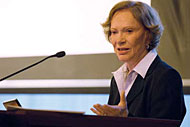 Carter Center Photo
Former First Lady Rosalynn Carter addresses attendees at the 2007 symposium on preventing mental illnesses.