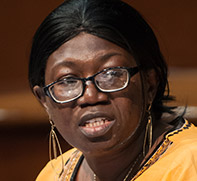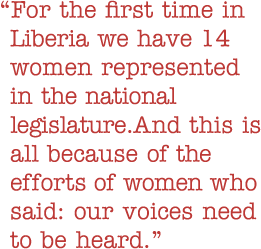 As voices go, Frances Greaves' is modulated and calming, even when the native Liberian is describing the helplessness she felt after suffering domestic abuse in her marriage and sexual exploitation at work. "The question to myself," says Greaves, "was how many other Liberian women or women around the world feel they have nowhere to turn?"
The answer gave Greaves the impetus to launch Voice of the Voiceless in 2005, a faith-based organization that advocates for women's rights and helps create awareness for access to justice. Greaves wants people to know there are United Nations treaties and, often, government policies in place to protect women from discrimination and violence. "We've created a forum where women can dialogue and take hold of those different legal instruments that can help improve their lives," says Greaves.
This is not the first time Greaves has used her voice. As part of the Women of Liberia Mass Action for Peace, in 2003 she joined thousands who mobilized to bring an end to Liberia's long and bloody civil war. In the wake of the conflict, Voice of the Voiceless worked with women to testify in front of Liberia's Truth and Reconciliation Commission mandated to investigate human rights violations during the war and recommend paths to lasting peace.
The Carter Center's decades-long involvement in Liberia includes efforts to mediate conflicts, monitor elections, and work with government officials, traditional leaders, and civil society organizations to strengthen human rights and improve mental health. Frances Greaves often crosses paths with the Center's Access to Justice project. And though she works within and alongside social justice organizations, part of her philosophy and much of her advice is aimed at the individual. "If you as an individual do not take the initiative of taking the next step to improve your life, you remain where you are," she says.
It is clear that Frances Greaves has taken the necessary steps to improve not only her life, but thousands of others around her.