Learn more about the Carter Center's Ethiopia Public Health Training Initiative

View the locations of EPHTI partner universities (scroll over university name, information at bottom)
Legal Notice
EPHTI's health learning materials are copyrighted to The Carter Center, who--in partnership with the Ministries of Health and Education--are providing them free of charge for download and reproduction for educational institutions and organizations only. Any selling of the EPHTI health learning materials is strictly prohibited and such actions will be prosecuted to the fullest extent of the law. The purpose of this online library is to assist other countries to benefit from the Ethiopian experience.
These files are being provided for your viewing and downloading for later viewing and personal use. You are free to send copies of these files, in their entirety, as an attachment to an e-mail to others who may be interested in their contents. You are also free to make print copies of the entirety of these files, or of unmodified excerpts dealing with a particular topic, for distribution to others who may be interested in their content. No charges may be imposed or requested for any copies of these materials. The authorship information and all notices appearing on these materials should be present in any copies and may not be removed. All other uses of these materials are expressly prohibited. You are not authorized to post these files on another Web site or to make them electronically available in any other format. You are not authorized to modify the conte nts of these files in any way.
Educating Health Professionals in Low-Resource Countries: A Global Approach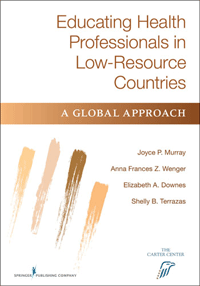 Copyright © 2011 Springer Publishing Company, LLC. Reprinted with permission from Springer Publishing Company.
Authors: Murray, Joyce P., Wenger, Anna Frances Z., Downes, Elizabeth A., and Shelly B. Terrazas.
Sample Content:
Read the foreword by Dr. Hailu Yeneneh, Resident Technical Adviser, The Carter Center Assisted Ethiopia Public Health Training Initiative and the preface by President Carter (PDF)
Chapter 10: Applying Active Teaching Learning Strategies in Ethiopia (PDF)
Ethiopia Public Health Training Initiative - Health Learning Materials
Many health programs around the world are designed for broad geographic regions and then instituted in various countries with little regard for the unique cultural diversity of each nation. A priority of the Ethiopia Public Health Training Initiative is to develop learning materials based on Ethiopian experience, to ensure that pre-service training will be directly relevant to the country's health practices and priorities. The program's aim is to train a skilled national health care work force to serve the largest and most populous country in the Horn of Africa.

These materials are presented for use by the Ethiopia Public Health Training Initiative as an example of how educational materials can be created for any public health situation. The following documents were created by Ethiopians, for Ethiopians: they are designed to meet the health challenges faced by Ethiopia, particularly in underserved rural populations, where lack of access to health personnel is one of the most significant hurdles to better health.

Use of these materials is encouraged for individuals or organizations who desire to view one model of how to build the capacity to provide pre-service health education for a particular population of health care workers.

These documents should not be used by anyone without proper medical licensure or training to diagnose, treat, or give medical advice.
Terms of use
Use of these documents is for informational purposes only and is not licensure to advise or treat medical conditions. All materials are fully copyrighted and all international copyrights must be upheld.