Educating Health Professionals in Low-Resource Countries: A Global Approach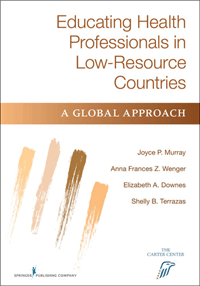 Copyright © 2011 Springer Publishing Company, LLC. Reprinted with permission from Springer Publishing Company.
Authors: Murray, Joyce P., Wenger, Anna Frances Z., Downes, Elizabeth A., and Shelly B. Terrazas.
Sample Content:
Read the foreword by Dr. Hailu Yeneneh, Resident Technical Adviser, The Carter Center Assisted Ethiopia Public Health Training Initiative and the preface by President Carter (PDF)>
Chapter 10: Applying Active Teaching Learning Strategies in Ethiopia (PDF) >
Ethiopia Public Health Training Initiative - Health Learning Materials
Many health programs around the world are designed for broad geographic regions and then instituted in various countries with little regard for the unique cultural diversity of each nation. A priority of the Ethiopia Public Health Training Initiative is to develop learning materials based on Ethiopian experience, to ensure that pre-service training will be directly relevant to the country's health practices and priorities. The program's aim is to train a skilled national health care work force to serve the largest and most populous country in the Horn of Africa.

These materials are presented for use by the Ethiopia Public Health Training Initiative as an example of how educational materials can be created for any public health situation. The following documents were created by Ethiopians, for Ethiopians: they are designed to meet the health challenges faced by Ethiopia, particularly in underserved rural populations, where lack of access to health personnel is one of the most significant hurdles to better health.

Use of these materials is encouraged for individuals or organizations who desire to view one model of how to build the capacity to provide pre-service health education for a particular population of health care workers.

These documents should not be used by anyone without proper medical licensure or training to diagnose, treat, or give medical advice.

Terms of use
Use of these documents is for informational purposes only and is not licensure to advise or treat medical conditions. All materials are fully copyrighted and all international copyrights must be upheld.