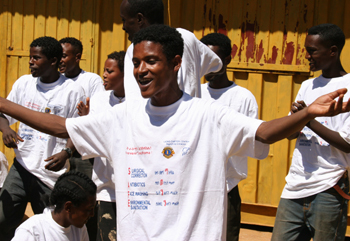 All photos: Carter Center
Students in Ethiopia dance while singing songs about the importance of trachoma prevention.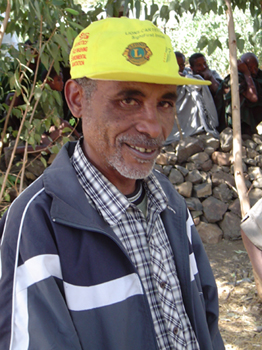 An Ethiopian man (left) proudly displays his SAFE stategy hat in Amhara Regional State.
Overview
T-Shirts and hats are important tools in communities with trachoma. They promote awareness, health education, and community involvement and mobilization. Health educators become walking advertisements as they spread the message of behavior change and safe sanitation practices. Community members can also identify health educators within their locale by their trachoma "uniforms," fostering relationships and accountability.
T-shirts, hats, bags, and other promotional items are produced locally, using the language of the target audience. Many programs produce these materials to commemorate large-scale trachoma activities such as antibiotic distribution or surgical campaigns. T-shirts are given to trachoma volunteers to wear during their trachoma control activities. Even when a volunteer is not actively promoting trachoma control, the t-shirt keeps the message traveling throughout the community.

Perhaps as effective as the health education messages themselves are the community-based health workers. These workers, often volunteers, display their t-shirts and hats with pride. The status that comes with the responsibility of health education encourages men, women, and children to adopt and maintain better hygiene practices.