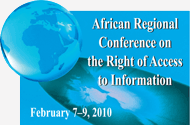 Learn more about the African Regional Conference on the Right of Access to Information, Feb. 7-9, 2010 >>

Conférence Régionale Africaine sur le Droit d'Accès à l'Information >>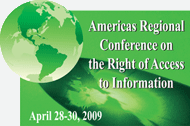 Learn more about the Americas Regional Conference on the Right of Access to Information, April 28-30, 2009 >>

Conferencia Regional de las Américas sobre el Derecho de Acceso a la Información >>




Learn more about the International Conference on the Right to Public Information, February 27-29, 2008 >>
---
The Global Access to Information Initiative
Current Projects:
Liberia

Convening

Serving as a resource
Past Projects:
Global Access to Information Initiative
Access to information is the cornerstone to good governance, meaningful participation, and increasing transparency, and is recognized as a fundamental human right. Since 1999, The Carter Center has supported the establishment of an access to information culture, beginning with a project in Jamaica that focused on ongoing legislative efforts to pass an access to information law. From its original work exclusively in the Americas region, the Global Access to Information Initiative expanded its programming to support the development of international norms and regional standards, as well as applying its model of promoting participatory lawmaking through informed debate and facilitating new partnerships between government and civil society in the establishment of the right to information in Bolivia, Nicaragua, and Mali. Currently, the initiative continues to collaborate closely with international and regional bodies such as the World Bank and the Organization of American States; engage in focus counties including Liberia and China; and create tools and serve as a resource to advance the right of access to information around the world.
Guiding Principles: The Need for Access to Information

Democracy depends on a knowledgeable citizenry whose access to a range of information enables them to participate more fully in public life, help determine priorities for public spending, receive equal access to justice, and hold their public officials accountable. Inadequate access to public information allows corruption to flourish, and back-room deals to determine spending in the interests of the few rather than many. Access, however, must be balanced with protection of personal privacy and narrowly defined state interests.
Passage of an access to information act has become a trend throughout the world, particularly in developing nations. There are now approximately 90 countries claiming a statutory right to information, many of them enacted in the last decade. International funding institutions are, likewise, recognizing the importance of access to information and in some cases, are including the ratification of such an act as a condition for funding or debt relief. In the Western Hemisphere, countries are at widely divergent stages in their development of such legislation. For example, the U.S. Freedom of Information Act was signed into law in 1966 (with important reforms in the early 70s), and Canada provided citizens a right to access to information in most of its provinces by the early 1980s. While many Latin American and Caribbean countries recognize a right to information within their constitutions, it is only recently that public access to information has been put into practice.
Passage of an access to information act, however, is only the first step. Following the promulgation of legislation, governments must adequately implement and enforce the laws; otherwise, it becomes simply a "check the box" exercise and does not increase citizen trust or government accountability. Thus, appropriate emphasis must be given to the three phases of developing an access to information culture: passage, implementation, and enforcement, with a complementary focus on encouraging the law's use.
Project Objectives
In partnership with government and civil society, the Center's Global Access to Information Initiative focuses not only on the passage of legislation but also encourages effective implementation, enforcement, awareness, and use. Establishing a vibrant access to information culture is the responsibility of both government and civil society. While governments must pass comprehensive legislation and implement the necessary procedures, civil society also must play a leading role, such as by making information requests and pursuing appeals when requests are denied.

The Center's Global Access to Information Initiative seeks to:
Provide observations and inform members of the executive branch, legislators, citizen groups, the private sector and media during the debate relating to the value of the right to information and content and drafting of the new law, based on the emerging international standards

Explore other mechanisms to advance transparency, such as voluntary openness strategies

Convene meetings of the relevant stakeholders to encourage a participatory lawmaking process, thus providing greater legitimacy to the process and the legislation

Enhance government officials' capacity to implement the legislation

Develop and promote civil society's ability to request information and monitor government compliance

Advance effective enforcement of the law through increasing civil society capacity to seek judicial redress and the judiciary's ability to respond

Work at the hemispheric level to share experiences and provide additional support.
The Carter Center's Contributions to Access to Information
Throughout the world, The Carter Center has been instrumental in providing technical assistance to legislators and civil society advocates in the drafting and passage of access to information laws. The Center has facilitated training and expert consultation to public servants with regard to archiving, document retrieval, and information request processing. The Carter Center also is effective at "getting a dialogue started between groups that never speak" and in positively engaging voices that are seldom heard. For example, The Carter Center has offered hundreds of workshops among different sectors of society, including the government, civil society organizations, the private sector, and the media. As part of the hemispheric and country-specific work, the Center produces and publishes materials for widespread distribution.

Guidebooks on the promotion and implementation of the right to information, as well as pamphlets, manuals, and brochures focus on key issues and support all stakeholders in advancing the right to information. Presently, the Global Access to Information Initiative has field offices in Liberia and China, which models past long-term work in Bolivia, Jamaica, Nicaragua, and Mali. Field office representatives are well connected in the national government and civil society, and work to promote access to information efforts through ongoing and direct engagement with local, national, and international actors.
While many organizations focus on the passage of the law, The Carter Center has recognized the importance of full and effective implementation. Unfortunately, very little information or analysis exists on governments' implementation efforts. To address this shortcoming, The Carter Center developed an access to information legislation Implementation Assessment Tool (IAT), which diagnoses the extent to which a public administration is enabled to respond to requests and to provide information and provides an implementation roadmap for the government. In 2010, the Center's access to information initiative developed the tool's methodology, and will next pilot the tool in selected countries. Read more about the IAT.
Read an open letter by members of global openness community welcoming President Obama's Initiative on Transparency: English, Chinese, Español, Français >