Meet The Featured Human Rights Defenders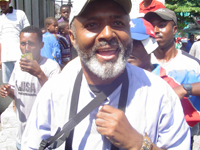 (AP Photo/Mitchell Zachs)
Gérard Jean-Juste
Gérard Jean-Juste (Haiti)
Carry Me Home to Haiti
Battling through leukemia and the possibility of persecution in his native Haiti, Gerard Jean-Juste was constantly fighting until the day he died.
The volatile storms of Haiti's political fortunes tossed Jean-Juste between his island homeland and the United States for the better part of the last 37 years of his life. Along the way he earned considerable respect in both countries for his efforts to improve the civil liberties of Haitians regardless of where they live.
Despite outstanding charges of weapons possession and conspiracy to kill Haitian police, the fact that he was always eager to return home underscored improvements made under the current government of René Préval after the humanitarian disaster that marked the previous U.S.-installed regime.
Jean-Juste gained fame in Haiti for preaching liberation theology on the radio after a military coup in 1991. For the longest time, the military junta running the country sought intelligence on the mysterious rabble-rousing rector, but failed to stop his activities because they had no idea what he looked like.
The last time Jean-Juste lived in Haiti, he was jailed — twice — after rebels overthrew the government of Jean-Bertrand Aristide in 2004. "The illegal, de facto government always brought some trumped-up charges that could not hold," he said.
The first arrest was on charges of inciting violence and harboring pro-Aristide soldiers. Jean-Juste had close ties with Aristide, a former Catholic priest. The second was for the murder of his cousin at a time when Jean-Juste was out of the country – a charge that was eventually dropped.
Under the regime installed in 2004 by the "council of the wise" set up by France, the United States and Canada, thousands of people were killed in one of the worst spasms of violence the Caribbean has seen in recent years. During this period, Prime Minister Gerard Latortue – a former radio talk-show host from Boca Raton – was accused of being largely indifferent to a surge in human rights violations and corruption.
"Former military personnel who should have been subject to prosecution for crimes ended up becoming members of the local police force," says professor Irwin Stotzky at the University of Miami, an expert in Haitian politics. "It was basically a failed state."
In the run-up to the elections to replace the discredited interim government, Jean-Juste was considered by many a potential presidential candidate even though he was in prison. Indeed, his incarceration made him something of a 'Nelson Mandela figure' and served to highlight his years of work in Haiti to support the poor and feed homeless children. In the end, however, Jean-Juste endorsed the eventual winner, René Préval, from behind bars.
"I support President Préval even though we disagree on some key issues," said the ailing priest. His main reason for optimism was that the democratic process was moving forward. "I love the voters — as long as they stay committed, awake, and aware," he said, "the political situation must go forward in the right direction."
Jean-Juste was released in January 2006 to be treated for leukemia in Miami, where he enjoyed an equally celebrated status as a far-sighted social reformer. He had been active in the United States on social issues since 1978, when he helped set up the Haitian Refugee Center to assist refugees, protest U.S. immigration laws, and fight local discrimination. He was a hero to many in Little Haiti, and signs in shop windows around Miami demanding his freedom were a common sight after his arrest in 2005.
He said his battle with leukemia slowed him down but also served as a source of reverence for the human condition. His illness helped answer many questions about such problems as the pain of torture, imprisonment, poison, and rejection. "I understand the Bible and the biblical martyrs better," he says.
Jean-Juste's personal aura was almost palpable to those who knew him. "I first met him many years ago, when he set up the refugee center. He's just an incredibly brave guy and very peaceful," said professor Stotzky.
Unsurprising for a priest, Jean-Juste's main source of strength was his faith. Yet, in addition to the teachings of the church, he said his inspiration for his activism also came from what he called his "debt as a member of the human race."
While his faith gave him the power to serve people without discrimination, the rules of the Catholic Church blocked him from exercising his charge. When it appeared that Jean-Juste might run for president – an activity prohibited by the Vatican – the archbishop of Port-au-Prince suspended the imprisoned priest from his duties as rector of St. Claire Catholic Church in Port-au-Prince.
"I haven't even been able to pick up my personal belongings at the church," he said at the time. "Recently, I asked the Archbishop to allow me to return to the parish for a visit, but he denied me this right." Unable to qualify for Social Security assistance, Jean-Juste turned to the archbishop of Miami and asked to perform duties in order to survive on stipends – but was shunned again.
Despite such setbacks, Jean-Juste always remained optimistic. He saw securing basic human needs education, in particular, as the key to boosting civil liberties in Haiti and suggested using more interactive media to make education about humanitarian and civic issues more appealing. "We need to nourish the culture of life and democracy through all means possible," he said.
Jean-Juste's spirit remained strong, and he continued to fight for his rights and the rights of others until a stroke and lung problems caused his untimely death in May of 2009 at the age of 62.
Updated November 2009