Former Director, Guinea Worm Eradication Program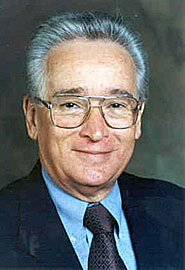 Dr. Ernesto Ruiz-Tiben joined The Carter Center in 1992 after more than 27 years of service as a commissioned officer of the U.S. Public Health Service at the Centers for Disease Control and Prevention. From 1998-2018, Dr. Ruiz-Tiben served as director of the Carter Center's Guinea Worm (Dracunculiasis) Eradication Program. In this capacity, he worked in conjunction with the World Health Organization Collaborating Center for Research, Training, and Eradication of Dracunculiasis at the CDC, monitoring and disseminating information about the status of the global campaign and providing technical assistance to national eradication programs.
During his tenure at CDC, Dr. Ruiz-Tiben headed the Helminthic Disease Branch, Division of Parasitic Disease, National Center for Infectious Diseases. He has worked to control the disease schistosomiasis in Puerto Rico, the Dominican Republic, Suriname, Brazil, Egypt, and Liberia and dengue fever in the Caribbean area. For this outstanding work, he received special commendations from the U.S. Public Health Service. Additionally, in recognition of his contributions to the global initiative to eradicate dracunculiasis, the CDC in 1990 awarded him the U.S. Public Health Service's Outstanding Service Medal.
Dr. Ruiz-Tiben received the Bachelor of Science degree from Catholic University in Puerto Rico. He holds a Master of Science degree from the University of Puerto Rico School of Public Health and a doctorate in epidemiology from the University of Texas School of Public Health at Houston.
Related Resources
Guinea Worm Eradication Program
Profile | Ruiz-Tiben Brings Decades of Experience to Guinea Worm Fight