The Camp David Accords of 1978 – the peace treaty between Egypt and Israel – were a major achievement of the Carter administration, and after leaving the White House, President Carter continued his deep interest in Middle East peace. The Carter Center has years of experience working in Syria and has developed a reputation as a trusted, objective broker.
Since the onset of the uprising in March 2011 and the subsequent devolution into a catastrophic conflict, The Center has expanded its efforts to support a political solution in Syria that builds a foundation for future democratic governance.
In April 2013, The Center established the Syria Transition Options Initiative. In consultation with Syrian government, opposition and independent leaders and civil society activists, as well as international experts, the project aims to generate ideas on the political and legal framework that can prepare the country for a transition to peace and serve as the foundation for future governance.
Conjointly, through its Syria Conflict Mapping Project, the Center has been working to provide the international community with up-to-date and detailed quantitative and qualitative analyses of the dynamics of the conflict, grounded in Syrian perspectives. The project aims to better inform peace-building and humanitarian efforts by analyzing the unprecedented volume of citizen-generated information about the conflict.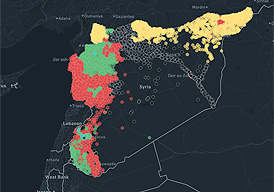 View the Center's dynamic, conflict map here.