Director, River Blindness Elimination Program, Lymphatic Filariasis Elimination Program, and Schistosomiasis Control Program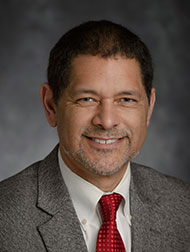 Dr. Frank Richards is an expert in parasitic and tropical diseases, who has worked extensively in Latin America and Africa. His professional interest is in the safe and effective delivery of available tools to control or eliminate tropical infectious diseases. The health programs he directs at The Carter Center have helped ministries of health and local communities to provide more than 200 million preventive treatments for parasitic disease in 11 countries.
Richards came to The Carter Center from the U.S. Centers for Disease Control and Prevention (CDC), where he spent 23 years in the Division of Parasitic Diseases and Malaria. Over the course of his career he has worked and published on lymphatic filariasis, schiostosomiasis, Guinea worm, cysticercosis, and malaria. Richards' particular expertise however is mass ivermectin administration programs for river blindness (onchocerciasis), and guiding mass ivermectin (Mectizan®). He has been involved in the Guatemalan onchocerciasis elimination program since 1987 and in the onchocerciasis elimination program program since 1992. He participated in the launching and operation of two major regional river blindness programs: the Onchocerciasis Elimination Program for the Americas (OEPA – launched in 1992), which reaches six countries in the Americas, and the African Program for Onchocerciasis Control (launched in 1996), reaching 31 countries in Africa. Richards currently chairs the Program Coordinating Committee for OEPA; and serves on the Executive Group of the Global Alliance for the Elimination of Lymphatic Filariasis, the WHO Strategic and Technical Advisory Group for Neglected Tropical Diseases (NTDs), and the Mectizan Expert Committee.
Richards earned his Bachelor of Arts from Williams College in chemistry (1975) and his medical degree from Cornell University (1979). He completed a residency in pediatrics at the University of Southern California/Children's Hospital of Los Angeles, his epidemiology training in the EIS program at the CDC, and a fellowship in pediatric infectious diseases at Emory. While at CDC, Richards was stationed for five years in Guatemala; he retired with the rank of captain in the Commissioned Corps of the U.S. Public Health Service in 2005.
Richards' awards include the Williams College Bicentennial Medal, the Commissioned Corps Outstanding Service Medal, the Department of Health and Human Services' Secretary's Award for Distinguished Service, the National Medical Fellowships' Pioneer Award, and the American Society for Tropical Medicine and Hygiene's Bailey K. Ashford Medal. Richards has authored or co-authored more than 185 articles, letters, and chapters. He holds faculty appointments at the Emory Rollins School of Public Health (Department of Global Health) and the Emory School of Medicine (Division of Pediatric Infectious Disease). He speaks Spanish and has had past working experiences in French, Portuguese, and German.
Related Resources
River Blindness Control Program
Schistosomiasis Control Program
Lymphatic Filariasis Elimination Program
Profile | Adaptation Key in Director's Fight Against Parasites