Senior Advisor, River Blindness, Lymphatic Filariasis, Schistosomiasis, and Malaria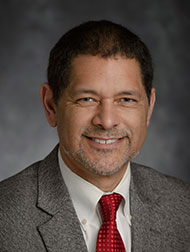 Dr. Frank Richards served as director of the Carter Center's River Blindness Elimination Program, Lymphatic Filariasis Elimination Program, and Schistosomiasis Control Program from 2005-2020. During his tenure, these programs assisted ministries of health in 11 countries to provide (cumulatively) more than half a billion treatments to treat and prevent these debilitating diseases. Millions of treatments for river blindness and lymphatic filariasis have been safely stopped in nine of these countries. Richards also was co-director of the Center's Malaria Program from 2007-2014. That program helped distribute over 18 million bed nets to prevent malaria in Nigeria and Ethiopia, reducing infection rates in the areas where the program was active by 50% and 90%, respectively.
Richards came to The Carter Center from the U.S. Centers for Disease Control and Prevention (CDC), where he spent 23 years in the Division of Parasitic Diseases and Malaria. He retired with the rank of captain in the Commissioned Corps of the U.S. Public Health Service.
Richards' main interest is in the elimination of transmission of vector-borne parasitic diseases. He is chair of the steering committee of the Carter Center's Onchocerciasis Elimination Program for the Americas (OEPA) and the World Health Organization's Malaria Elimination Oversight Committee.
Richards earned his Bachelor of Arts degree from Williams College and his medical degree from Cornell University. He completed a residency in pediatrics at Children's Hospital of Los Angeles, epidemiology training in the CDC Epidemic Intelligence Service, and a fellowship in pediatric infectious diseases at Emory School of Medicine. He holds adjunct faculty appointments at the Emory University Rollins School of Public Health and the Emory School of Medicine. Richards has authored or co-authored more than 200 articles, letters, and chapters. His awards include the Williams College Bicentennial Medal and the American Society for Tropical Medicine and Hygiene's Bailey K. Ashford Medal.
Related Resources
IN the SPOTLIGHT: Frank Richards is a Man on a Mission
Profile | Adaptation Key in Director's Fight Against Parasites
River Blindness Control Program
Schistosomiasis Control Program
Lymphatic Filariasis Elimination Program