Director, Onchocerciasis Elimination Program of the Americas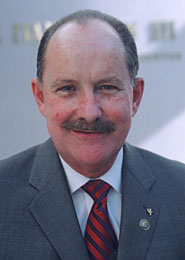 Dr. Sauerbrey has directed the Onchocerciasis Elimination Program for the Americas since 1998 and has worked extensively on public health control programs, particularly malaria control, leading the successful Malaria Control Program in El Salvador with assistance from the United States Agency for International Development (USAID). In the area of parasitic disease, he has directed the U.S. Centers for Disease Control and Prevention's Central America Research Station and served as adviser for USAID in Central America.
He has been a full-time professor in communicable diseases at the School of Medicine in El Salvador, a vector-borne diseases specialist/consultant at the International Center for Public Health Research and Training at the University of South Carolina, and an adjunct professor in the Public Health Department of Environmental Health Sciences at the College of Health at the University of South Carolina.
In addition, Dr. Sauerbrey has been a member of the Expert Advisory Panel on Malaria and the Steering Committee on Epidemiology and Vector Biology and Control of Chagas Disease at the World Health Organization and the Special Program for Research and Training in Tropical Disease (WHO/TDR). He has been author or co-author of 22 publications on parasitic diseases.
Dr. Sauerbrey received the master of science degree and a Ph.D. in parasitology and tropical medicine at Tulane University's School of Tropical Medicine and Public Health.
In 2012, Dr. Sauerbrey was awarded the 2012 Merck Mectizan Award for his outstanding contributions in the control and elimination of onchocerciasis from the Americas through the distribution of Mectizan®.
Related Resources
Carter Center River Blindness Program
Profile | Passion is Key Ingredient for Success
CNN Espanol | Cuidado con la oncocercosis (Beware of Onchocerciasis)