Senior Consultant, Agriculture, 1986-2009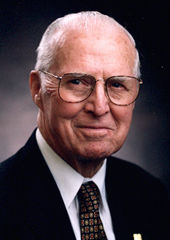 Dr. Borlaug was awarded the Nobel Peace Prize in 1970 for launching the "Green Revolution" in Asia and for his lifetime of work to help feed the hungry. From 1986 until his death Sept. 12, 2009, at age 95, he led the Sasakawa-Global 2000 Agriculture Program, a joint venture between the Sasakawa Africa Association and the Carter Center's Global 2000 program. The effort has helped more than 8 million small-scale farmers in 15 sub-Saharan African countries to increase crop production.
Born March 25, 1914, Dr. Borlaug was awarded his doctorate in plant pathology in 1942 by the University of Minnesota. He served at the Rockefeller Foundation as the scientist in charge of wheat improvement under the Cooperative Mexican Agriculture.
With the establishment of the International Maize and Wheat Improvement Center in Mexico in the mid-1960s, he assumed leadership of the Wheat Program, a position he held until his official retirement in 1979. Since 1984, Dr. Borlaug has served at Texas A&M University as distinguished professor of international agriculture. President George W. Bush presented Dr. Borlaug with the National Medal of Science for Biological Sciences in February 2006.
He was awarded the Congressional Medal of Honor, the nation's highest civilian award, in July 2007 by President George W. Bush.
Related Resources