Director, Conflict Resolution Program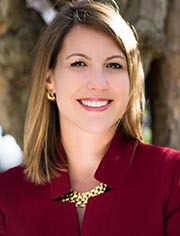 Stacia George
Download high resolution photo »
Stacia George became director of the Conflict Resolution Program in 2021.
She previously served as director for West and Central Africa and Haiti at Chemonics International Inc., a global implementer of international development assistance. George previously served as the deputy director for USAID's Office of Transition Initiatives (OTI) and is an expert in conflict management and international development with specializations in conflict-affected environments, stabilization, democracy, and community-driven development programming.
Earlier, George was a foreign policy fellow on the Africa Subcommittee of the U.S. Senate Foreign Relations Committee and was the practice director for government services at Caerus Associates. She held an International Affairs Fellowship from the Council on Foreign Relations in 2011.
During 11 years with USAID, George was country representative for programs in the Federally Administered Tribal Areas of Pakistan. She managed OTI's Afghanistan program as the deputy team leader for Asia and the Middle East, established programs in Colombia, Nepal, and Sudan, and served as country representative in the Democratic Republic of the Congo.
George holds degrees in international studies and Spanish from Niagara University and International Conflict Management and Economics from the Johns Hopkins School of Advanced and International Studies.
Related