The Carter Center Health and Peace Programs appreciate the continued support of our foundation, government, and corporate donors and are pleased to highlight their contributions in these regular Web features.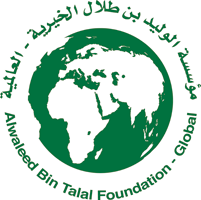 The Alwaleed Bin Talal Foundation
Featured September 2011

The Carter Center is honored to recognize the continued generosity of the Alwaleed Bin Talal Foundation for its 2011 gift of U.S. $500,000 for the Onchocerciasis Elimination Program for the Americas (OEPA). The Alwaleed Bin Talal Foundation has provided support to the Carter Center's health and peace programs since 2003. In addition to OEPA, funds from the Foundation have been used to support improved mental health services in Liberia, control trachoma in Mali and Niger, fight river blindness in Uganda, promote democracy and human rights in the African Union, strengthen rule of law in Liberia, monitor elections in Palestine and Indonesia, and support peace and health globally.

The Alwaleed Bin Talal Foundation is chaired by HRH Prince Alwaleed Bin Talal Bin Abdulaziz Alsaud of Saudi Arabia, and vice chaired by HH Princess Ameerah Al-Taweel. The Foundation has donated a total of U.S. $2.4 billion to initiatives in more than 60 countries. It is one of three Foundations established by
HRH Prince Alwaleed to promote peace worldwide, each working under the slogan Commitment Without Boundaries: the Alwaleed Bin Talal Foundation in Saudi Arabia, Alwaleed Bin Talal Foundation-Global registered in Lebanon, and Alwaleed Bin Talal Humanitarian Foundation in Lebanon.
Goals of the Alwaleed Bin Talal Foundation are empowering Saudi women through the support of organizations, studies, and academic centers; alleviating poverty; and improving social infrastructure throughout Saudi Arabia. In addition, the Foundation has provided aid to support Saudi Arabian citizens, including medical aid projects and a 10-year initiative to build hundreds of housing units for poor families. Other projects supported by the Foundation include the distribution of electric generators to remote villages and the printing and translation of the holy Quran into 13 languages.

HRH Prince Alwaleed recently stated, "The Carter Center is one of Alwaleed Foundation's most valued partners as their programs are impactful. One of our favorite collaborations is the River Blindness Program, in which the goal is to eliminate this debilitating disease from the Americas completely."
The Carter Center-led OEPA initiative fights to eliminate onchocerciasis in the six endemic countries of Brazil, Colombia, Ecuador, Guatemala, Mexico, and Venezuela, where 500,000 people are at risk for infection in 13 focal areas. Onchocerciasis, also known as river blindness, is a parasitic infection spread by fly bites which can cause vision damage and eventually, blindness. The parasite is controlled by health education and distribution of Mectizan®, donated by Merck, which kills the larvae in the body and prevents transmission and blindness. OEPA has made great strides in the reduction of this debilitating disease, with eight of the 13 river blindness focal areas in the Americas having interrupted transmission. The support of the Alwaleed Bin Talal Foundation is especially important at this time when river blindness is so close to being eliminated from the Americas region.
Featured donor and supported programs: