The Carter Center Health and Peace Programs appreciate the continued support of our foundation, government, and corporate donors and are pleased to highlight their contributions in these regular Web features.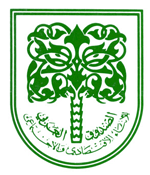 The Arab Fund for Economic and Social Development
Featured June 2011
The Carter Center is proud to announce a new partnership in the fight against Guinea worm disease. Recently, a generous pledge was made by the Arab Fund for Economic and Social Development. This donation to the Guinea Worm Eradication Program in Sudan reflects the Arab Fund's ongoing commitment to serving humanity through their noble support of development projects.
Based in Kuwait, the Arab Fund for Economic and Social Development was established in 1968 through the approval of the Arab Countries for the purpose of financing social and economic development projects in Arab states. Through loans and grants, the Arab Fund has supported many different types of projects, including rural development and infrastructure, health, food security, and agriculture. Support is provided to the least-developed countries, and includes grants for educational, professional, and social organizations, and in response to natural disasters and wars. In order to reach its objectives, the Arab Fund depends upon negotiations with governments and the particular expertise of each member country.
The Arab Fund's donation will be matched one-to-one by the Bill & Melinda Gates Foundation through a challenge grant awarded to The Carter Center in 2008. This challenge grant was the largest in Carter Center history. It included $8 million in outright funding and encouraged individuals and organizations to donate an additional $32 million to be matched by the Gates Foundation dollar for dollar.
Guinea worm disease (dracunculiasis) has affected millions of people since ancient times and is close to becoming the second disease fully eradicated from Earth. In the absence of clean water, people often drink from contaminated ponds and lakes containing small water fleas which may carry the Guinea worm larvae. Inside the human body, the larvae mature and grow up to three feet in length. After a year, the mature worm begins to emerge through an extremely painful blister. Submerging the blister in water temporarily relieves the pain, but the worm deposits its larvae into the water, causing the lifecycle to repeat. Since the founding of the Guinea Worm Eradication Program, the number of Guinea worm cases has been reduced by 99.9 percent from more than 3.5 million cases in 1986 to 1,797 in 2010.
Funding from the Arab Fund will support interventions against Guinea worm transmission, including the provision of free water filters and health education to persons at risk of contracting the disease, treatment of water sources with a safe larvicide called ABATE® (donated by BASF Corporation), and advocating for access to clean drinking water. With the continued generosity of partners such as the Arab Fund, we look forward to celebrating the end of the suffering caused by this debilitating disease.
Featured donor and supported programs:
Arab Fund for Economic and Social Development