The Carter Center Health and Peace Programs appreciate the continued support of our foundation, government, and corporate donors and are pleased to highlight their contributions in these regular Web features.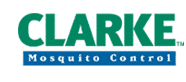 Featured December 2008
The Carter Center is proud to announce a new partnership with Clarke Mosquito Control in the fight against lymphatic filariasis and malaria. Clarke Mosquito Control, family-owned for more than 60 years, is an industry leader in mosquito control, providing mosquito control services, products, and equipment to municipalities, businesses, and individuals around the world.
Through the Clarke Cares Foundation, Clarke is launching a program to support The Carter Center's efforts to prevent mosquito-transmitted diseases like lymphatic filariasis and malaria in endemic villages in Nigeria through the donation of its DuraNet long lasting insecticidal nets (LLINs). Clarke will be raising funds and matching with the donation of DuraNets for the Carter Center to distribute in Nigeria.
LLINs are one of the best ways to prevent mosquitoes from biting and infecting individuals. They are a simple, safe and cost-effective method of protection against malaria and lymphatic filariasis. Clarke Mosquito Control, together with its customers, aims to donate 38,000 long-lasting insecticidal nets to The Carter Center. This donation will enable the Center to distribute an average of three long-lasting insecticidal nets per household in selected villages, protecting thousands from these devastating diseases.
Malaria is a parasitic disease that affects 350 to 500 million people and results in approximately one million deaths annually worldwide. Pregnant women, their unborn children, and infants are particularly vulnerable to malaria, which is a major cause of maternal mortality and low birth weight. The female malaria-carrying mosquitoes bite only at night, and the nets donated by Clarke will prevent mosquitoes from infecting individuals while they sleep. Sleeping under an insecticidal mosquito net is crucial in preventing the disease. The LLINs used in the program do not merely keep mosquitoes off, but kill them on contact and are effective for at least seven years.
Approximately 1.1 billion people in 80 countries are at risk for contracting lymphatic filariasis; Nigeria is the third most endemic country in the world for lymphatic filariasis, with an estimated 22 million cases. Lymphatic filariasis, also known as elephantiasis, is a debilitating parasitic infection transmitted from person to person by mosquitoes. In its severest form, lymphatic filariasis causes a hardening of affected areas, commonly the limbs, resulting in elephant-like skin. These conditions have a devastating effect on the quality of life of those affected, impacting them not only physically but also emotionally and economically. In areas of rural Africa, lymphatic filariasis is transmitted by the same mosquito that transmits malaria. Therefore, the long-lasting insecticidal nets donated by Clarke will prevent both diseases simultaneously.
Clarke's partnership with The Carter Center will be highlighted at the annual meeting of the American Mosquito Control Association on April 5-9, 2009, in New Orleans. The Carter Center is grateful for the generosity of Clarke Mosquito Control and its partners and customers. Working together, we can continue making progress in the fight against lymphatic filariasis and malaria and make a difference to people's health in the communities of Nigeria.