The Carter Center's longstanding partners provided additional support for Health Programs to resume operations with proper safety protocols and equipment.

April 2022
The COVID-19 pandemic brought with it waves of change and uncertainty. In the spring of 2020, the Carter Center's Health Programs activities were temporarily suspended to prevent the risk of additional transmission of the virus. Neglected tropical disease mass drug administration (MDA) campaigns, case detection, vector control, and health education initiatives were halted. Disruptions to supply chains, reductions in pharmaceutical manufacturing, and diversions of resources all caused unique challenges to the Carter Center team and our dedicated country staff.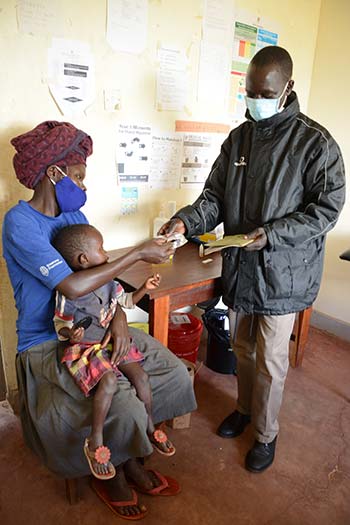 Madrama Geoffrey, a nurse and NTD coordinator, hands out doses of ivermectin in Metu subcounty, Uganda. The Carter Center's generous partners provided face masks to be used during drug administration activities.
When activities were able to safely resume, the Programs' operations looked a little different. The Center created a set of precautionary guidelines to assist country staff as they restarted programmatic activities and to reduce the risk of COVID-19 transmission. Among other preventive measures, the Center arranged for additional MDA training sessions for health workers and volunteers, practiced physical distancing protocols during programmatic activities, and provided personal protective equipment.
These transmission mitigation efforts were generously supported by some of the Center's longstanding donors in the form of donated personal protective equipment and supplemental gifts to assist the Center in abiding by WHO's mitigation recommendations.
As the Center's programmatic activities began to resume in late 2020, new challenges emerged around mitigating COVID-19 transmission while continuing our neglected tropical disease intervention work. With assistance from some dedicated donors, the Center was able to resume its activities with minimal disruption.
The END Fund, a partner of The Carter Center since 2015, provided supplemental support for the River Blindness Elimination and Trachoma Control Programs' interventions in Amhara, Ethiopia, which aided in the purchase of personal protective equipment used during program implementation in line with safety guidelines.
Similarly, the Task Force for Global Health and the Mectizan Donation Program (MDP) provided support for reusable masks to protect staff and volunteers against COVID-19 during MDA in Carter Center-supported districts in Ethiopia. In Nigeria, they provided support for additional MDA-related trainings to ensure adequate social distancing. Established in 1987 by Merck & Co., Inc., Kenilworth, N.J., U.S.A., the Mectizan Donation Program is the longest-running drug donation program for NTDs. The Carter Center and MDP work together to manage mass drug administration for river blindness and lymphatic filariasis.
In addition, YKK kindly donated 44,700 N95 medical masks to be used by the River Blindness Elimination and Trachoma Control Program staff in Ethiopia and Sudan. The late Tadao Yoshida, who started YKK, is one of the Center's founding supporters, and YKK has provided generous support towards the Center's efforts since 1983.
A dedicated partner since 2006, the IZUMI Foundation partners with the Center to address lymphatic filariasis and schistosomiasis in Nigeria. The Foundation's supplemental contribution allowed the Center to hold additional lymphatic filariasis mass drug administration training sessions for health workers and ensure we continue to practice adequate physical distancing.
Although the Carter Center's work has been disrupted by the COVID-19 pandemic, we remain focused on our efforts and committed to the safety of our staff, volunteers, and beneficiaries. We are grateful for our dedicated partners and their support of the Center's COVID mitigation activities.