The Carter Center Health and Peace Programs appreciate the continued support of our foundation, government, and corporate donors and are pleased to highlight their contributions in these regular Web features.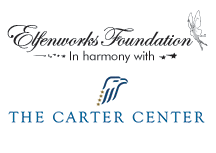 Featured November 2007

The Elfenworks Foundation is a valuable partner to The Carter Center in our efforts to wage peace, fight disease, and build hope. Created by Elfenworks Productions, LLC, a multimedia communications company, the Elfenworks Foundation strives to be "in harmony with hope" and supports non-governmental organizations who are dedicated to causes that benefit humanity. The Foundation works to alleviate domestic poverty, focusing within the areas of education, inequality, social justice, health care (including mental health), sustenance, and non-violence. Many of the projects supported by the Elfenworks Foundation utilize media and technology to raise public awareness of important causes.
In 2007, the Elfenworks Foundation provided a challenge grant to The Carter Center for the Rosalynn Carter Fellowships for Mental Health Journalism. The goal is to motivate donors to double the impact of their gift by matching every dollar up to $200,000, for a total of $400,000. The annual Rosalynn Carter Fellowships for Mental Health Journalism provide stipends to ten journalists to study selected topics related to mental health or mental illnesses and report accurately about them. Since the beginning of the Fellowship Program, more than one hundred newspaper and magazine articles have been written, five books published, four television documentaries produced, and hundreds of minutes of radio time aired.
This year at the Annual Journalism Fellowship Meeting, Lauren Speeth, CEO of the Elfenworks Foundation, presented Rosalynn Carter with the "In Harmony with Hope" award. Elfenworks commends the former first lady's lifetime achievements in promoting mental health awareness and reducing stigma, recognizing the connection between mental health and poverty, which Rosalynn Carter considers to be "the pathway to depression." Rosalynn Carter is working to combat these issues domestically by promoting the Paul Wellstone Mental Health and Addiction Equity Act (H.R.1424), calling for parity in health benefits provided by insurance companies.
In addition to their support of the Mental Health Program, the Elfenworks Foundation is the proud first supporter of The Carter Center's Malaria Control Program in Ethiopia, where the disease is the most common cause of death and present in 75 percent of the country. Thanks to partners such as the Elfenworks Foundation, The Carter Center has assisted in the distribution of three million long-lasting insecticide treated bed nets to households throughout the country, protecting persons at risk of contracting malaria.
With their relentless enthusiasm and innovation, the Elfenworks Foundation enables The Carter Center to effectively build hope among the mental health community and throughout the world.