The Carter Center Health and Peace Programs appreciate the continued support of our foundation, government, and corporate donors and are pleased to highlight their contributions in these regular Web features.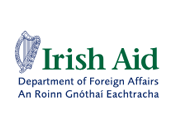 Read DAC spending analysis for first year of program activity
under Irish Aid CSF grant to The Carter Center (PDF) >
Featured November 2008
The Government of Ireland is an essential and dedicated partner to The Carter Center in its efforts to wage peace and build hope around the world. Through its official programme of overseas development assistance-Irish Aid-Ireland has provided The Carter Center with more than $3.2 million in funding since 2005. Irish monies have enabled the Center to observe elections in Nicaragua and Liberia, promote international democratic elections standards, and convene human rights defenders from around the world to develop policy recommendations that address grave human rights abuses.
Most recently, the Government of Ireland has granted The Carter Center €1.5 million over the next three years. The Center will use these funds in its efforts to:
Improve access to information policies and practices on national, regional, and international planes;
Strengthen the rule of law in areas where impunity is commonplace;
Ensure elections are free and fair through election observation and the establishment of international elections standards;
Mitigate and resolve conflicts within and between countries; and
Promote and protect human rights in areas where they are under threat.
The Carter Center is already carrying out work to achieve these goals in places such as Liberia, the Democratic Republic of the Congo (DRC), Bolivia, Ecuador, and the Palestinian Territories.
Ireland's generous financial support of The Carter Center's work reflects its longstanding dedication to international human rights and fairness in international relations, a commitment that is inseparable from Irish foreign policy as a whole. Through its Civil Society Fund, Irish Aid seeks to contribute to the achievement of the Millennium Development Goals by improving the livelihoods of disadvantaged communities in developing countries. Its partnership with The Carter Center is just one example of how Ireland is actively working to establish peace and justice around the world. The Carter Center would like to thank the Government of Ireland for its investment in peace, democracy, and the continuing work to secure human rights for all people.