The Carter Center Health and Peace Programs appreciate the continued support of our foundation, government, and corporate donors and are pleased to highlight their contributions in these regular Web features. To view donor lists, click links at right.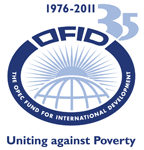 Featured February 2011
On Oct. 12, 2010, President Carter welcomed the Director General of the OPEC Fund for International Development (OFID), Suleiman Jasir Al-Herbish, to The Carter Center at a special ceremony for the signing of two new grant agreements. OFID has generously pledged support to the Center's international health programs: $500,000 to the Guinea Worm Eradication Program and $500,000 to the Onchocerciasis Elimination Program in the Americas (OEPA). President Carter and Mr. Al-Herbish signed grant agreements and made remarks to the audience.
OFID has been a partner of The Carter Center since 1997. Located in Vienna, Austria, OFID is a multilateral development institution whose mission is to promote economic and social advancement and cooperation in the developing world through financial assistance. Since it was created by the Organization of the Petroleum Exporting Countries (OPEC) in 1976, OFID has provided more than $13 billion for close to 2,800 operations in 129 countries. Its projects promote sustainable development by building vital infrastructure such as roads, bridges, schools and hospitals; improving access to basic needs like energy and water; and enhancing food security through support to agriculture. OFID also channels support to the private sector to help boost productivity and employment in its partner countries.
With renewed support from OFID, The Carter Center will be able to continue working to alleviate unnecessary human suffering and make progress toward the goal of wiping out two debilitating parasitic diseases-Guinea worm disease (globally) and river blindness (in the Americas). OFID's pledge will help fund Guinea worm eradication efforts in the four remaining endemic countries: Ethiopia, Ghana, Mali, and Sudan. This generous grant will be matched one-to-one as part of a $40 million challenge grant from the Bill & Melinda Gates Foundation. In 1986, 3.5 million cases of Guinea worm disease were estimated to occur annually in 20 countries, but fewer than 1,800 cases were reported provisionally in 2010. Guinea worm disease (dracunculiasis) is poised to be the second human disease eradicated from the planet, after smallpox. With the grant from OFID and other support, those affected will soon be able to live peacefully without the burden of Guinea worm disease.
OFID's pledge to OEPA will support the final phase in eliminating the major cause of preventative blindness in Latin America. Commonly referred to as river blindness, onchocerciasis is an endemic disease spread through the bites of small black flies. Those infected experience discomfort, eyesight damage, and often blindness. Disease transmission can be protected with an annual dose of the medicine Mectizan®, which kills the parasite's larvae. Since 1996, OEPA has distributed more than 142 million Mectizan® treatments and has halted river blindness transmission in seven of the original 13 endemic areas in Latin America. Aided by generous support from OFID, The Carter Center aims to fully eliminate river blindness from the Western Hemisphere by 2015.
"The last cases of a disease in an eradication or elimination effort are always the most difficult and expensive to address, and this is why The Carter Center is grateful to have the support of OFID as we rid the Americas of river blindness and the world of Guinea worm disease," President Carter said. "Through the support of our partners, we are making sure millions of people no longer suffer from these horrific illnesses and have the opportunity for a better future."

Featured donor and supported programs:
OPEC Fund for International Development (OFID)
Guinea Worm Eradication Program
Onchocerciasis Elimination Program of the Americas
Archives: Featured Peace and Health Partners