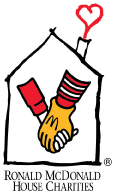 Featured February 2013
The Carter Center is proud to announce a new partnership in the effort to improve mental health services in Liberia. Recently, a generous pledge of $200,000 over two years was made by the global office of Ronald McDonald House Charities® (RMHC®). This grant to the Mental Health Program in Liberia reflects the organization's ongoing commitment to improving the lives of children and families through the support of international development projects.
The Carter Center is grateful for the new grant from RMHC, which makes possible the training of mental health clinicians and the building of supportive community environments for individuals with mental illnesses. The generous grant from RMHC will have a positive impact on those in communities across Liberia, improving access to mental health treatment and enabling people to lead healthy, productive lives.
RMHC was founded in part through the efforts of Philadelphia Eagles' player Fred Hill, key members of the Eagles' leadership, McDonald's® regional manager Ed Rensi, and Dr. Audrey Evans, who worked together to open the first Ronald McDonald House® in 1974. The organization is focused on meeting the critical needs of children and families, working through strategic alliances with organizations worldwide. For 38 years, the charity has worked to strengthen families during their most difficult or challenging times.
In December 2012, RMHC selected eight nonprofit organizations as recipients of global grants totaling more than $3 million, including The Carter Center. The goal of this program is to address urgent needs to improve the quality of life for children and families. Each of the programs focuses on a "train-the-trainer" approach to their methodology and demonstrating quantifiable and sustainable outcomes.
Recipients included Andean Health and Development, which will train physician teachers in Ecuador; ORBIS International, which will improve quality pediatric eye care services in South Asia; and the Hunger Project, which will improve access to vaccines, prenatal care, antenatal care, and antimalarial bed nets in eight countries in Africa. Since 1993, RMHC has awarded more than $93 million in grants.
The Carter Center is honored to recognize the generosity of RMHC in its support of the Mental Health Program in Liberia. With the continued commitment of partners such as these, we look forward to positively affecting the lives of those with mental illnesses. The Center is deeply appreciative of the support of RMHC in this endeavor.

Visit this partner's website: