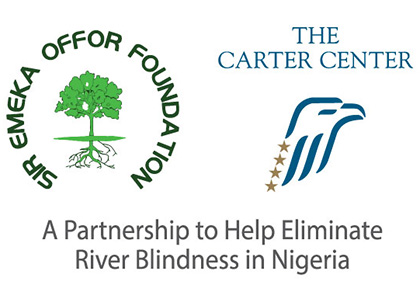 Featured June 2015
On June 12, 2015, Sir Emeka Offor announced a $10 million pledge to The Carter Center to help accomplish Nigeria's objective of completely eliminating river blindness (onchocerciasis) by 2020. This generous gift will provide the majority of funding needed to break transmission of this parasitic disease in seven states* of Nigeria that have been assisted by The Carter Center in their fight against river blindness since 1996. Sir Emeka Offor's landmark gift is the largest gift ever received by The Carter Center from an individual African donor. As a Nigerian philanthropist and entrepreneur, his generosity is especially meaningful.
Sir Emeka Offor established his foundation in the early 1990s, and its motto is "helping those in need become independent and self-sufficient." Its programs and projects focus on education, health and empowerment. In addition to river blindness, polio is a top priority: Sir Emeka Offor serves as Rotary International's Polio Ambassador to Nigeria. As Rotary's leading African donor and polio advocate, he has made significant contributions for the eradication of that disease. The Foundation's other health care initiatives include supporting free rural medical consultations that allow those who rarely receive treatment to see a highly trained doctor; a self-contained 25-room ward under construction at the National Orthopedic Hospital in Enugu State; and a glaucoma research grant and Nigerian fellowship for Cataract Surgery and Glaucoma Management at the Department of Ophthalmology University of Mainz, Germany.
The Carter Center helped the Nigerian Federal Ministry of Health eliminate Guinea worm disease - Nigeria's last case was in 2008, and the country was certified Guinea worm-free in 2013. The Carter Center has been assisting the Nigerian Federal Ministry of Health to control river blindness in nine Nigerian states for nearly two decades and is close to eliminating the condition from two of those states (Plateau and Nasarawa). Its river blindness elimination partnership with the Sir Emeka Offor Foundation began in 2013 with a $250,000 grant for river blindness. Now, with this new $10 million pledge of support, The Carter Center can accelerate the elimination of river blindness from the remaining states it assists in Nigeria. In 2015 alone, the Sir Emeka Offor Foundation's support will facilitate more than five million treatments with Mectizan® (donated by Merck to treat and prevent river blindness).
Nigeria accounts for more than 40 percent of the global river blindness disease burden, making it the most highly river blindness-endemic country in the world. Thirty-two of its 36 states are endemic for the infection, with about 31 million people at risk.
The enhanced partnership will not only help eliminate the threat of blindness for millions of Nigerians and countless future generations, but we hope it may also challenge and inspire other philanthropists to join together in supporting the elimination of river blindness from all of Nigeria by 2020. The Carter Center is thankful for the immense generosity of the Sir Emeka Offor Foundation and its commitment to eliminating this debilitating disease. Working together, we can have a major impact on the lives of millions of people.
*Nigerian states assisted with Sir Emeka Offor Foundation support: Abia, Anambra, Delta, Edo, Ebonyi, Enugu, and Imo.
Visit this partner's website:
Sir Emeka Offor Foundation