Sudan's War and Eradication of Dracunculiasis
By Donald R. Hopkins and P. Craig Withers, Jr.
"You can bring whatever you like here. If this war continues, it will mean nothing."

The quote from the exasperated village elder in the Nuba Mountains area of Sudan says it all. Although the incidence of dracunculiasis (Guinea worm disease) has been reduced by 98% from an estimated 3.5 million cases less than two decades ago, and seven of the twenty formerly endemic countries have already eliminated the infection, most of the remaining patients are in southern Sudan, and the global eradication campaign cannot be completed until that country's civil war ends.

People get dracunculiasis by drinking contaminated water from open ponds. A year later, the one-meter long worms (Dracunculus medinensis) emerge through the person's skin. As a result of the pain caused by the emerging worm, many villagers are unable to farm or attend school for two or three months. When persons with emerging worms enter water, the parasite discharges thousands of microscopic larvae into the water, where some are eaten by tiny water fleas (copepods), and become infective to people. This parasite must pass through people, so when transmission to humans is interrupted, D. medinensis will be eradicated forever.

People do not become immune, and there is no treatment or vaccine for dracunculiasis. It can be prevented, however, by teaching villagers to avoid entering water when a worm is emerging and to filter (or boil) water from such sources through a finely woven cloth; by treating contaminated ponds with Abate (temephos); and by providing protected hand dug wells or bore hole wells.

How did we get to this impasse between Guinea worm eradication and civil war in Sudan? The global campaign to eradicate dracunculiasis began at the Centers for Disease Control and Prevention (CDC) in 1980. The current conflict in Sudan is almost as old, having resumed in 1983 after a ten year respite. Sudan's war is Africa's longest, bloodiest and most neglected conflict. Largely because of the war, Sudan has reported one-half or more of all cases of dracunculiasis in the world annually, beginning in 1995 and increasing to 78% of all remaining cases in 2001.

The difficulties of conducting any public health program in southern Sudan are formidable. Sudan is as large as the United States east of the Mississippi River. The land in the southern part of the country is vast, much of it is flooded for months during the rainy season, and there are few roads or other infrastructure. Additional difficulties caused by the war include mass movements of displaced persons, restricted access to known or suspected endemic communities, disruptions in activities and loss of personnel, and increased costs because of the need to airlift supplies. Of these challenges, only the geographic and climatic constraints are inherent.

Pitted against the above-mentioned difficulties are many dedicated Sudanese health workers on both sides and their allies from international organizations.

Since former President Jimmy Carter negotiated a four-month long "Guinea Worm Cease-Fire" in 1995, The Carter Center has facilitated the coordination of operations and reporting on Guinea worm activities from both sides, from offices in Khartoum and Nairobi. Nairobi is the headquarters for dozens of Non-Governmental Organizations (NGOs) that are active in rebel-held areas of southern Sudan. Quarterly coordination meetings alternate between Khartoum and Nairobi.

The Guinea Worm Cease-fire allowed health workers to access almost 2,000 endemic villages, and distribute over 200,000 cloth filters, to effectively inaugurate the Sudan Guinea Worm Eradication Program (SGWEP). Whereas the strategy during the earlier stage of the global campaign had been to wait until Sudan's civil war ended before engaging the disease there, the 1995 cease-fire demonstrated that much could be done despite the war. Indeed, the newly emboldened Sudanese program distributed even more cloth filters the next year, without a cease-fire, than it had in 1995. By 2000, the SGWEP was aiming to interrupt transmission of dracunculiasis in all eight northern states where it still occurred, and sought to focus efforts aimed at stopping transmission in the south on three "emphasis states" that were mostly under the control of one side or the other then: Upper Nile, Lakes/Buheirat, and Western Equatoria.

Despite all the constraints, the SGWEP distributed over 600,000 cloth filters annually for use in households between 1996 and 2000, and over 800,000 in 2001. In 2001 the program also distributed more than 7.8 million "straw filters" for personal use -enough for every person at risk of the disease in Sudan (photograph). The straw filters allow individuals to always filter potentially contaminated drinking water, even when they are away from home. The impact of the straw filters is being evaluated in 2002.

Almost two-thirds (3,921) of the 6,040 accessible endemic villages in Sudan reported one or more cases of Guinea worm disease in 2001. However, another 2,500 villages are known to have reported cases since 1995, but are currently inaccessible. Of the endemic villages that are accessible, 84% have a resident health worker or volunteer trained in preventing dracunculiasis, 85% received health education about the disease last year, 62% had cloth filters in all households, 61% had at least one source of clean drinking water, and Abate was used in 2%. Twenty NGOs are now implementing Guinea worm eradication activities in southern Sudan.

With Sudan's increasing share of the remaining dracunculiasis cases in mind, the major external partners (The Carter Center, WHO, UNICEF) requested the Government of Sudan to host the annual meeting of all endemic countries in March 2002. The President of Sudan presided over the opening ceremony of the conference, which was attended by President Carter, former Nigerian head of state General (Dr.) Yakubu Gowon, two former Sudanese heads of state, Sudan's Minister of Health, and over a thousand other health workers, mostly from Sudan. All twenty endemic countries were represented, including several ministers of health. Sudan's head of state unveiled three postage stamps to commemorate the occasion. The conference also provided an opportunity for President Carter and staff of The Carter Center's Conflict Resolution Program to engage in political discussions with the Sudanese leadership related to ending the war. After leaving Khartoum, President Carter visited a rebel held area and later met with the leader of the main opposition group (Sudan Peoples Liberation Movement).

In seeking to help the search for peace in Sudan, The Carter Center is drawing on its involvement in health that began with an agricultural project in Sudan in 1986, and now includes cooperation on dracunculiasis, onchocerciasis, and trachoma. President Carter sought to negotiate a cease-fire in 1989, negotiated the "Guinea Worm Cease-fire" in 1995, and the "Nairobi Agreement" between Sudan and Uganda in December 1999, which led to restoration of diplomatic relations between the two countries.
The recent efforts by the new U.S. administration and some European countries to help negotiate an end to the Sudanese conflict provide a basis for hope that the war in Sudan may be ended soon. In our opinion, at this stage of the SGWEP, temporary cease-fires or days of tranquility are only useful to the extent that they are confidence-building steps toward the main goal, which is ending the war altogether.

For all the SGWEP's successes so far, dracunculiasis cannot be eradicated from Sudan until Sudan's civil war is ended. (With an incubation period of two weeks or less, and a vaccine, it may be possible to eradicate polio from Sudan before the war ends, but it will be hard to prove it. Smallpox was eradicated during Sudan's brief decade of peace.) We estimate that it will take 3-5 years to completely eradicate dracunculiasis in Sudan once the war is settled. Until then, the actual and potential costs to Sudan, its neighbors, and supporters of the eradication campaign will be substantial. They include the costs (now about US$2 million per year) to maintain the program in Sudan; costs of maintaining surveillance to detect cases exported from southern Sudan to northern Sudan and to neighboring countries; costs if an undetected case re-establishes transmission in Ethiopia, for example; and the costs of maintaining WHO's International Commission for the Certification of Dracunculiasis Eradication for the additional years.

The need to address this public health problem is being used as a diplomatic tool in Sudan, and diplomacy is urgently needed to facilitate public health work in that war-torn country.
AUTHORS
Donald R. Hopkins, M.D., M.P.H., is Associate Executive Director of The Carter Center. He previously was deputy director of the Centers for Disease Control and Prevention, where he initiated the global campaign against dracunculiasis.
P. Craig Withers, Jr., M.H.A., M.B.A., is Director of Program Support for the Global 2000 Programs of The Carter Center. He was the Center's resident technical advisor in Sudan 1995-1996.
REFERENCE
1. Fischer, I. "Can International Relief Do More Good Than Harm?" New York Times Magazine, February 11, 2000.
FURTHER READING
1. CDC Progress toward poliomyelitis and dracunculiasis eradication-Sudan, 1999-2000. Morbidity and Mortality Weekly Report 2001; 50:269-273.

2. Hopkins DR, Ruiz-Tiben E, Diallo N, Withers PC Jr., Maguire JH. Dracunculiasis eradication: and now, Sudan. J Am Soc Trop Med Hyg 2002 (in press).
RELATED LINKS
Learn more about the Carter Center's Health Programs, including the Guinea Worm Eradication Program.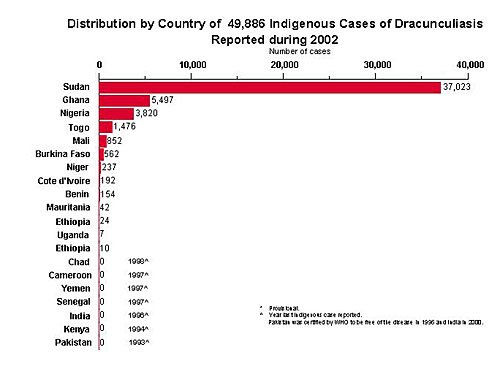 View the graph (PDF format) of the Distribution by Country of 49,886 Cases of Dracunculiasis Reported During 2002

Visit The Lancet web site:
http://www.elsevier.com/locate/lancet

Visit the Science DirectTM web site:
http://www.sciencedirect.com



Note: Photos, graphics, and web site links were not included with article as originally published.
Reprinted with permission from Elsevier
(THE LANCET Supplement, Vol 360/December 2002/Pages 21-22)

All Photos: The Carter Center
Child playing with discarded bullet casing (Wau, southern Sudan, March 2002).
A young child in displaced persons camp (right) wears the pipe filter--a straw-like device used to strain parasites from drinking water--around his neck (Wau, south Sudan, March 2002) .
Boys (left) use pipe filters to protect themselves from contracting Guinea worm disease, a parasitic water-borne disease that breeds in a stagnant pools of water (Wau, southern Sudan March 2002).
Photo Credit: The Carter Center / Khalil Senosi

Former U.S. President Jimmy Carter wears a pipe filter identical to the more than 8.5 million--one for every man, woman, and child at risk of Guinea worm disease in Sudan--distributed during the summer of 2001 by The Carter Center and its partners: Health and Development International, Hydro Polymers of Norsk Hydro, and Norwegian Church Aid.

(Read more about the Sudan Pipe Filter Project, May 2001.)