Aug. 21, 2003
FOR IMMEDIATE RELEASE
CONTACT: Emily Howard
404-420-5126
ATLANTA…..U.N. Secretary-General Kofi Annan and former U.S. President Jimmy Carter lend their voices to the campaign to eradicate Guinea worm disease in public service announcements being released in West Africa by The Carter Center.
"This is a terrible illness, but we are on the verge of defeating it for good," the secretary-general says in a message. "Every one of you can help bring us closer to victory."
The secretary-general's message will be provided to radio and television stations in Ghana, Togo, Nigeria, and Mali to remind people to filter their drinking water and to report all cases of the disease to health care workers. Voice of America has agreed to air public service messages to help fight the disease until it is eradicated.

"The messages educate and encourage people of all ages to make the behavioral changes necessary to stop the transmission of Guinea worm disease and to work together to rid their communities of Guinea worm," explained President Carter, chair of the not-for-profit Carter Center, a nongovernmental organization leading an international coalition of organizations working to eradicate the disease.

Former Nigeria Head of State General Dr. Yakubu Gowon, Mali President Amadou Toumani Touré, and Niger President Tanja Mamadou also have recorded messages for the campaign.
To reach more local communities, versions of the public service announcements are being recorded by native African speakers in Arabic, Bambara, Dinka, English, French, Fulani, Hausa, Kanuri, Konkomba, Nuer, and Tamachek.
The Carter Center leads the international coalition working to eradicate Guinea worm disease in the 13 remaining endemic countries. A parasitic disease, Guinea worm is contracted from drinking water contaminated with microscopic fleas carrying infective larvae. Inside a human's abdomen, the larvae mature and grow into thread-like worms, some as long as three feet, emerging slowly after a year through painful blisters in the skin. The burning sensation caused by the emerging worm leads victims to immerse their limbs in water, seeking relief, and continuing the cycle of infection as they release more larvae into the water.

Since The Carter Center began leading the international campaign to eradicate Guinea worm disease in 1986, cases have been reduced by 98 percent-from 3.5 million to approximately 55,000 reported cases in 2002. Last year, Sudan, Ghana, and Nigeria, the three most endemic uinea worm countries, accounted for 93 percent of 54,638 cases reported.
Audio and written public service announcements are available on the Carter Center's Web site for Africa radio stations to download free of charge.
Listen to Former U.S. President Jimmy Carter urge eradication of the Guinea worm disease (version one).
Listen to Former U.S. President Jimmy Carter urge eradication of the Guinea worm disease (version two).
Listen to United Nations Secretary-General Kofi Annan urge eradication of the Guinea worm disease.
Watch Secretary-General Annan's video public service announcement.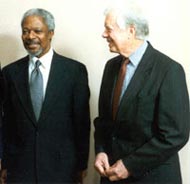 Carter Center Photo
Nobel Laureates Jimmy Carter and Kofi Annan join African leaders in the fight against Guinea worm disease.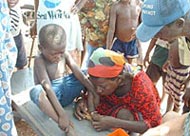 Carter Center Photo: Elizabeth Wolfe

A Red Cross volunteer begins the difficult process of removing a Guinea worm from an infected child.
Learn more about the Carter Center's fight to eradicate Guinea worm disease.