Aug. 27, 2003
FOR IMMEDIATE RELEASE
CONTACT: Emily Howard
404-420-5126
ATLANTA....Former U.S. President Jimmy Carter and his wife, Rosalynn, will travel to Japan Sept. 4-6 to promote the Carter Center's work to increase agricultural production and eradicate Guinea worm disease in Africa.
The visit includes an address in the conference hall of the United Nations University in Tokyo on Friday, Sept. 5, at 10:30 a.m. (local time).
Later that day, President Carter will attend a meeting of the Sasakawa/Global 2000 Agricultural Program, a joint initiative of the Sasakawa Africa Association and The Carter Center in collaboration with ministries of agriculture in nine sub-Saharan African countries. A press opportunity will take place from 4-4:30 p.m. at the Nippon Foundation.
President Carter also will meet with Junichiro Koizumi, prime minister of Japan, and other government officials.

"The Carter Center and the Sasakawa Africa Association teach small-plot farmers to increase crop production by sharing the latest knowledge in planting techniques and seed varieties," said President Carter. "You cannot have peace when children are hungry."

Since 1986, SG2000 farming techniques have helped more than four million farmers in 15 African countries double or triple their crop yields. Dr. Norman Borlaug, 1970 Nobel peace laureate, leads SG2000, while President Carter provides policy advice to national political leaders. Funding for SG2000 projects comes from the Nippon Foundation of Japan and other Carter Center donors.
An ancient parasitic disease, Guinea worm is so painful and debilitating that its effects reach far beyond a single victim-crippling agricultural production, reducing school attendance, and hurting communities throughout Africa.
The Carter Center leads an international coalition of organizations working together since 1986 to eradicate Guinea worm disease. The disease is contracted from stagnant drinking water sources contaminated with microscopic fleas carrying infective larvae. When infected water is consumed, the larvae mature and grow inside the human abdomen, emerging slowly after a year through a painful blister in the skin. The thin, thread-like worms average three feet in length and can take up to two months to exit the body, during which time the victim is often incapacitated. There is no immunity, and no vaccines or medications can prevent Guinea worm disease. Only simple measures, such as providing clean drinking water and health education, can stop unnecessary suffering.
Learn more about
the Carter Center's:
Guinea Worm Eradication Program
China Village Election Project
Since 1989, the government of Japan has been the largest foreign government donor to The Carter Center for support of the Guinea Worm Eradication Program. Contributions from the Japanese government have helped The Carter Center and its partners to reduce the number of Guinea worm cases more than 98 percent since the worldwide eradication campaign began in 1986. The generous support of Japan has enabled the Center to accelerate Guinea worm disease eradication efforts in Sudan and Ghana, the two most endemic Guinea worm countries, accounting for 82 percent of 54,638 cases reported in 2002.
"The Carter Center's partnership with the government of Japan is invaluable at a time when the worldwide campaign makes its final push to eradicate Guinea worm disease. Its financial support and in-kind contributions, such as vehicles and assistance in targeting water supply projects, have helped the Center and its partners make Asia Guinea worm- free and end transmission of this debilitating disease in seven countries," President Carter said. "With only 55,000 cases reported in 2002, Guinea worm eradication is on the horizon."
Following his visit to Japan, President Carter will travel to China Sept. 7-10, where The Carter Center is working with the Chinese Ministry of Civil Affairs to help establish standards and practices for village elections. Read about the Carters' trip to China.
The Carter Center was founded in 1982 by former U.S. President Jimmy Carter and his wife, Rosalynn, in partnership with Emory University, to advance peace and health worldwide. A not-for-profit, nongovernmental organization, the Center has helped to improve life for people in more than 65 countries by resolving conflicts; advancing democracy, human rights, and economic opportunity; preventing diseases; improving mental health care; and teaching farmers to increase crop production.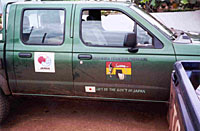 This vehicle, used by the Carter Center's Guinea Worm Eradication Program, was donated by the Japanese government.