The Carter Center staff coordinating the Guinea Worm Eradication Program in each country cannot be everywhere all the time. Yet, as long as this crippling disease is active anywhere in a region, eradicating it requires a nearly continuous presence in the endemic areas--mostly to prevent disease transmission.
People moving into such areas often need to be educated about preventive measures, those already taught need reminding, and everyone needs to be resupplied with the simple but effective filters for drinking water. Everyone also must know that one infected person stepping into a communal water source can unleash Guinea worm larvae seeking another human host.

The Carter Center tackled this challenge by recruiting village volunteers-people who care about their community's well-being, to serve as the front line against disease. Progress in eradicating Guinea worm could not go swiftly and surely without them.

No village volunteer is as dedicated to the cause as Santino Luka Madiria, a 34-year-old social worker and father of three in Wau, southern Sudan. Santino Luka exemplifies the conventional business wisdom: If you want something done right, assign it to the busiest person. He is the go-to guy in Wau. In addition to being a Guinea worm volunteer, he worked for Save the Children, UNICEF's environmental task force, and a polio vaccination initiative.
The Hey Jebel community, where he now serves, is his third assignment in the town of Wau. Trained by Guinea worm coordinators, he is overtly proud of his work.
"I completely eradicated Guinea worm from the first place I was assigned," he says, "saw the number of cases drop dramatically in the Eastern Bank area, and the numbers are getting steadily lower now in Hey Jebel."
Santino Luka is known as "the Guinea worm doctor" in Hey Jebel. Nearly every week, he helps educate people about the disease. He tells them about the life cycle of the worm and warns them to stay away from contaminated water sources. He teaches people how to use a filter, how to clean it after use, and suggests they keep it near their water pots as a reminder to use it.

People know to come to him for replacement filters. "From what I see," he says, "I believe the filters even have reduced sickness from other diseases related to bad water.

"Everyone wears the pipe filters around their necks. They're very happy to see this disease disappear and ask God to bless the program, to keep the disease away forever."

In a job where turnover can be a problem, Santino Luka has served as a village volunteer for more than 8 years. He says he will not stop doing this job until the disease is completely eradicated.

"We need peace to reach people on the other sides of the conflict," he stresses. "I wish for that to come soon. I want my children to grow up in a safe and healthy environment and become educated, so they can help people in the future."

Read more about the Guinea Worm Eradication Program and the Carter Center's work in Sudan.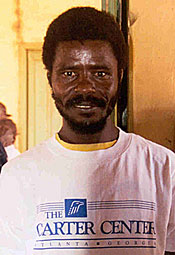 Santino Madiria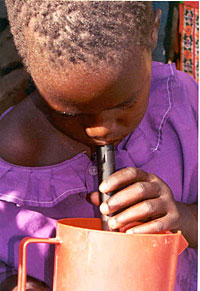 A young girl drinks water through a pipe filter worn around her neck.