Oct. 14, 2003
FOR IMMEDIATE RELEASE

CONTACT:
Emily Howard
Office of Public Information, The Carter Center
(404) 420-5126
Jay Copp
Communications Office, Lions Clubs International Foundation
(630) 571-5466, ext. 386


ATLANTA. . . In the battle to fight a major cause of preventable blindness, the Carter Center's River Blindness Program and Lions Clubs International Foundation are celebrating the delivery of more than 50 million Mectizan® treatments in 11 countries in Africa and the Americas since 1996.
Around the world, river blindness has an enormous economic impact, preventing people from working, harvesting crops, receiving an education, or caring for children. Fertile banks of swiftly flowing rivers teem with black flies whose multiple bites insert a microscopic parasitic worm into victims. The worm's offspring swarm through the body, especially the skin and eyes, eventually causing river blindness, also known as onchocerciasis.
Learn more about the Carter Center's River Blindness Program.
Read more about where we're fighting river blindness around the world:

Brazil, Cameroon, Colombia, Ecuador, Ethiopia, Guatemala, Mexico, Nigeria, Sudan, Uganda, Venezuela
River blindness has infected 18 million people. Half a million are visually impaired, and another 270,000 are irreversibly blind because of the disease, according to the World Health Organization. The estimated economic burden of global blindness is more than U.S.$25 billion annually.

Former U.S. President Jimmy Carter, an active Lions Clubs member, said, "Fighting blinding diseases has profound significance, not just for me as an interested observer, but for the child who will never go blind and for his parents and grandparents, who now have hope their lives can improve. When people receive Mectizan, it is often the only time they experience such hope. The distribution of more than 50 million treatments is an incredible achievement."
Health education and the distribution of Mectizan treatments have not only prevented millions from contracting river blindness but also have saved multitudes of communities from near extinction. Villagers who once abandoned fertile land near rivers to avoid being bitten have returned to their land and revived their local economy.
In coffee producing countries like Guatemala, contracting onchocerciasis may be considered an occupational hazard -- often the fast-flowing streams where the black flies breed are located near where workers harvest coffee. In parts of Ethiopia, almost everyone in an endemic village will harbor the disease, and it is estimated that a small child is bitten more than 20,000 times each year.

But health education and Mecitzan treatments have transformed individual lives. Semanza Erisa, 54, lived in the bush, an outcast from his Ugandan village after being infected. His skin, he said, was like that of a hippopotamus. The severe itchiness he experienced forced him to rub against trees in search of relief from the misery. The parasites, which are small thread-like worms, cause intense itching, skin discoloration, and ultimately blindness. Six years of treatment defeated the disease and saved him from losing his sight. Today, Erisa works as a handyman and supports a wife and child in his home in the village.
A Nigerian tailor whose eyesight was beginning to be affected by the parasite reported that he could see well enough to thread a needle by himself again, after taking Mectizan.
"Lions have been 'Knights of the Blind' for nearly 80 years. We are overjoyed that in cooperation with The Carter Center we've been able to save the sight of millions of people," said Kay K. Fukushima, chairperson of Lions Clubs International Foundation.
Lions Clubs International Foundation has provided The Carter Center with U.S.$24.1 million in grants since 1996 to prevent blindness in Africa and the Americas.
Taking the medication is simple enough, but a key challenge for the River Blindness Program is to continue to reinforce distribution networks, educate the villagers about the efficacy and safety of the medication, and enlist the support of community leaders.
"Local Lions, in conjunction with The Carter Center and ministries of health, hold river blindness educational workshops for villagers, community leaders, and policy makers," said Moses Katabarwa, Carter Center epidemiologist for the River Blindness Program and a Lion. "Lions on the ground are extremely active and passionate. They see the difference that Lions are making in the fight against blindness."
A Carter Center conference on the eradicability of onchocerciasis in January 2002 concluded that river blindness cannot be eradicated globally using current tools and technology because of conditions specific to Africa. However, regional eradication of the disease in the Americas is possible if drug treatment can be given two times a year to at least 85 percent of those who need it. In Africa, where 99 percent of the cases occur, annual administration of Mectizan indefinitely will keep onchocerciasis controlled so that it no longer poses a public health problem. In 1987, Merck & Co., Inc. announced its decision to donate Mectizan in whatever amounts are needed to prevent onchocerciasis, for as long as necessary.
The 50 million treatment milestone is being announced with partners such as the Centers for Disease Control and Prevention, Merck and the Mectizan Donation Program, African Programme for Onchocerciasis Control, World Health Organization, and each of the national programs. This strong international coalition seeks to increase public-private partnerships and awareness, ultimately leading to the effective prevention of unnecessary suffering of millions of people.
Lions Clubs International (LCI), based in Oak Brook, Ill., is the world's largest service club organization with 1.4 million members. LCIF, the grant-making arm of LCI, fights preventable blindness primarily through its SightFirst program. SightFirst programs correct cataract, train ophthalmic personnel, develop infrastructure, and combat river blindness in 78 countries on six continents. SightFirst has awarded U.S.$148 million in grants since it began in 1990. To learn more, please visit www.lcif.org


The Carter Center was founded in 1982 by former U.S. President Jimmy Carter and his wife, Rosalynn, in partnership with Emory University, to advance peace and health worldwide. A not-for-profit, nongovernmental organization, the Center has helped to improve life for people in more than 65 countries by resolving conflicts; advancing democracy, human rights, and economic opportunity; preventing diseases; improving mental health care; and teaching farmers to increase crop production.
###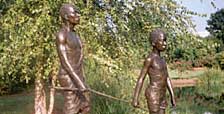 Young children leading their blind elders is a common sight in countries impacted by river blindness, depicted in this sculpture on the Carter Center grounds.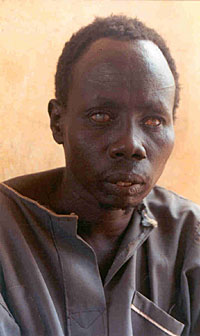 PHOTO: EMILY HOWARD

Onchocerciasis, or river blindness, affects 18 million people around the world, including this Sudanese man. The Carter Center, in partnership with the Lions Club International Foundation, has delivered more than 50 million Mectizan® treatments to combat the affects of the disease.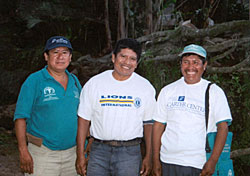 PHOTO: EMILY HOWARD

Guatemalan promoters of the River Blindness Program, wearing Lions Club International, Carter Center, and OEPA t-shirts, play a critical education role.