Feb. 29, 2004
Finishing the job
Former President Jimmy Carter and his group
take one more crack at eradicating Guinea worm in Ghana.

This article originally appeared in the March 2004 issue of Africa Today. Reproduced with permission.

By Muyiwa Akintunde, in Tamale, Ghana

All hands to the plough, the dream of former US President Jimmy Carter to bury the last Ghanaian Guinea worm in one of the fanciful Accra caskets may well be realised very soon. Last month, the No. 1 Guinea worm warrior led a powerful party on a mission to Ghana with the theme: Committed to finishing the job! On the field trip to Dashei in the Jantong area of East Gonja district, infamous for its high Guinea worm cases in Ghana, the Carter party included WHO Director General, Dr Lee Jong-Wook, Unicef Deputy Executive Director, Kul Gautam, UN Resident Coordinator for Ghana, Alfred Fawundu, Mrs Rosalynn Carter, her son, Jeff, Ghana's minister of Health, Dr Kweku Afriyie and minister of Works and Housing, Mustapha Ali Iddris, who hails from the host Northern Region.

When the eradication campaign kicked off in 1986, there were 3.5 million cases worldwide with 20 countries reporting high numbers. So much progress has been made that a provisional figure of 35,000 cases was given for 2003, meaning that only one per cent of the cases remained worldwide. But Ghana accounts for 27 per cent of that number, ranking as the second worst case country in the world, next only to Sudan, which has been ravaged by a two-decade-old war. For a country that celebrated success recently, slashing its 1989 figure of nearly 180,000 cases to stabilise at less than 6,000 at the end of 2002, there is now an upswing of Guinea worm cases. Ghana closed 2003 with over 8,200 Guinea worm cases, a 48 per cent increase from its previous year's figure of 5,611. "There is no excuse for the unnecessary suffering caused by Guinea worm disease," declared Carter at the end of his tour. "In Ghana, the resources, support, knowledge and ability to eradicate Guinea worm disease are in place. It is up to Ghana to commit to the challenge by taking swift and immediate action.

Apparently embarrassed by the turn of event, the team from Ghana assured delegates that the required leadership to win the war would be provided. In Tamale, capital of Ghana's Northern Region where Carter and his team had frank talks with the Ghana authorities, Health minister Kweku Afriyie made another commitment, accepting the challenge on behalf of the government and people of Ghana: "Ghana must raise public awareness and gain a sense of urgency at all levels to turn its members around and no longer hold the title of most endemic Guinea worm country in West Africa. Ghana will meet this challenge by making Guinea worm a priority, providing improved water supply to endemic communities, and increasing health education."

Ghana's slide is not for lack of trying though. The most important weapon in the war on Guinea worm is health education, which is quite high even in the remote villages where literacy level can be as low as 20 per cent. So much has been achieved in the last years by the army of volunteers provided by Global 2000, the Red Cross, Ghana's ministry of Health and the US Peace Corps that virtually every village in the most remote community is quite conscious of what leads to Guinea worm and what to do when it occurs. Only a small percentage still hang on to the traditional belief that Guinea worm is not contracted from contaminated water but a curse from the ancestors.
Health education is conducted at regular intervals by all manner of volunteers to drive the message home. At Diare, in the Savelugu-Nantong district of the Northern Region, elementary school teacher Idrissu Hussein told Africa Today that he gathers his pupils together every fortnight for health education, with emphasis on Guinea worm containment. He believes the message is sinking in. "From my interaction with the kids, even the ones that are as young as six years already know about Guinea worm," he says. But to enrich the message, Hussein requests for teaching aid such as charts and books with illustrations the largely illiterate population can relate to.
The villagers know that to kick Guinea worm out of their midst, infected members of the community must be kept out of the water source. Global 2000 has provided several case containment centres in endemic areas where victims of the scourge are treated and kept until their sores are healed and they could no longer cause harm to the rest of the villagers. But many of the patients are too eager to get back to the farm even before the Guinea worm is finally tackled.

Last September in Atlanta, United States, the Guinea worm eradication review conference had been deeply worried about the relapse in Ghana that the closing session was Ghana-specific.


Since Guinea worm comes from a water flea that carries eggs in contaminated water point, the incidence is prevalent in areas where safe water is in short supply. That is sadly the situation in the three endemic regions of Ghana - Northern, Brong Ahafo and Volta. The Dashie dam visited by the Carter party serves 18 communities scattered over a 20-kilometre radius. It is the source of most of the 615 Guinea worm cases recorded in Jantong area last year.

In the dry season, which sets in about March, the dam dries up and the villagers would have to walk all the way to about 20 kilometres to fetch water. Nasam Ewuntomah, an energetic Dashie youth, says he makes two or three trips a day and would be ready for a fight if anybody should use the water lavishly.

Diare village in Savelugu-Nantong district has a dam that never dries up as well as two borehole points, but the water cannot go round the over 8,000 people in adjoining communities. Unicef built one of the boreholes about 30 years ago and it supplies water in droplets. It features long queues and endless waits and scrambling by women and youths on a daily basis. Alhassan Saaka, Global 2000 zonal coordinator for Diare zone, says it can take up to six hours in the queue to fetch a 20-litre bucket of water. The 180 boreholes promised by the Ghanaian government for the endemic communities have not been delivered, partly because it takes a miracle to hit water points in the dry region.

At the press conference to round off Carter's trip, Ali Iddris, Works and Housing minister, admits: "We already have lack of capacity in that area (of borehole drilling)." The emphasis is therefore shifting to filtering the water before use. Carter discloses that Guinea worm has been erased in several communities that have no boreholes. His words: "Many nations have completely eradicated Guinea worm without digging a single well. How do you do it? Every time a person takes a drink, he needs to pour the water through a filter cloth, which we provide to any family in Ghana. If you pour water through the filter cloth, it removes the Guinea worm there. You will never have Guinea worm. This requires education. It requires surveillance. Keep the people out of the water point when they have Guinea worm. Running the water through the filter cloth is the best way to eradicate Guinea worm. We cannot depend on borehole to eradicate Guinea worm. That's the main message."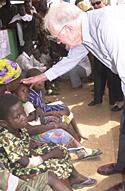 Former US President Jimmy Carter with child of Guinea worm patient



38-year old Lukaas Njakune is a Guinea worm patient, shown here with his child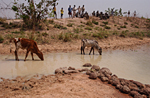 Animals as well as Ghanaians battle to get water from the same source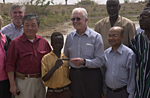 (Left to Right) Dr. John Hardman, executive director, The Carter Center; Dr. Lee Jong-wook, director general of WHO; Yakubu Mumuni (age 11); former President Carter; Kul C. Gautam, deputy executive director of UNICEF and Dr. Kweku Afriyie, Ghana's minister of Health