An assessment of the Carter Center's latrine project in Niger, undertaken to reduce incidence of trachoma, has shown encouraging results. After one year, household latrines are widely accepted, used and maintained.
The Carter Center's Trachoma Control Program began its latrine project early in 2002 to rid rural villages of breeding sites for flies that transmit the world's most common preventable cause of blindness. The trachoma-control team provides materials and supervises the construction of household latrines.

When the project began, fewer than 5 percent of households in rural communities had covered latrines. Now more than 2,900 latrines have been built in more than 50 villages, and as many as 1,000 more households will build latrines as materials become available.
"We needed to learn how well people are accepting latrines, whether they maintain the latrines and how hygiene education has had an impact on the communities. The results are promising," said the center's Mamadou Diallo, a physician from Mali with a masters of public health from the University of California at Berkeley and a graduate of the CDC's Epidemic Intelligence Service.
Beginning in June 2003, the trachoma control team visited 200 households, interviewing resident adults and meeting with village leaders. They found that latrines are welcomed and accepted for different reasons. Specifically, they found:
More than 90 percent of adult men and women reported always using latrines.
Eighty-two percent of those surveyed chose to use them for proximity and privacy.
Only 5 percent cited disease prevention as the reason for using latrines.
Seventy-five percent of the time, women are in charge of cleaning latrines.
While only a small percentage of villagers reported using latrines as a way to prevent disease, Salissou Kane, resident technical adviser for the Trachoma Control Program in Niger, is pleased with project results.

"Even though people are using latrines for reasons other than health, they are still using them," he said. "Later on we can help them connect the impact of latrines on health."
Forty-nine of 50 village leaders reported they would continue to build latrines when the project ends.
Trachoma affects 146 million people, most of whom live in developing countries in Africa, the Middle East and Asia. Only cataracts cause more blindness worldwide but, unlike cataracts, trachoma can be prevented through improvements in personal and environmental hygiene. The Carter Center's Trachoma Control Program works with ministries of health and other partners in Ghana, Mali, Niger, Ethiopia, Sudan and Nigeria to promote improvements in personal and environmental hygiene and to deliver antibiotics to people at risk for blinding trachoma.
In addition to the latrines in Niger, the Carter Center has built 7,900 latrines in the five other African countries, learning along the way about cultural and regional influences. In some countries, latrine lids get too hot. In southern Sudan, where soils are very loose and moist, some latrines have collapsed. Center staff found in Mali that separate latrines would have to be built in homes housing more than one wife or family. Ethiopia and Ghana are experimenting with public latrines.
Learn more about the Center's Trachoma Control Program and other work in Niger.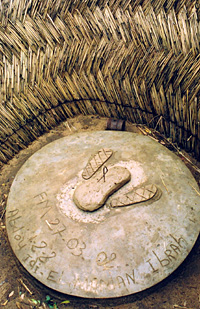 CARTER CENTER PHOTO: JIM ZINGESER

Villagers in Niger build latrines surrounded by thatch, decreasing breeding sites for flies that carry blinding trachoma. The Carter Center and the national ministry of health will continue to explore ways to make household latrines even more affordable, acceptable, and sustainable.>