Former U.S. President Jimmy Carter, his wife, Rosalynn, and former Thailand Prime Minister Chuan Leekpai led a 60-member international delegation to observe Indonesia's July 5 presidential elections. The delegation, representing six countries, arrived July 1 and received briefings in Jakarta before being deployed throughout Indonesia on July 3. On election day, they witnessed poll openings, voting, vote counting at polling stations, and transportation of the ballot boxes to the village organizing election committee.
Read Postelection Statement on Indonesia Elections, Aug. 2, 2004
Read Jimmy Carter: Surprisingly fair elections in Indonesia, International Herald Tribune, July 15, 2004
Read President Carter's Trip Report from Indonesia, June 30-July 7, 2004

Read Presidential Elections in Indonesia: The Carter Center's Second Statement (English and Bahasa)
The first photos from election day (below, left) show the process Indonesians followed in order to cast their historic votes July 5.
In the following "Dispatch from Indonesia," Kay Torrance, assistant director of public information for The Carter Center and a member of the international delegation, provides the first update from Jakarta.
Friday, July 2: Jakarta
The first thing any traveler to Jakarta notices is the traffic. The volume of cars is tremendous in this city of some 11 million people, though motorbikes vastly outnumber cars as they are cheaper for Indonesians, many of whom live in poverty. Indonesian drivers tend to ignore the painted lines on the road; motorbike drivers swerve in and around the cars, making for frequent traffic accidents. Traffic, though, should be better July 5 for the country's presidential elections-it's been declared a holiday and businesses will be closed.
As Indonesia is a fairly new democracy, elections here are being closely watched by voters and by the international community. The country achieved independence in 1949 from the Netherlands and then was ruled by an authoritarian government until 1998. The first free elections were held in 1999. But Monday's election marks another turning point-voters will directly elect their president, as opposed to 1999 when a parliament was elected, whose members then chose the president.
Five candidates are running for president. If no one receives more than 50 percent of the vote, a run-off will be held Sept. 22. A former military officer, Susilo Bambang Yudhoyono, commonly known as SBY, is leading opinion polls. A presidential debate held Thursday night at a Jakarta hotel was packed and eagerly watched by voters on television, the local media reported the next day. Thursday night also marked the end of campaigning, as regulated by electoral law.
In a country of some 220 million people on 6,000 inhabited islands, elections here take intensive planning. If the April 5 legislative elections are any key, the 135 million Indonesians who voted then will be out in full force for next Monday's presidential election. In fact, Indonesia's legislative elections were the largest single-day elections in the world.
The Indonesian electoral commission, known as KPU, has planned for 600,000 polling sites, as it did in April. Only 300-500 voters are assigned to each station-an attempt by the KPU to have results faster than in the 1999 elections, when the final tally took weeks. A voting day from 7 a.m. - 1 p.m. also should speed results this year.
Voter turnout is expected to be high; but it is just one of many criteria 60 Carter Center observers will assess as they travel to sites around the country. They also will look at the campaign season, access to the media, logistical preparations, and the voter registry, among other things.
Former U.S. President Jimmy Carter, his wife, Rosalynn, and former Thailand Prime Minister Chuan Leekpai are leading the Center's delegation. The Carters joined the other Center delegates Friday for briefings before they all deploy on Saturday. The prime minister, who arrived a little late Friday afternoon, was stuck in (what else?) traffic.
The co-leaders will meet Saturday with domestic and international bservers, the election commission, and two of the candidates, one of them being the vice-president, who is running against incumbent President Megawati Sukarnoputri. Sunday, they hope to meet with the rest of the candidates and the constitutional court. The co-leaders will look at sites around Jakarta Monday, including a poll opening and a closing. Next dispatch: election day photo essay.
The Indonesia Elections and The Carter Center
The Carter Center opened a Jakarta office in late April 2004 to begin a long-term observation of electoral conditions leading up to Indonesia's July 5 presidential elections. This observation will continue through early October should a Sept. 20 runoff prove necessary.
"The 2004 elections will be the first electoral test of Indonesia's democratic political institutions and processes since the transitional elections in 1999, and a critical opportunity to demonstrate that the democratic process can yield effective leaders and accountable government," said Dr. David Pottie, senior program associate of the Center's Democracy Program.
After 40 years of military-backed governments, Indonesia began a democratic transition in 1998. In June 1999, Indonesia held its first genuinely democratic elections, for the legislature, a process that was monitored by The Carter Center. The vote for legislative seats was the first step in electing a new president after the May 1998 resignation of President Suharto, who led an authoritarian government for 32 years. While his ruling party won every election for nearly 20 years, 48 parties were approved for the 1999 ballot when his successor, interim President B.J. Habibie, agreed to hold open elections. The Center and the National Democratic Institute fielded a 100-member delegation led by former U.S. President Jimmy Carter and concluded that the elections were credible and represented the will of the people.
Following the parliamentary vote, Abdurrahman Wahid was selected president in November 1999 by the 700-member People's Consultative Assembly, a body including the legislature and other specially represented regional, social, and demographic groups. In July 2001, however, less than two years into his term, President Wahid was removed from office and replaced by Vice President Megawati Sokarnoputri, following an extended clash with the national legislature regarding Wahid's alleged mismanagement and mishandling of state funds.
Since 1999, Indonesians have gained new political freedoms, but recent public opinion polls have found that most Indonesians are disillusioned with government and the country's economic decline.
A Carter Center assessment team in January met with political parties, election officials, civil society and observer groups, all of whom encouraged international observers from the Center to help build confidence in the elections.
Read more about the Carter Center's Election Monitoring Efforts.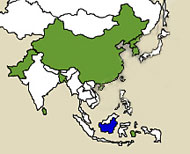 Election Monitoring: The Carter Center in Indonesia
25 June 2004
Pre-Election Statement by the Carter Center on the 2004 Indonesian Presidential Elections
21 June 2004
Carter Center to Observe Indonesia Elections
3 May 2004
Carter Center Opens Office in Jakarta in Preparation to Observe Indonesia's Presidential Elections
9 June 1999
Statement of the National Democratic Institute and The Carter Center International Election Observation Delegation to Indonesia's June 7, 1999, Legislative Elections
---
Quick Facts: Indonesia
Indonesia is the world's largest archipelago, composed of more than 14,000 islands, making it the fourth largest country in the world. It achieved independence from the Netherlands in 1949. Current issues include: alleviating widespread poverty, preventing terrorism, effecting a transition to a popularly-elected government after four decades of authoritarianism, implementing reforms of the banking sector, addressing charges of cronyism and corruption, holding the military and police accountable for human rights violations, and resolving separatist pressures in Aceh and Papua.
Full country name: Republic of Indonesia
Head of State: President Megawati Sukarnoputri
Area: 1.91 million sq km
Population: 219.9 million (UN, 2003
Registered Voters: 154.7 million
Capital: Jakarta
Major languages: Indonesian, 300 regional languages
Major religion: Islam
(The world's largest Muslim country)
Life expectancy: 65 years (men), 69 years (women)
Main exports: Oil and gas, plywood, textiles, rubber, palm oil
GNI per capita: US $710  (World Bank, 2002)
Information from the BBC and CIA World Factbook. For more information, go to the
BBC Country Profile: Indonesia.
NOTE: The Carter Center is not responsible for the content of external Internet sites.
------------------------------------------------
Photo Essay from Indonesia: 
July 5 Presidential Elections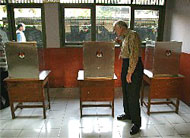 All Photos: The Carter Center
President Carter looks at a voting booth while poll workers finish setting up before voting begins at 7 a.m.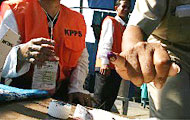 After casting their ballots, voters are required to have one finger inked to prevent anyone from voting twice.
 

Two days before the July 5 election, President Carter met with the KPU, or election commission. After the meeting, he expressed his faith in election day preparations to the media.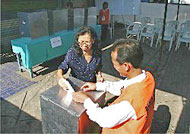 A poll worker shows a voter the ballot collection box. As there were only 300-500 voters assigned to each site, some sites saw voters slowly coming in. Many sites in Jakarta saw a majority of their voters by 10 a.m., with polls closing at 1 p.m.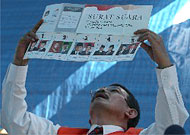 After voting ended at 1 p.m., election officials count the ballots. Here, a poll worker holds a ballot up to see where the voter punched a hole in the box above their desired candidate.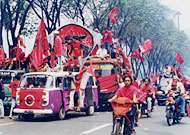 Indonesian voters take to the street during the 1999 parliamentary elections.