Guinea Worm Warrior Fights Against All Odds
Some have called him the "Great One." Living for a week on one small sack of supplies, getting food from people along the way, Abdelgadir El Sid is a legend among field workers fighting disease in Africa.

In the 1970s, he earned his reputation by uncovering the last case of smallpox in a remote village in Somalia. Having been told that no one there had the disease, he suspected villagers might be reluctant to admit the presence of "a pox upon them" out of shame. So he created a commotion, purposely driving his jeep into a ditch, which attracted everyone in the village to witness the scene, including the last remaining victim of smallpox in the world.

Today, in his late 60s, his savvy has helped The Carter Center make Guinea worm the next disease to be eradicated. In war-torn southern Sudan, the region with the largest concentration of remaining cases of Guinea worm, he has astonished colleagues with his relentless pursuit of his objectives.

Southern Sudan has only 15 miles of paved roads and no electricity, yet eradicating Guinea worm calls for every village to be assessed and every infected village to be served.
---
The most difficult part is getting to remote endemic villages, and the rainy season is the most challenging time.
---
"The most difficult part," Abdelgadir said, "is just getting to remote endemic villages. Sometimes you have to sleep in the forest, get people to help pull your boat, and hope you can find someone to feed you during your journey."
The rainy season is the most challenging time. Navigating swollen streams strewn with floating tree stumps, avoiding poisonous snakes, and simply finding one's way over altered courses in waterways are just a few of the difficulties. On one weeklong journey, he had to leave his boat and wade for eight hours in water sometimes up to his neck, carrying a bundle of cloth filters to a remote village where they would be used to strain Guinea worm larvae from drinking water.

"There was nowhere to rest that whole day. All I could see around me was water. But that wasn't the worst part," he said. "I had to avoid rebel fighters, who might shoot you for no reason."

Renewed prospects for peace in Sudan bring hope that intrepid field workers like Abdelgadir will reach many previously inaccessible villages in the war zone, speeding progress toward making Guinea worm disease the first parasitic disease to be eradicated.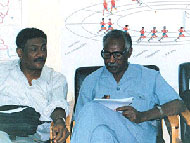 Abdelgadir El Sid (right) will not rest until Guinea worm disease no longer affects the people of Sudan. The chart in the background shows progress in the race to rid the world of this debilitating disease.
Carter Center Photo: Emily Staub
Cases of Guinea worm disease have decreased from 3.5 million in 1986 to fewer than 32,000 today, thanks to a worldwide coalition led by The Carter Center, including WHO, UNICEF, the Centers for Disease Control and Prevention, the U.S. Peace Corps, and African national ministries of health.