President Jimmy Carter
Chair, The Carter Center
Q: About 5 million people die annually of water-related diseases (cholera, diarrhea, and so on). What do you feel when you look a sick child in the eye?


A: It's frustrating to see a child's bright, hopeful eyes dimmed by preventable disease. The rights to health and to safe, clean, and affordable water are fundamental to a life of dignity and are protected by international law.
Millions of people die annually of water-related diseases, and many millions more suffer needlessly for long periods from diseases that were preventable. This is of great concern to us at The Carter Center, where we are working to eradicate guinea worm disease and prevent trachoma, the world's leading cause of preventable blindness. Once you see a small child with a two-foot-long live guinea worm protruding from her body, right through a large sore between her toes, you never forget it. You realize it's crucial for all people to have access to clean water, sanitation, health care, and health education.
Q: What kind of global development challenges do we face in the 21st century when, at the end of the last century, 20% of the world population consumed more than 70% of the world's resources?

A: We face tremendous challenges as populations soar, mostly in poorer nations, and as consumption increases in the industrialized world. We must find ways to lessen the burden on the Earth's resources, and we must encourage better stewardship of the planet so that all of us can live in a clean and productive environment. The right to clean and accessible water entails responsibilities, as defined by the United Nations in November 2002 and most recently addressed at the third World Water Forum, in March 2003. We must help educate the 20% to use water more wisely, while working to encourage access to safe water by the 80% who are now deprived.

The balance between fostering development and protecting natural resources is an issue that needs greater international cooperation and commitment if we are to achieve peace and address poverty in this new millennium. In 2002 The Carter Center held a Development Cooperation Forum of international leaders to help us move beyond rhetoric and begin to mobilize the resources needed for a serious assault on poverty. Later that year, the International Conference on Financing for Development, in Monterrey, prodded wealthier countries to demonstrate their political commitment to helping their poorer neighbors. Dialogue must be followed by action.
Q: What can each one of us do to use water wisely?

A: Conserve your water use. Respect water as a limited resource. Take action to raise awareness. Appreciate your free and unimpeded access to safe, clean water.
As communities and as nations we can educate our citizens, legislate ethically and wisely, and support organizations that conduct research and help those most affected by limited and unclean water sources. We must each make a pledge to take steps to bridge the widening chasm between rich people and poor people in the world to build hope for all of us and for our children and grandchildren.
Q: How is The Carter Center involved in water issues?

A: Through the Center's Guinea Worm Eradication Program, Trachoma Control Program, and Global Development Initiative, The Carter Center is deeply committed to and actively involved in issues related to water.
Our leadership of the guinea worm effort began in 1986, following the inauguration of the International Drinking Water Supply and Sanitation Decade and a commitment by the Centers for Disease Control and Prevention to target guinea worm disease. Providing safe drinking water to a community or teaching people how to filter their drinking water can prevent guinea worm disease, a parasitic waterborne illness contracted by ingestion of contaminated water. We work to help villages increase their access to clean water through health education and construction of water pumps and hand-dug wells.
The goal of providing safe drinking water for all peoples of the world afforded an unprecedented opportunity to eradicate guinea worm disease (dracunculiasis)-the only infectious disease transmitted by drinking water alone. Since 1986 we have reduced guinea worm disease by more than 98%, from 3.5 million cases to fewer than 55,000 today. The number of countries in which it is endemic has narrowed from 20 to 13, all in Africa. Guinea worm is a painful and debilitating parasitic disease whose effects reach far beyond a single victim-crippling agricultural production, impacting household food security, reducing school attendance, and influencing many other facets of life.
Because of its effective work against guinea worm disease, the center was invited by the Conrad N. Hilton Foundation to help fight trachoma, a bacterial infection spread by poor sanitation and hygiene. Trachoma is the leading cause of preventable blindness. Advocating for improved access to clean water is a key component of the program. These projects help to strengthen national public health care systems, strengthening those that exist and helping to extend public health care to areas not currently served.
Through the Global Development Initiative, The Carter Center is working to help developing countries such as Guyana and Mali craft comprehensive national development strategies that address a wide range of social and economic issues, including sustainable use of natural resources.
In all of our work, The Carter Center emphasizes action and results.

Q: In your crusade to alleviate suffering and to give people everywhere a democratic voice, what makes you hopeful?

A: It is always inspiring to see one person's life changed. In 1988, during a trip to Denchira, Ghana, we saw more than 200 people all across the village lying on mats: men, women, and children, all suffering and incapacitated by guinea worm disease, many of them with worms coming out of their ankles, knees, groins, legs, arms, breasts. A year later we were amazed to see not a single guinea worm case there because the local ministry of health and the Guinea Worm Eradication Program taught the community how to protect itself and its families from the disease. Health education, combined with the use of nylon filters, the larvicide ABATEâ, and the addition of three borehole wells, had nearly eliminated the disease.
Successes like that are being achieved across the continent of Africa and other developing nations, demonstrating that people can indeed improve their own lives when provided with the necessary skills, knowledge, and access to resources.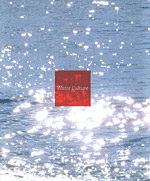 "Water Culture," published in December 2003 by the SKeGROUP and the Ocean Futures Society, uses images and Q&A interviews with leading figures in the environmental movement to tell the story of the precious element of water in a state of beauty and tragedy. Former U.S. President Jimmy Carter was interviewed by Jean-Michel Cousteau, the eldest son of the late ocean explorer Jacques-Yves Cousteau, founder of Ocean Futures Society--and the book's leading author--and Marisha Shibuya.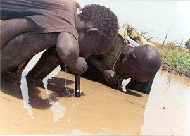 Carter Center Photo: E. Howard Staub 

Sudan Pipe Filter Project
Wau, southern Sudan
March 2002

Sudanese boys use pipe filters to protect themselves from contracting Guinea worm disease, a parasitic water-borne disease that breeds in stagnant pools of water. 
Sucking the water through the straw like device forces water to be strained by the nylon material attached to the other end. In endemic countries like Sudan, filtering all drinking water is a key element in eradicating Guinea worm disease.

During the summer of 2001, The Carter Center, along with its partners - Health and Development International, Hydro Polymers of Norsk Hydro, and Norwegian Church Aid - began to blanket Sudan with more than 9 million pipe filters - one for every man, woman, and child at risk of Guinea worm disease in Sudan.

Sudan is the greatest challenge to Guinea worm eradication, accounting for more than 60 percent of all reported cases. The idea to produce and distribute pipe filters in Sudan was formulated in response to the epidemiology of the disease and the socio-political circumstances in Sudan: the continued conflict and the adverse effects on the population; the number of displaced and nomadic persons; the difficulties of accessing safe drinking water and delivering household filters to every endemic home; and the high resultant incidence of Guinea worm disease.

By the end of 2003, the numbers of Guinea worm disease cases has been reduced worldwide by 99 percent: from 3.5 million cases in 1986 to less than 32,000 reported cases. The Carter Center leads the global campaign to eradicate Guinea worm disease in 12 remaining African countries. Without peace in Sudan, Sudan will continue to remain the final obstacle to eradication.