Nov. 3, 2004
Election officials in China provide great customer service: they bring the ballot box to voters' homes after dinnertime to ensure a turnout of at least 51 percent. But as Chinese citizens are becoming more politically engaged, election officials will have to look at instituting other practices, such as requiring ballots to be cast at polling sites, much like numerous other countries do.

Voting procedures were just one of a range of items election officials from China's National People's Congress and Ministry of Civil Affairs looked at when they observed election day in Atlanta and Chattanooga, Tenn., Nov. 2. The observers were hosted by The Carter Center.
While China is still a one-party system, the central government began direct village elections in 1988 to help maintain social and political order in the context of rapid economic reforms. Today, village elections occur in some 700,000 villages across China, reaching 75 percent of the nation's 1.3 billion people. Village elections give rural citizens a say in their community life, such as land contracting, road building, and economic activities, and are administered by officials of the central government. The success of village elections has led to direct township and county elections. The increased voter participation has highlighted some deficiencies of China's election law, which the National People's Congress has begun to amend.
"Our visitors observed voter registration, voting, ballot counting, and verification procedures to see if some of the measures could be adopted in China," said Dr. Yawei Liu, associate director of the Center's China Village Elections Project. "They also examined local campaigning because it has become a central issue in village elections."
Several of the Chinese observers were surprised at how orderly U.S. Election Day was.
"Voters wait patiently in line," said Jinhua Wang, who works in Beijing and is responsible for national coordination of elections. "There was a big crowd, a long line, and no one gets impatient."
Elections in China are quite different, explained Baiyu Tang, a high-ranking official in the Ministry of Civil Affairs. Polling sites are decorated and dance groups perform all in an effort to attract enough voters to legitimize an election. Voting results are tabulated on a blackboard and results announced to voters via loudspeakers.
"Here you just open a school and people come," she said.
The use of paper ballots is likely to continue in rural China, Wang said.
"It's hard to imagine peasant farmers using a computer because some are illiterate, and others have not even seen a computer," he said.
The Center's election project provides assistance to local election officials to increase the openness and competitiveness of village and local people' congress deputy elections. In addition to hosting delegations in the United States, Dr. Liu has observed village, county, and township level elections in China. One of the recommendations he has made to Chinese election officials is to require voters to come to designated polling sites.
"There are many ways The Carter Center has helped us," Wang said. "The Center is helping us to promote our elections among voters, and we are working together to produce measures to improve the quality of Chinese elections. We produced a manual on election procedures. In addition, the Center sends an observer mission to China every year and makes recommendations to us and organizes mission for us to observe here in the United States to learn about U.S. voting procedures. The exchange between China and the United States is very important."
The Chinese election officials visited local party headquarters in Atlanta and Chattanooga, Tenn., to learn how U.S. candidates campaign. The Chinese do not use the word "campaign," but rather "introduction." Introductions of candidates must be organized-and therefore monitored-by election officials. In some recent elections, candidates not only coordinated nomination drives but also began to campaign, catching election officials by surprise, Dr. Liu said. Many Chinese election officials have said if the current election law is not revised significantly, competition will be stifled, and the government may have the opportunity to control the election outcome.
"Election officials are concerned that they won't get the 51 percent of registered voters they need to certify an election to the polls if they do not take the ballot box to their homes," he said. "A trial run in one location produced almost 30 percent of the electorate so that figure could easily grow with proper advertisement and voter education. Voters should have a sense of ownership of the process."
The Center also hosted elections officials in United States for the 1998 mid-term elections, 2000 presidential elections, and the 2002 mid-term elections. In 1998, the Chinese observers were struck by the notion that few U.S. voters cared about the election. The polling sites were bare, and when two voters, an elderly couple, finally appeared, the observers applauded, Dr. Liu said.
Learn more about
the Carter Center's
China Village Elections Project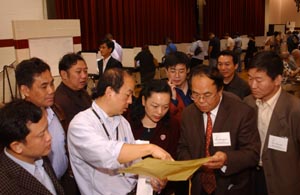 PHOTOS: ANNEMARIE POYO FURLONG
Dr. Yawei Liu, associate director of the Carter Center's China Village Elections Project, shows Chinese election officials a U.S. election ballot at a Douglasville, Ga., voting precinct.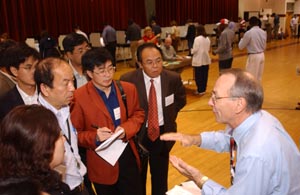 Poll manager Joe Buckner explains voting procedures to Chinese election officials observing U.S. Election Day in Douglasville, Ga.