NAIROBI....The historic peace accord signed here today by the government of Sudan and the Sudan People's Liberation Movement/Army not only brings an end to Africa's longest running civil war, but also paves the way for final global eradication of Guinea worm disease.

With approximately 50 percent of all remaining cases of Guinea worm disease located in Sudan, the peace accord will enable health workers from the Carter Center's Guinea Worm Eradication Program - in addition to the Trachoma Control and River Blindness Programs - to reach areas previously inaccessible due to conflict.
In a statement issued today, former U.S. President Jimmy Carter commended President Omar Bashir and Dr. John Garang, head of the Sudan People's Liberation Movement/Army, on joining together to end "this long, bloody war," and encouraged Sudanese leaders at all levels to "work together in the spirit of compromise to rebuild the country." Read the full statement.
Sudan's civil war, which pitted the Muslim north against Christians and animists in the south, has left more than 2 million people dead. Apart from an 11-year period from 1972-1983, southern Sudan has been at war continuously since 1956. Peace talks began in 2002.
The Carter Center has been deeply committed for more than a decade to alleviate suffering in Sudan and help find ways to bring a lasting end to the war. The Center's first project was the Sasakawa-Global 2000 agricultural project that began in 1986, helping farmers to greatly improve crop yields. From that first activity, the Center has continually expanded its efforts to help the long-suffering people of Sudan.
With four active programs - conflict resolution, Guinea worm eradication, river blindness, and trachoma control will continue its work during the implementation of the historic accords to produce a better life in Sudan by waging peace, fighting disease, and building hope.
Timeline: The Carter Center in Sudan
1989 - Center initiates work in Sudan with SG2000 agriculture program

1989 - Former U.S. President Jimmy Carter invited to mediate between two warring factions

1995 - Historic "Guinea worm cease-fire," negotiated by Carter Center, gives international health workers six months of access to previously inaccessible regions of Sudan. The Center's health programs have worked continuously since then in Sudan, maintaining neutrality in the war while working to prevent unnecessary suffering from disease.

1999 - President Carter brokers Nairobi Agreement between Sudan and Uganda, re-establishing diplomatic relations between the two countries

2001 - Sudan Pipe Filter Project distributes 9.3 million Guinea worm pipe filters

2003 - Carter Center pledges eradication of Guinea worm disease in Sudan, one of three most endemic countries remaining, by 2009

2004 - Corporate volunteers assemble more than 30,000 medical kits to use in the effort to eradicate the last 1 percent of Guinea worm disease left in the world, located in Sudan, Ghana, and Nigeria.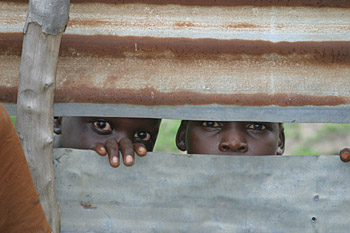 CARTER CENTER PHOTO BY MARK PELLETIER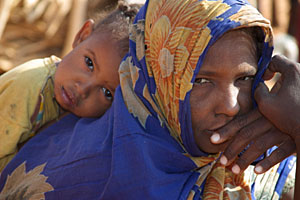 CARTER CENTER PHOTO BY MARK PELLETIER

Learn More: 
The Carter Center and Sudan
For more information:
Sudan: A Nation Divided (BBC Web site)
Note: The Carter Center is not responsible for the content of external Internet sites.