By Eric Rangus
Note: This article originally appeared in the April 11, 2005, issue of Emory Report. Reprinted with permission.
Moses Katabarwa's distinguished, internationally recognized public health career was set into motion by a case of mistaken identity.
In the late-1970s, when he was still in high school and the dictator Idi Amin was in power, the Ugandan government wanted to talk to three of Katabarwa's older brothers, who were students in neighboring Tanzania.
A native of the Bushenyi district of southwestern Uganda, Katabarwa (a 1997 graduate of the Rollins School of Public Health and an epidemiologist for a number of health programs at The Carter Center) is the ninth-born of 13 children. Two of his siblings died in infancy - he is eighth oldest of the 11 who survived to adulthood.
The government men found Moses, though they thought they found one of his brothers. Satisfied with their identification, those government representatives - Katabarwa equated them roughly in position (not activity) with the FBI - continued about their business.
They poisoned him.
"I survived," said Katabarwa, gallows humor sneaking through his accent. The government didn't do the deed directly; instead it employed one of Katabarwa's "friends."
"My brothers were attending university in Tanzania's capital Dar es Salaam," he continued. "That was a place where revolutionaries were created. If you wanted to join the African liberation struggle, that was where you went."
When Amin invaded Tanzania in late 1978, Katabarwa's brothers returned with the Tanzanian army early the following year and eventually threw Amin out. Although his three brothers (all of whom have since passed away) were leaders among the anti-Amin Ugandan rebels, Moses never was involved. But, of course, that doesn't mean he wasn't affected.
Katabarwa was hospitalized for months; he had to drop out of high school. Even after he got better, he still wasn't strong enough to tackle the rigors of medical schoo l- he had dreamed of becoming a doctor since his childhood. Instead he planned to choose dentistry. His district had no dentist and the possibility of being the first excited him.
But to attend dental school, Katabarwa would have to go to Nairobi, Kenya, and at the time that country was going through its own political strife. Again, his ambitions were snuffed. At the suggestion of a cousin, Katabarwa stayed in Uganda to study agronomy. However, after he graduated and took a job with the British-based nonprofit Oxfam, agriculture was perhaps among many of Katabarwa's responsibilities.
He lived with the nomadic Karamajong people of northern Uganda. It was a different world. The Karamajong, for instance, rarely wear clothing (although because of frequent raids of government armories, they often carry weapons).
"My first home was grass thatched," said Katabarwa, who also holds a master's degree and doctorate in anthropology and has life skills that stretch far beyond those disciplines. The Karamajong lacked a lot more than wood or stone for building homes. When Katabarwa joined them, they had no doctors, no nurses, no teachers, nothing in the way of any sort of health care system. It was up to him to fill those roles.
"I became the road engineer, I constructed buildings - it was a great experience," he said. "But also children were dying like flies of immunizable diseases and malaria. Tuberculosis was common. When someone got sick, you would take them 60 or 80 miles to the hospital, and the wife and children would have to go.
"In one hospital ward there would be 10 patients but 80 people including attendants and children. That would mean nothing is happening at home. No farming. When they came back, they came back to an empty house - nothing. No food."
It was among the Karamajong where Katabarwa learned the importance of teaching communities - especially communities in poor countries where doctors or other health professionals are scarce - how to take control of their own well being. That was when Katabarwa dedicated himself to public health.
To help the Karamajong, he brought in doctors, nurses and midwives - some with just a year's training - from hundreds of miles away to teach the Karamajong the basics of public health. He stressed the importance of seemingly minor activities, like digging latrines.
"Community health is like-" he said, searching for a proper simile. "Niagara Falls. You can't stop it, and that's a good thing. People are beginning to ask, 'Why am I not getting help?' Before, they waited for the government. Now they say they can do it themselves."
Community-based public health is best explained through the idea of "kinships." Men and women are involved in caring for the most vulnerable people in their community: children and the elderly. They even monitor medicine intake, just as a health care professional would. In Uganda, where the kinship model has been most effective (and where Katabarwa created the program in kinship health delivery), there is just one physician for every 24,000 people, making such innovative public health programs critically important.
In the 21st century, African liberation has taken on an entirely different meaning from when Katabarwa was a teenager. African peoples' liberation doesn't necessarily mean freedom from oppressive governments (although there are still quite a few of those on the continent); "liberation" just as frequently refers to freedom from the scourge of preventable diseases. Many of the afflictions (schistosomiasis, Guinea worm, onchoceriasis, trachoma, lymphatic filariasis) Americans only read about in books, if they pay attention at all.
Onchoceriasis is a parasitic disease transmitted by small, biting black flies that breed in rapidly flowing streams and rivers (hence the disease's common name: river blindness). The World Health Organization estimates more than 17.7 million people worldwide suffer from river blindness, which (as the name indicates) robs them of their sight. Half a million people in 37 endemic countries are visually impaired as a result of onchoceriasis, and another 270,000 have been blinded. It is one of five diseases targeted for control/elimination in some areas by The Carter Center.
From 1996 to 2003 Katabarwa served as country director for the center's Uganda office. During that time, through the kinship model, more than 90 percent of Uganda's people received treatment annually against river blindness.
"This disease has brought about a revolution in Africa," Katabarwa said of river blindness, which also affects millions in Central and South America. "People had been told that medicine should only be handled by trained doctors. This was a time in Uganda that followed many civil wars. Times were not that different in other African countries. But communities demonstrated that they could deliver items like medicine without wasting or stealing it, and would treat everyone who needed to be treated."
In 2003, Katabarwa joined The Carter Center's Atlanta team as medical epidemiologist for the Global 2000 river blindness, lymphatic filariasis and schistosomiasis programs. He now has the opportunity to apply his successes in Uganda to countries in both hemispheres.
"My fear was that I would go to the international level and lose vision," he said. "I would sit in meetings and feel frustrated. But The Carter Center has given me a lot of freedom so, in a way, my focus has not changed. What has happened is that I am no longer just looking at communities in Uganda; I am looking at Cameroon, Nigeria and Ethiopia. Next month I will be going to Guatemala. I am doing some of the same things, but learning new things as well."
Katabarwa's work has not gone unnoticed. Last month, he was presented with the Sheth Distinguished International Alumni Award, given to international graduates who have made outstanding contributions to humanity, science, art or human welfare.
"I was humbled," Katabarwa said. "You expect the world to look at big things, like a vaccine for HIV. My work is exciting, but we also work with the poor. I used to think no one cared."
Apparently, that is not the case.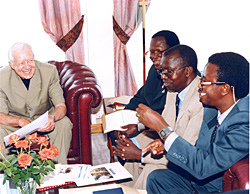 Moses Katabarwa, the Carter Center's Global 2000 River Blindness Program country representative to Uganda (right), and former U.S. President Jimmy Carter meet with Lions representatives Dr. James Batwala (second from left) and Polly Ndyarugahi (third from left). The photo was taken in June 2001, during President Carter's visit to Uganda.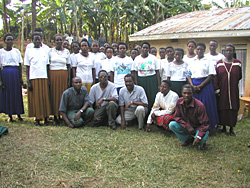 Female actors from a local drama group (above) are pictured with Moses Katabarwa (kneeling, second from left) and community leaders in Kanungu, Uganda. The women use drama to educate community members on onchocerciasis - river blindness - control.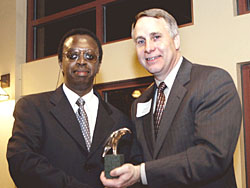 Moses Katabarwa (left) receives the Sheth Distinguished International Alumni Award from Emory University President James Wagner during a special dinner held March 30, 2005.