May 1, 2005
Imagine a nation almost half the size of the United States where large portions of the population are sick -- not with just one disease but several at once. Such is the daily reality for those living in Nigeria, a nation with one of the highest burdens of disease in Africa.

Working in Nigeria since 1988, The Carter Center has pioneered a model for health care delivery in partnership with the national Ministry of Health and two state ministries of health that attempts to answer this need by integrating delivery of treatments for several endemic diseases -- river blindness, lymphatic filariasis, schistosomiasis, and trachoma.

Many of these illnesses, although not fatal, are extremely debilitating because they inflict permanent damage, such as blindness, abnormal development in children, or painful swelling of extremities. Communities in rural and remote areas are often least able to break the prevalent cycle of poverty caused, in part, by their limited access to disease treatment and health education.

Yet, efforts by the Center and the ministries of health to integrate medical treatment and delivery systems for several diseases at once are raising hopes for a healthier future for millions of Nigerians.

Recognizing the success of relatively simple and inexpensive intervention methods in Nigeria's Guinea worm eradication effort, the ministries of health welcomed the possibility of leveraging the resulting health care delivery infrastructure to tackle more diseases.

"The Carter Center focuses on often-overlooked diseases, applying simple strategies and effective medicines that will dramatically improve the quality of life for endemic communities. These also are diseases that people working in their own communities can control or elmiinate themselves," says Dr. Frank Richards, technical director of the Carter Center's river blindness, schistosomiasis, and lymphatic filariasis programs.

Including several interventions at each visit is not only a matter of efficiency but also of ethics. "Health program workers visiting endemic villages for one disease often are asked what could be done about other diseases. It is shortsighted to be in a village giving medicine only for schistosomiasis when it is possible also to treat lymphatic filariasis. Some children need medicine for both," says Richards.

Some drugs can treat more than one disease, such as Mectizan®, which treats river blindness and when combined with albendazole also prevents lymphatic filariasis. Health education to prevent trachoma by proper hygiene promotes personal habits that can prevent infections from other diseases. Distribution of bed nets to prevent lymphatic filariasis also helps to prevent malaria.

Integration of these vital health interventions means The Carter Center and others can do more despite the many physical obstacles and limited resources disease control programs face. This further development of disease surveillance and health care delivery systems also improves nations' capacities to sustain key health treatments to their populations over the long term.

Most importantly, some of the world's most forgotten people will suffer no longer from forgotten diseases.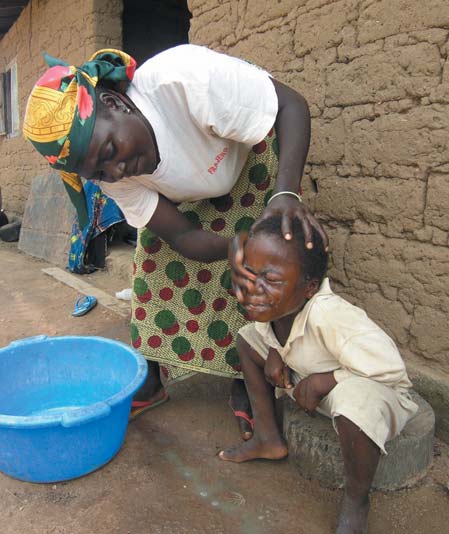 A Nigerian mother washes her daughter's face. Improved hygiene can help prevent trachoma, a bacterial eye infection.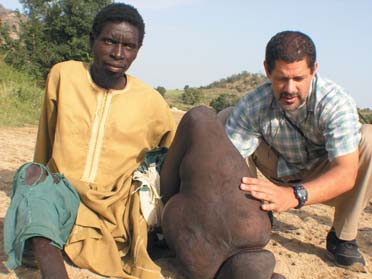 Dr. Frank Richards talks with a 30-year-old man who suffers from lymphatic filariasis. The Carter Center, in partnership with the national program, works in Nigeria's Plateau and Nasarawa states.

River blindness often affects many in one village. In the village of Cambre, the chief's vision improved after taking Mectizan, and he quickly spread the word to other villagers. (right)This boy from Kwa'al village waits to receive his praziquantel tablets. Nigeria is the most schistosomiasis-endemic country in Africa.