September 02, 1994
Norman Borlaug is no stranger to sub-Saharan Africa. As president of the Sasakawa Africa Association (SAA) and senior consultant to The Carter Center's Global 2000 Agriculture Program, Dr. Borlaug has spent countless hours teaching farmers how to improve their crop yields. He has shared the knowledge he acquired as one of the architects of India's "Green Revolution," for which he received the 1970 Nobel Peace Prize.

This summer, Dr. Borlaug teamed with World Bank agricultural extensionist Daniel Benor for a joint visit to Uganda. Mr. Benor has played a key role in focusing the World Bank's attention on strengthening the national delivery systems of agricultural services. Their trip symbolized a new partnership between SAA-Global 2000 (SG 2000) and the World Bank to promote sustainable agricultural growth in Africa.

Both organizations launched their effort officially at a November forum on the future of African agriculture, organized by the Global Coalition for Africa (GCA) and held at World Bank headquarters in Washington, D.C.

"I am confident that by more closely coordinating their efforts in support of national extension services in Africa, the World Bank and SG 2000 can help to accelerate significantly the process of agricultural development," Dr. Borlaug said during the forum.

Since 1986, SG 2000 has collaborated with African ministries of agriculture to teach farmers the value of using improved seeds, fertilizers, and farming technologies. Extension agents work closely with farmers to fine-tune these production packages that can double and even triple yields of corn, wheat, and other grains. These methods work. In Ghana, farmers increased national corn production by about 143 percent from 1985-93. In Sudan, farmers raised 500 percent more wheat in 1991-92 than in 1986-87, in spite of continuing civil strife.

SG 2000 and the World Bank use similar methods. Both groups have found that:
improved technology can lead to improved agriculture production while protecting the environment;
small-scale farmers are able and eager to adopt such technology; and
extension workers can play a significant role in the adoption of improved agricultural technology.
"The recent experiences of SG 2000 and the World Bank in Africa provide ample evidence that national extension services can play a catalytic role in accelerating agricultural modernization," said former President Jimmy Carter in his message to the GCA forum. "SG 2000 has great operational flexibility to test new ideas for agricultural development on a pilot scale, while the World Bank can finance the much larger scale capital investments needed to strengthen African governmental institutions. This is the kind of international collaboration needed to get agriculture moving in Africa."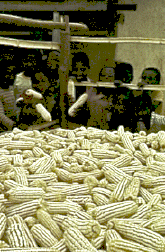 In Ghana, farmers increased national corn production by about 143 percent from 1985-93 using techniques learned through the Sasakawa-Global 2000 program. A new partnership between SG2000 and the World Bank will help spread such advances throughout sub-Saharan Africa.