Aug. 24, 2005
Memunatu Alhassan lives in Botingli village in Northern Ghana. She is an active member of her village's radio-listening club and frequently appears on the shows herself. The Carter Center supports the production of trachoma radio shows, pays for airtime, and has provided 250 Freeplay™ radios to the radio-listening clubs.

The radio programs, on trachoma control and prevention, are aired in two local languages - Dagaare and Sissala. A study of the programs' impact on members of the radio-listening clubs reported significant increases in hygienic behaviors such as face washing, compound sweeping, burying excrement, and the use of latrines. The continued acceptance of the radio-listening clubs as a useful way to deliver key health education messages on trachoma control and prevention motivates community members throughout Ghana to make positive hygiene changes.

In the profile below, community member, volunteer, and sometimes-featured radio program guest, Memunatu Alhassan, shares her personal story:

"I was one of the founding members of the radio-listening club here in my village. The village health worker told us that the club should have about half men and half women, so I volunteered. We meet on Sunday evenings after all the household chores are finished and tune-in to the show on Radio Savannah. The trachoma broadcasts last half an hour. After the show, we usually sit together to discuss the broadcast and how it relates to us.

"The broadcasts are very enjoyable because they are in our local language and we can relate to them. That's why I felt I could write in when they asked us to. After a few weeks, a man from the radio station came here, to our village, with his microphone and recorder. I was interviewed and they put it into one of the broadcasts.

"Yes, I was nervous when that show came on! But the others congratulated me, and my husband was proud. The discussion after the show that evening was very enjoyable. Since then I have participated in several more shows. I sing traditional songs and repeat some of the messages that the health worker has been telling us.

"Do I think I'm a health worker? No, not really. I just feel happy when I hear myself on the air!"

Learn more about the Carter Center's Trachoma Control Program and read about the Center's peace and health work in Ghana.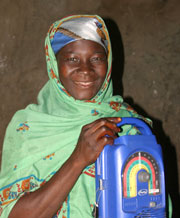 Memunatu Alhassan holds a Freeplay™ radio provided by The Carter Center.