Q&A on the historic Guinea worm eradication campaign with Carter Center experts Dr. Donald Hopkins and Dr. Ernesto Ruiz-Tiben
Dr. Donald Hopkins, associate executive director for health programs, guides the Carter Center's leadership of the international campaign to eradicate Guinea worm disease.
Dr. Ernesto Ruiz-Tiben, technical director of the Guinea Worm Eradication Program, oversees Carter Center's efforts to assist national eradication programs and monitors the status of the global campaign.
Why is Guinea worm eradication necessary?
DR. RUIZ-TIBEN: We have a moral obligation to apply the public health knowledge that's available to prevent suffering to benefit all people. Guinea worm disease is the quintessential forgotten disease of forgotten people and a disease for which we have adequate knowledge to act to prevent transmission and eradicate. We can relieve those already living in extreme poverty from enduring such a miserable disease year after year and generation after generation.
How is the eradication of Guinea worm disease different from the eradication of smallpox and polio?
DR. HOPKINS: Guinea worm disease has a one-year incubation period, whereas the incubation periods for smallpox and polio are only about two weeks. In that respect, mistakes in eradicating Guinea worm are much more costly in time and money, although eradicating polio is significantly more expensive than eradicating Guinea worm disease. In addition, unlike the other two diseases, Guinea worm is limited to the developing world and seldom causes death. Unfortunately, developed countries often don't have the political and economic self-interest to support Guinea worm eradication as they did and still do for smallpox and polio, which have greatly affected both the developed and developing worlds. The final difference is that the means of intervention for viruses such as smallpox and polio is a vaccine, which is much more efficient than the methods used to prevent a parasitic disease like Guinea worm - primarily health education tools and nylon filters.
What makes Guinea worm eradication achievable?
DR. HOPKINS: Great success has already been achieved in Asia, which is Guinea worm-free, and many African countries. Today, Guinea worm disease remains in limited remote locations. Since there is no animal host for Dracunculus medinensis, or the Guinea worm, once the parasite's cycle is broken in humans, the disease will be gone forever.
What important roles does The Carter Center play in Guinea worm eradication?
DR. HOPKINS: Since 1986, we have spearheaded this campaign as fundraiser, chief advocate, and chief provider of technical assistance to endemic countries - all this in close collaboration with dozens of partners. President Carter's access to leaders and his high profile are great assets in generating commitment at both the government and grassroots levels.
We set, and missed, earlier target dates for eradicating Guinea worm disease. Why is the year 2009 a realistic deadline?
Dr. RUIZ-TIBEN: Target dates are set to drive the process. The first target date for Guinea worm eradication, 1995, was critical because it helped us to make the eradication of Guinea worm disease an urgent process-both in terms of implementing national programs and seeking funding for the campaign. The latest target date established during the 2004 World Health Assembly specifically calls for eradication from Sudan by 2009, but notes that all other countries are expected to stop transmission of Guinea worm disease well before then.
What progress is being made in the remaining affected areas?
DR. RUIZ-TIBEN: In 2004, we reached a significant milestone: we saw the largest drop in cases in a single year since the program began - a more than 50 percent reduction in cases. We expect to continue this pace as another handful of countries are close to stopping transmission. Of the 20 endemic countries in 1986, more than half have stopped transmission of Guinea worm disease. Our two main areas of concern remain Ghana and war-torn southern Sudan, which house the majority of the cases - about 90 percent. We're certainly going to do everything we can to assist those governments to stop transmission as soon as possible.
Why does this final phase of the campaign cost so much and what are some of the major expenses?
DR. RUIZ-TIBEN: You have to maintain a program at very high levels of readiness to deal with the last few cases, thus raising the cost per case at the end of a campaign in a country or a region. This was true for smallpox and will be for polio and future eradication campaigns. However, look at the cost per case prevented. By reducing the incidence of Guinea worm disease to the current level we are now preventing about 3 million cases annually. That's almost 60 million cases of Guinea worm disease prevented since the campaign began - an accomplishment made possible by the efforts of The Carter Center, the national eradication programs, and a myriad of other partners.
Why is Guinea worm disease eradication an investment? Why is it cost-effective to eradicate and not just control the disease?
DR. HOPKINS: It's very easy for someone with Guinea worm disease to pass through another village and contaminate the water supply. Then you'll have an explosion of new cases. Ultimately eradication is the most cost-effective attack, because once it's eradicated you can stop control measures. Just controlling Guinea worm disease would require control measures to be maintained indefinitely. The USD$225 million it costs to eradicate this disease is far less than the cost of allowing it to continue. The World Bank has estimated the economic rate of return for getting rid of Guinea worm to be about 29 percent, which is nearly 3 times their minimum threshold for a good investment. Although an impressive figure, one must keep in mind that the benefits of eradication will continue for generations at no additional cost.
Why is the "individual" donor important?
DR. RUIZ-TIBEN: Individual donors are critical because without them, we would not be able to muster the support and flexibility needed to provide that technical and financial assistance to the national programs for these diseases. Our donors wish to do well for others, and because of that, they are a vital part of the Carter Center team.
What is the formal process for certifying Guinea worm eradication worldwide?
DR. RUIZ-TIBEN: The Carter Center provides technical and financial assistance to the national eradication programs to help stop transmission. Our role comes to an end in each country approximately one year after the last indigenous case is detected. At that point, the national ministry of health and the World Health Organization will work together to maintain a surveillance system for three years after the last known indigenous case. Then, the International Commission for the Certification of Dracunculiasis Eradication will send a team of experts to that country to evaluate the quality of case surveillance and report back to the commission. The commission then advises the director general of the WHO on whether the country should be certified free of the disease. So far, the WHO has certified four formerly endemic countries - Pakistan, Senegal, India, and Yemen - free of Guinea worm. Several more are now in the pre-certification stage.
What lessons has the international public health community learned from the Guinea worm eradication campaign?
DR. HOPKINS: I think one of the most important lessons has been the potential power of health education. Before, it was thought you could only have an effective eradication campaign by using a vaccine as with smallpox and polio. Guinea worm eradication is proving health education can be as valuable as a vaccine for diseases that cannot be prevented through medical intervention. We're also learning about the power of village volunteers, particularly women, to effect real change in their communities.
What will be the legacy of this campaign?
DR. HOPKINS: We'll never know the full scope of this effort, but you're going to have millions of people who will not have been crippled, either temporarily or permanently, by this disease in the future. There will be a lot more people who will spend more time in school because they have not been kept out by Guinea worm disease. You're going to have a lot more families and communities with more food and income because their agricultural productivity is greater thanks to Guinea worm eradication. As a result, their quality of life will improve dramatically. In addition, there will be more people who become empowered and optimistic, recognizing that by organizing themselves and understanding their environment they can better improve their own lives.
Why should people care about Guinea worm disease?
DR. HOPKINS: Everyone, even those living thousands of miles away from a Guinea worm endemic village, should care about this disease because Guinea worm disease impedes human potential around the globe. Mozart almost died of smallpox as a child. How much poorer would the world be if Nelson Mandela had died of measles as a boy? The world is losing potential scientists, statesmen, and artists every day to preventable diseases. We definitely know that the world is poorer in ways we cannot comprehend not only because of lots of things we have done, but also things we haven't.
Click here to learn more about the Guinea worm eradication campaign.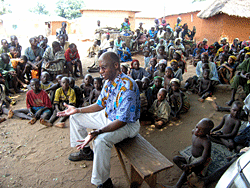 Photos: The Carter Center/Emily Staub
Dr. Donald Hopkins, associate executive director of Carter Center health programs, speaks to a Nigerian village about Guinea worm prevention.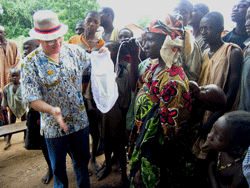 Dr. Ernesto Ruiz-Tiben, technical director of the Carter Center's Guinea Worm Eradication Program, participates in a demonstration on the use of nylon water filters in a Nigerian village. Because Guinea worm disease is contracted by drinking water contaminated with infective Guinea worm larvae, nylon filters can prevent infection when used to strain water before it is consumed.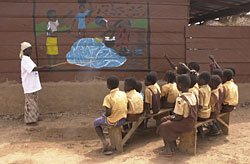 Ghanaian school children learn about how to protect themselves from contracting Guinea worm disease.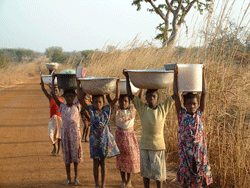 Women and children are at greatest risk for contracting Guinea worm disease because they are traditionally responsible for collecting water in a household.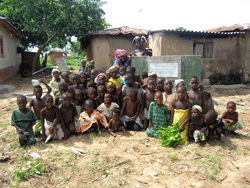 This water pump was commissioned by President Carter and The Carter Center in 2000, in Tukunpara, Nigeria, to provide a safer source of drinking water in this Guinea worm-endemic community.