Former First Lady Rosalynn Carter is urging education, health care, social service, government, and mental health leaders to work with each other more closely than ever to safeguard the well-being of children. Her call to action came during the Tenth Annual Rosalynn Carter Symposium on Mental Health Policy.

"There is a critical need for organizations to work together to counteract social and psychological problems that prevent children from reaching their full potential as healthy, productive citizens," said Mrs. Carter, chair of The Carter Center's Mental Health Task Force. "It is important to recognize that each of us is responsible for the well-being of society's children.

"Our sense of urgency comes as a result of what's happening to so many children and families in our communities," Mrs. Carter said. "The issues of substance abuse, violence, mental and emotional difficulties, and children's readiness to learn are challenging us both as citizens and as professionals."

More than 400 representatives attended the symposium on "Children and Families at Risk: Collaborating With Our Schools," held Nov. 2-3 at The Carter Center.

Adele Simmons, keynote speaker and president of the John D. and Catherine T. MacArthur Foundation, warned that society is creating a generation of children with "human-potential deficit."

"All of the risk factors associated with single-parent families, violence, poverty, economic instability, and drug abuse are creating a generation that is less likely to be good citizens, productive workers, and responsible parents," Ms. Simmons said. "As children suffer one insult after another, it becomes harder to heal the wound, repair the damage, and return children to a pathway to successful development.

"We must reduce this deficit if society is to prosper," she said. "And the way to do that is by investing in human resources, particularly in early childhood development."

She urged the group to create partnerships to share and apply mental health practices nationwide. "That means establishing better partnerships between mental health professionals and educators, community and church leaders, businesses, parents, local governments, and the federal government," she said. "There aren't enough mental health professionals for every troubled youth or family in this country."

U.S. Surgeon General Joycelyn Elders reinforced the message to "start early. We've been doing too little, too late," she said.

"There is not just one thing we can do," she said. "We need a comprehensive program so we can take care of the multiplicity of problems children are having if we really plan to make a difference."

Nelba Chavez, administrator of the Substance Abuse and Mental Health Services Administration, and Madeline Kunin, deputy secretary for the U.S. Department of Education, also called for more collaboration between the mental health and education communities.

Symposium participants heard about promising strategies to prevent child violence, substance abuse, and emotional problems, and examined effective models of community collaboration before breaking into workshop groups to recommend possible action steps for creating more collaborations nationwide. The results will be published in a report in early 1995.

"We also conducted a survey of symposium participants, which we are still analyzing," said John Gates, director of The Carter Center's Mental Health Program. "One of the major ideas that is emerging is to have Mrs. Carter continue to meet with community leaders to increase public awareness of these programs, break down bureaucratic obstacles, and advocate for the resources needed for them."

A special note in the symposium was the presentation of an award from the national mental health organizations to Mrs. Carter for her "tireless efforts to improve the quality of life for all Americans with mental illnesses." Mental health advocate Tipper Gore, wife of Vice President Al Gore, also honored Mrs. Carter in a letter. "Those with mental illnesses and their families have been given hope as a result of your leadership," Mrs. Gore said.

This year's symposium was funded by The MacArthur Foundation, The Freddie Mac Foundation, Charter Medical Corp., the Public Welfare Foundation, WXIA-TV, 11 Alive The Gannett Communities Fund.


An "A" for Effort:Report Card Will Rate Quality of Mental Health Care Services
How do consumers know if they are getting the best mental health care possible for themselves or a family member?

Representatives of the private and public health sectors met at The Carter Center in October to address that question.

"One of the biggest challenges to the full inclusion of mental health services in health care reform is the absence of accepted standards and measures for evaluating effectiveness of treatment," said John Gates, director of The Carter Center's Mental Health Program. "This meeting was a first step in trying to build consensus on how to do this." Leon Eisenberg, M.D., Pressley Professor of Social Medicine at Harvard Medical School, represented The Carter Center Mental Health Task Force at the meeting.

Co-sponsored by the Center's Mental Health Program and the Center for Mental Health Services of the Substance Abuse and Mental Health Services Administration, the meeting brought together nonprofit and for-profit health care provider organizations, including universities, insurance companies, and health maintenance organizations.

Based in Rockville, Md., the Center for Mental Health Services has evaluated several report card models for effective, consistent measures that hold delivery systems more accountable for the quality of health care they provide and for encouraging consumers' full participation in their own health care.
"It is hoped that, eventually, the use of 'report cards' will encourage health plans to compete for consumers based on quality, rather than through risk selection, which often occurs today," Dr. Gates said.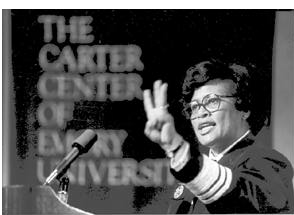 Surgeon General Joycelyn Elders addressing the Tenth Annual Rosalynn Carter Symposium on Mental Health Policy, held at The Carter Center on Nov 2-3, 1994.