Dec. 13, 2005
Five Inspiring Women Delivering Hope Around the World


S.O.S
The distress signals are loud and clear, from Indonesia to Africa to the Gulf Coast. Health celebrates five inspiring women who answer the call, delivering hope and help around the world.
Health Magazine, December 2005
Posted with permission.
Text by Peter Jaret

Just four years after September 11, frequent news coverage, geography, and the immediacy of our daily responsibilities have made many of us numb to the stories of tragedies in far-away nations. Hurricane Katrina, however, was a grim reminder that catastrophic events can and do happen in our backyard.

While all of us want to do something to help—and many of us have—it's easy to resume complacency when the news coverage becomes quiet. But right now, in every corner of the world, compassionate volunteers continue to work tirelessly in response to natural diasters, disease, and political strife, helping victims rebuild their lives. Here are the stories of five women who traveled to the epicenter of human suffering in an effort to lend their support.
Battling HIV in Zambia
"Words are the strongest weapons we have."
— Princess Kasune Zulu
Helping After Hurricane Katrina
"It was like a M.A.S.H. unit in a third world country." 
— Dr. Tamela Gartman
Fighting Parasites in Sudan
"To ease just one person's suffering is an incredible gift."
— Kelly Callahan
Rebuilding in Indonesia
"Even in the worst disasters, people find some reason to hope." — Diane Johnson
Developing Drugs for the Neediest
"The science is there to fight the diseases that afflict the world's poorest." 
— Victoria Hale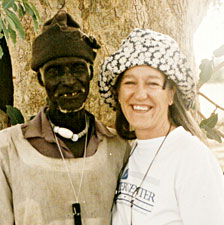 "To ease just one person's suffering is an incredible gift." 
— Kelly Callahan
Fighting Parasites in Sudan

Kelly Callahan had just gone to bed when she heard the buzz of a plane coming in low. It was her first night at an outpost in Africa's southern Sudan. She knew from the security briefing that afternoon that it could mean only one thing: a bombing raid. Suddenly the darkness was crisscrossed with flashlight beams as camp members scrambled for makeshift bomb shelters—deep holes in the ground covered with thatch. As Callahan joined the rush for safety, she remembered another danger she'd been warned about: Deadly puff adders sometimes lurk in the shelters.
"I don't know what I was more afraid of, the bombs or the snakes," she remembers. There ended up being no snakes, but there were bombs. After 50 minutes underground, she and the others warily emerged and returned to bed. "I was so exhausted I slept like a baby," Callahan says. "And that was when I knew I'd probably be able to handle whatever came along."
Callahan had come to war-ravaged Sudan in 1998 as part of a Carter Center program to battle a parasitic infection called Guinea worm disease, also known as the fiery serpent. The worm's larvae are spread through contaminated water. Inside the human body, the threadlike white worms can grow to three feet long, finally emerging through excruciatingly painful open sores. "You often see people infected with several Guinea worms, emerging one by one," she says. "It's a horrible sight." Twenty years ago, more than 3.5 million people had Guinea worm. Today the disease is down to 16,000 cases, thanks in part to Callahan's efforts to filter drinking water. She helped design an ingenious filter, a piece of plastic piping fitted on one end with a cloth filter fine enough to block Guinea worm larvae. Working with volunteers, she oversaw the production and distribution of 9 million filters throughout Sudan. The pipe filters are small enough that people can carry them anywhere, strung around their necks.
When she thinks back on her work in Africa, Callahan, 39, now assistant director of program support at The Carter Center in Atlanta, inevitably remembers a Sudanese villager who made an arduous several-day journey to her office in Nairobi, Kenya. "'I'm Daniel,' he told me. He said he'd come on behalf of his village to thank me for bringing them the filters. He showed me the scars where he'd once had Guinea worm. 'No one has been infected since you came,' he said. 'Not one person in the whole village.'"

Read the other stories of women delivering hope around the world.