Former First Lady Rosalynn Carter worries about not spending enough time with her mother. Now 88, Allie Murray Smith lives alone in Plains, Ga., but likes for her daughter to be close-by.

"It's not easy for me. I feel so responsible for my mother," Mrs. Carter said. "I feel I should stay home and be there when she needs me, but because I have other responsibilities, I can't. I feel guilty about it all the time. I think there are a lot of people in that situation."
Mrs. Carter extends a hand to those individuals in Helping Yourself Help Others: A Book for Caregivers (Times Books, 1994), written with Susan Golant. The book includes advice and research from doctors, social workers, nursing-home supervisors, and family caregivers. She wrote the book as a result of a survey done by the Rosalynn Carter Institute of Georgia Southwestern College to determine the needs of people who care for the elderly or for chronically ill or disabled relatives or friends.

According to the National Association of Social Workers, 22 percent of family caregivers quit their jobs to give care, amounting to a loss of $29,400 in annual income for each person. Caregivers also spend 18 hours each day giving care--considerably more time than they would spend at work. Caregiving can be lonely, frustrating, stressful and taxing--emotionally, physically, and financially.
In Helping, Mrs. Carter addresses the issues most caregivers face:
avoiding burnout--the sense of feeling completely overwhelmed and unrewarded;
balancing caregiving with other responsibilities;
enlisting the aid of other family members;
learning about a loved one's condition and how to work more effectively with the health care team;
deciding when an institution is the right choice for a family member; and
finding associations, literature, and government aid.
Helping Yourself Help Others also includes a 13-point plan for communities that want to make caregivers' lives easier, along with an extensive list of organizations and resources to help families with their caregiving challenges.
"When Jimmy was president, I had the great good fortune to spend some time with famed anthropologist Margaret Mead," Mrs. Carter writes. "One of the things I heard her say often was that societies are judged by the way they care for the most vulnerable among them: the poor, the elderly, the mentally disturbed child. It is my hope that you will rise to the difficult challenge of caring for a vulnerable loved one and that you will be able to do so with love, dignity, and courage."

Editor's Note: Helping Yourself Help Others is available in local bookstores.
Recent Books by Carter Center Fellows
An Outdoor Journal: Adventures and Reflections
(University of Arkansas Press, 1994) by Jimmy Carter. The second volume in The Carter Center collection, a series of new and updated editions of previously published books by Jimmy Carter and Rosalynn Carter. Available in local bookstores.
First Lady from Plains
(University of Arkansas Press, 1994) by Rosalynn Carter. This new release of Mrs. Carter's memoirs provides insight about the shy, small-town girl from rural Georgia who became First Lady of the United States. The third volume in The Carter Center collection. Available in local bookstores.
Television/Radio News & Minorities
(The Aspen Institute and The Carter Center, 1994) by Donald Browne, professor of speech-communication at the University of Minnesota; Charles Firestone, director of The Aspen Institute's Communications and Society Program; and Ellen Mickiewicz, Carter Center fellow and director of the Commission on Radio and Television Policy. The second book to issue from meetings of the Commission on Radio and Television Policy.
To order copies, contact The Aspen Institute, Publications Office, P.O. Box 222, 109 Houghton Lab Lane, Queenstown, Md. 21658, (410) 820-5326, fax (410) 827-9174.


New and Noteworthy Carter Center Publications
The Carter Center publishes conference reports, occasional papers,working papers, and journal articles written by Carter Centerscholars and fellows.

Conference Report Series ($5 each)
The Challenges of Faith and Health (July 1994)
Report of the national conference of the Interfaith Health Program to help faith groups learn what congregations can do to promote health in their communities.

Working Paper Series (Free)
Elections in Mexico--Third Report (August 1994) and Fourth Report (December 1994)
Reports from the Council of Freely Elected Heads of Government prior to and after the Aug. 21, 1994, national elections in Mexico.

Special Reports ($15 each)
The Democratic Challenge in Africa (November 1994)
Discussion papers from the May 1994 seminar on "Democratization in Africa," the third in a series of seminars sponsored by the AfricanGovernance Program.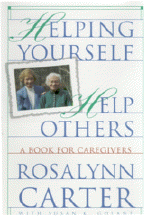 An Outdoor Journal: Adventures and Reflections





First Lady from Plains




Television/Radio News & Minorities