Jan. 29, 2006
CONTACT: Emily Staub
Phone: 1-404-420-5126
Emily.Staub@emory.edu

In English and Spanish
ATLANTA... Halting river blindness in the Americas by 2007 has accelerated with the completion of a $15 million challenge grant to The Carter Center.
In the fall of 2003, the Carter Center's River Blindness Program estimated it would take approximately $15 million to eliminate river blindness disease from the region by the end of this decade. To meet this goal the Bill & Melinda Gates Foundation made an initial $5 million contribution and challenged other donors to provide an additional $5 million, of which the Gates Foundation would match one-to-one. With support from the Lions Clubs International Foundation, Merck & Co., Inc., and more than 70 other donors, the matching funds were raised four years ahead of the challenge grant deadline.
"Thanks to our partners, we see the success of our work in the eyes of children who will never go blind and in the faces of parents who now have hope that their lives can improve," said former U.S. President Jimmy Carter. "Ridding the Americas of this horrible disease will be a tremendous achievement for all humanity. The outpouring of support underscores the interest people have in preventing unnecessary suffering for their neighbors."
Onchocerciasis, commonly called river blindness, is a parasitic disease spread by the bite of small black flies. In coffee-producing countries such as Guatemala, contracting onchocerciasis is an occupational hazard, since the fast-flowing streams where the black flies breed often are located near where workers harvest coffee. The parasites, which are small, thread-like worms, cause an infected person to suffer intense itching, skin discoloration, and rashes. When they enter the eyes, the worms can cause eyesight damage and potential blindness, leaving sufferers unable to work, harvest crops, or care for their children.
Providing health education and distributing drug treatments, The Carter Center, working with the ministries of health through the Onchocerciasis Elimination Program for the Americas, provides hope to some 500,000 people at risk for river blindness in Brazil, Colombia, Ecuador, Guatemala, Mexico, and Venezuela. OEPA provides funds and technical assistance to national programs in the endemic countries to increase surveillance and regularity of semiannual drug treatments to prevent river blindness.
"Onchocerciasis only remains in 13 pockets in six endemic countries," explained Dr. Mauricio Sauerbrey, OEPA director. "In nearly half of these 13 areas, we see evidence that transmission has been interrupted already. These are very exciting times. In the past people living in endemic villages suffered from severe eye and skin lesions caused by onchocerciasis, but today their quality of life has greatly improved."
In 2001, the Carter Center's International Task Force for Disease Eradication confirmed that river blindness could be eliminated from the Americas by treating 85 percent or more of infected people with twice annual doses of Mectizan® (ivermectin), donated by Merck & Co., Inc. (Visit the Center's Web site to read the final report.) This decision was endorsed by a conference of 60 global experts in January 2002. Since 2003, the six endemic countries have maintained at least 85 percent treatment coverage, which must be sustained to halt transmission by the end of the decade. Semiannual drug treatments halt transmission of disease and improve health by reducing the presence of river blindness larvae in the human body.
"Not only will eradication in the Americas dramatically improve life for some of our immediate neighbors, but there also is hope it will help teach us how to overcome challenges to drug distribution and interruption of transmission in Africa, where 99 percent of the disease remains," said Dr. Donald Hopkins, Carter Center associate executive director for health programs.
Since 1996, The Carter Center has partnered with the national ministries of health, the Lions Clubs International Foundation, Merck & Co., Inc., the Pan American Health Organization, and the Centers for Disease Control and Prevention to deliver more than 70 million treatments of Mectizan in 11 countries in Africa and Latin America. This strong international coalition seeks to increase public-private partnerships and awareness, ultimately leading to the effective prevention of unnecessary suffering by millions of people.
Face of Hope: Pitasia González
In her one-room house in Brasil, Mexico, 78-year-old Pitasia González weeps into her hands as she recounts how onochocerciasis left her blind and unable to care for herself.

"My daughters must cook my meals, clean the house, and help me dress," said González. Once a capable provider for her family, she now must depend on her two daughters to manage her household in addition to caring for their own. However, she expresses hope that her grandchildren will be spared the same fate. "I'm glad my grandchildren take the Mectizan," said González.

With OEPA's continued focus on health education programs and increased drug treatment, it is likely González is one of the last people in the Western Hemisphere to be blinded by this horrible disease.
####
Lions Clubs International (LCI), based in Oak Brook, Il., is the world's largest service club organization, with 1.36 million members. The Lions Clubs International Foundation, the grant-making arm of LCI, fights preventable blindness primarily through its SightFirst program. Initially funded with $143 million in donations from Lions worldwide, SightFirst has restored sight to 4.6 million people with cataract, prevented serious vision loss in 20 million people, and improved eye care services for hundreds of millions of people. Since 1990, SightFirst has awarded $186.4 million in grants: www.lcif.org.
Merck & Co., Inc. is a global research-driven pharmaceutical company dedicated to putting patients first. Established in 1891, Merck currently discovers, develops, manufactures and markets vaccines and medicines to address unmet medical needs. The Company devotes extensive efforts to increase access to medicines through far-reaching programs that not only donate Merck medicines but help deliver them to the people who need them. Merck also publishes unbiased health information as a not-for-profit service. For more information, visit www.merck.com.
The Carter Center was founded in 1982 by former U.S. President Jimmy Carter and his wife, Rosalynn, in partnership with Emory University, to advance peace and health worldwide. A not-for-profit, nongovernmental organization, the Center has helped to improve life for people in more than 65 countries by resolving conflicts; advancing democracy, human rights, and economic opportunity; preventing diseases; improving mental health care; and teaching farmers to increase crop production. Please visit www.cartercenter.org to learn more about The Carter Center.
---
$15 Millones de dólares dan nuevo impulso al histórico esfuerzo de librar a las Américas
del flagelo de la Ceguera de los Ríos
(En inglésy español)
30 de enero, 2006
PARA SU PUBLICACIÓN INMEDIATA
CONTACTO: Emily Staub
Teléfono: 1-404-420-5126
Emily.Staub@emory.edu
ATLANTA... La interrupción de la transmisión de la ceguera de los ríos en las Américas para el año 2007 ha recibido un nuevo impulso, al completarse una donación de $15 millones de dólares al Centro Carter.
En el otoño de 2003, el Programa Ceguera de los Ríos del Centro Carter estimó que se necesitarían aproximadamente $15 millones de dólares para eliminar la ceguera de los ríos de la región hacia finales de la década. Para alcanzar esta meta, la Fundación Bill y Melinda Gates contribuyó inicialmente con $5 millones de dólares y planteó el reto a otros donantes para que aportaran otros $5 millones de dólares, que la Fundación Gates complementaría con una cifra similar. Con el apoyo del Club de Leones Internacional, Merck & Co., Inc., y más de 70 donantes, el reto fue cumplido cuatro años antes del plazo establecido.
"Gracias a nuestros colaboradores, vemos los frutos de nuestro trabajo en los ojos de los niños que nunca padecerán ceguera y en las caras de sus padres, que ahora tienen la esperanza que sus vidas pueden mejorar," dijo el expresidente de los Estados Unidos de América, Jimmy Carter. "Librar a las Américas de esta terrible enfermedad puede ser un gran logro para toda la humanidad. La cantidad de ayuda recibida muestra el interés de las personas en prevenir el sufrimiento innecesario de su prójimo."
La oncocercosis, comúnmente llamada ceguera de los ríos, es una enfermedad parasitaria diseminada a través de la picadura de pequeñas moscas negras. En países productores de café como Guatemala, contraer la oncocercosis es un riesgo ocupacional, ya que los arroyos donde las moscas negras se reproducen se localizan cerca de donde los cosechadores recogen el café. Los parásitos, pequeños gusanos semejantes a hebras de hilo, causan que los infectados sufran picazón intensa, decoloración de la piel y sarpullido. Cuando llegan a los ojos, los gusanos pueden dañar la vista y potencialmente causar ceguera, incapacitando a los enfermos para trabajar, cosechar o cuidar de sus hijos.
El Centro Carter da esperanza a 500,000 personas en riesgo de contraer ceguera de los ríos en Brasil, Colombia, Ecuador, Guatemala, México y Venezuela trabajando en colaboración con los Ministerios de Salud y a través de su Programa para la Eliminación de la Oncocercosis de las Américas (OEPA), los cuales se encargan de impartir educación para la salud y distribuir el tratamiento médico. OEPA provee los fondos y la asistencia técnica a los programas nacionales de los países endémicos para incrementar la vigilancia epidemiológica y mantener la regularidad en la distribución del tratamiento semestral para prevenir la enfermedad.
"Sólo queda oncocercosis en 13 focos en los seis países endémicos," explica el Dr. Mauricio Sauerbrey, Director de OEPA. "En casi la mitad de estos 13 focos, hallamos evidencias que la transmisión ha sido interrumpida. Estos son tiempos emocionantes. En el pasado, las personas que vivían en las comunidades endémicas padecían graves lesiones en los ojos y en la piel causadas por oncocercosis, pero hoy su calidad de vida ha mejorado significativamente."
En 2001, el Grupo de Tarea para la Erradicación de Enfermedades del Centro Carter confirmó que la ceguera de los ríos podía ser eliminada de las Américas al dar tratamiento al 85% o más de la población infectada, dos veces al año con Mectizan® (ivermectina), donado por Merck & Co., Inc. (Visite el sitio web del Centro Carter para leer el reporte final). Esta decisión fue avalada por una conferencia celebrada en enero de 2002, a la que asistieron 60 expertos mundiales. Desde 2003, los seis países endémicos han mantenido por lo menos el 85% de cobertura de tratamiento, lo que debe continuarse para interrumpir la transmisión hacia finales de la década. Los tratamientos semestrales interrumpen la transmisión de la enfermedad y mejoran la salud al reducir la presencia de larvas del parásito causante de la ceguera de los ríos en el cuerpo humano.
"La erradicación de esta enfermedad en las Américas no sólo mejorará dramáticamente la vida de nuestros vecinos inmediatos, sino también esperamos nos enseñe a superar los retos de distribución del medicamento e interrupción de la transmisión en África, donde todavía existe un 99% de la enfermedad" dijo el Dr. Donald Hopkins, Director Ejecutivo Asociado de los Programas de Salud del Centro Carter.
Desde 1996, el Centro Carter ha estado trabajando en colaboración con los ministerios de salud de los países, el Club de Leones Internacional, Merck & Co., Inc., la Organización Panamericana de la Salud y los Centros para el Control y Prevención de Enfermedades para distribuir más de 70 millones de tratamientos con Mectizan® en los 11 países africanos y en América Latina. Esta fuerte coalición internacional busca incrementar las alianzas público-privadas y despertar la conciencia global, que al final nos conduzca a la prevención eficaz del innecesario sufrimiento de millones de personas.
La Cara de la Esperanza: Pitasia González
En su hogar de una sola habitación en la comunidad mexicana de Brasil, Pitasia González de 78 años cubre su llanto con las manos al recordarse como la oncocercosis la dejó ciega e incapacitada para cuidar de si misma. "Mis hijas deben preparar mis alimentos, limpiar mi casa y ayudarme a vestir" dice la Sra. González. Quien alguna vez fuera una capaz abastecedora para su familia, debe ahora depender de sus dos hijas para que manejen su hogar, además de ocuparse de los de ellas. Sin embargo, ella expresa su esperanza que sus nietos se librarán de sufrir el mismo destino. "Me siento contenta porque mis nietos toman Mectizan®", dice la Sra. González. Con el enfoque continuo de OEPA en impartir programas de educación para la salud e incremento en la administración del tratamiento, es muy probable que la Sra. González sea una de las últimas personas en el hemisferio occidental que hayan sido cegadas por esta terrible enfermedad.
####
El Club de Leones Internacional (LCI por sus siglas en inglés), tiene su base en Oak Brook, Il., E.U.A., y es la mayor organización de servicio con 1. 36 millones de miembros. La Fundación del Club de Leones Internacional es la rama de LCI encargada de las donaciones que se ocupa principalmente de combatir la ceguera previsible a través de su Programa SightFirst. Fundado al inicio con $143 millones de dólares en donaciones de Leones al nivel mundial, SightFirst ha recuperado la visión de 4.6 millones de personas afectadas por catarata, evitó graves pérdidas de la visión a 20 millones de personas, y mejoró los servicios para el cuidado de la salud visual para cientos de millones de personas. Desde 1990, SightFirst ha concedido $186.4 millones de dólares en donaciones: www.lcif.org.
Merck & Co., Inc., es una compañía farmacéutica global dedicada a la investigación y a poner a los pacientes en primer lugar. Establecida en 1891, Merck hoy día descubre, desarrolla, produce y comercializa vacunas y medicinas para tratar necesidades médicas insatisfechas. La compañía dedica extensos esfuerzos para incrementar el acceso a medicinas a través de programas de largo alcance que no sólo donan medicinas producidas por Merck, sino también ayudan a distribuirlas a las personas que las necesitan. Merck también publica información imparcial sobre la salud como un servicio sin fines de lucro. Para mayor información, visite la página:www.merck.com.
El Centro Carter fue fundado en 1982 por el Expresidente de los EE.UU., Sr. Jimmy Carter y su esposa Rosalynn, en sociedad con la Universidad de Emory, para promover la paz y la salud mundial. El Centro es una Organización No Gubernamental sin fines de lucro, que ha contribuido a mejorar la vida de las personas en más de 65 países al resolver conflictos, promover la democracia, los derechos humanos y el desarrollo económico, previniendo enfermedades, mejorando el cuidado de la salud mental y enseñando a los agricultores a aumentar la producción de sus cosechas. Por favor visite la página www.cartercenter.orgpara saber más acerca del Centro Carter.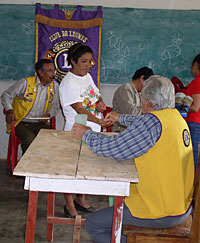 A local Lions Club member in Mexico visits the community of Brasil to distribute Mectizan® drug treatments, donated by Merck & Co. Lions Club International Foundation is one of the Carter Center's partners in fighting river blindness.

To eliminate the disease as a public health problem, every affected person in every village in every country must be reached and repeatedly treated with the medication to prevent river blindness, a parasitic disease that affects people in Africa and six countries in the Americas. Through the Onchocerciasis Elimination Program for the Americas, The Carter Center fights river blindness in all six endemic countries: Brazil, Colombia, Ecuador, Guatemala, Mexico and Venezuela.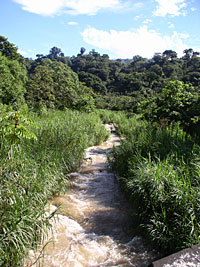 Black flies breed in fast-flowing streams like this one in Mexico. Their bite causes onchocerciasis, or river blindness.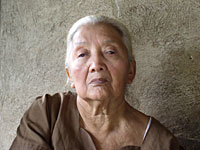 Pitasia González, blinded by onchocerciasis, is grateful for the Mectizan distributed to her grandchildren.