Public health in the less developed countries of the world has improved considerably since the 1950s. Smallpox is eradicated, even if it has not disappeared completely as a cause for concern. Polio and Guinea worm disease both will be eradicated soon, and measles and lymphatic filariasis, which are more prevalent diseases, may well become targets for complete elimination in the near future.

The proportion of children in the world who were properly immunized against several common sources of childhood and infant mortality rose worldwide from less than 5 percent in 1974 to 80 percent in 1990, but slip to some 70 percent during the 1990s. By 1998, 72 percent of children had been immunized against measles. That disease, which killed more than 5 million children in 1980, now kills fewer than one million - still far too many.

Considerably more attention is being paid to prevention and treatment of malaria and tuberculosis, but at the same time conditions have not improved as much they should have. New initiatives are piling up on top of existing programs. In addition to those mentioned above, we now have efforts to control the spread of HIV/AIDS, STOP TB, Roll Back Malaria, Intestinal Helminth Control, and more.

However, our victories have been modest compared with what is needed. We are discovering "new" infections much faster than we are eradicating older ones, and that dynamic is not likely to change. Moreover, many improvements are limited to pilot projects or only to certain regions of some countries. And the nitty-gritty, foundation-building work of improving access to and quality of primary health care services is neglected, even by its most vocal advocates.
There is a very strong relationship between public health and access to clean water. Contaminated drinking water may give rise to Guinea worm disease and diarrheal diseases that are often fatal. Beyond drinking water, the water people use for bathing, washing faces, and laundering clothes can often also hold dangers such as schistosomiasis - a parasite that actively penetrates the skin. You do not even have to consume the water.

Another relationship between access to water and good health is the availability of what we could call impure water simply to clean people's clothes, bodies and faces. One important example is trachoma - water does not have to be potable to clean faces.

I once read that in tropical Africa everything is related to everything else. The challenge is for us is to start where we can with what we can accomplish as quickly as we can, knowing that improving on one health condition can help improve another. We need to take advantage of these sometimes unintended consequences.

All these issues are connected. In developing countries, excessive rates of disease and death reflect the interlocking effects of poverty, infections, insufficient nutrition, and inadequate spacing of pregnancies. Poor people, for example, may not be able to afford necessary preventative or primary health care, even when it is available. Diarrheal disease, respiratory infections, malaria, and complications from HIV/AIDS are major killers. In addition to stunting physical development, chronic undernutrition in children often permanently damages their ability to learn. Frequent pregnancies, with too brief intervals in between, not only compromise the health of mothers and infants but also strain the coping capacities of parents, families, communities and countries. The resulting increase in population densities helps the spread of such deadly diseases as tuberculosis, cholera and measles.

The cycle of ill health becomes a vicious one: an infection with measles can precipitate acute malnutrition, diarrhea or fatal respiratory infection; yet overpopulation or undernutrition can increase vulnerability to, and mortality from, measles, tuberculosis, diarrhea and respiratory infections.

A growing number of private organizations, some quite small, are working to help alleviate humanity's problems. For instance, for nearly 25 years, The Carter Center has focused more than half its effort and resources on health care in Africa and Latin America. When the Guinea worm eradication program started, more than 3.5 million people were afflicted with the painful, debilitating disease, most of them in remote parts of Africa where only contaminated water is available to drink. We have now reduced this number by more than 99.5 percent. Fewer than 10,000 people remain affected - most of them in southern Sudan and Ghana - and we are working hard to address their plight.

In our fight against river blindness, another tropical disease, we have traveled each year to some of the world's most remote and isolated villages to treat more than 7million people - preventing the possible blindness they would have suffered simply from the bite of a black fly. The threat of river blindness has been almost eliminated in much of Africa and Latin America.

These targeted, disease-specific efforts have brought about tangible improvements that sometimes get overlooked in many of these global health goals, such as the Millennium Development Goals. We should judge every development initiative in terms of what difference it makes in the lives of people on the ground as soon as possible. It is possible to spend a lot of money on broader goals without much to show for it later. But badly needed improvements in public health cannot be achieved in a typical three- or five-year time frame. It would be more realistic for developing countries to seek sustained assistance from developed countries until they can stand on their own feet in the fight against disease. For example, since the late 1970s the U.S. Centers for Disease Control and Prevention has helped 20 Asian, African, European, and American countries develop national programs modeled after its own Epidemic Intelligence Service. In each country a single, experienced epidemiologist from CDC works for about five years, training local physicians to do routine surveillance and analyses, to investigate suspected epidemics, and to conduct operational studies under local conditions. Graduates of the program then help train and mentor new recruits who work in health posts, universities, and public health institutions nationwide, creating a service that is self-sustaining for the country.
The biggest challenges are ahead of us in Africa. In addition to the unnecessary loss of life from acute respiratory infections, diarrhea and HIV/AIDS, malaria poses a significant problem. From a systems perspective, the biggest problem next to financing is that the primary health systems are extremely weak. Every new challenge such as HIV/AIDS is another strain on a very weak system that has developed from insufficient supervision and funding of hospitals, clinics, and the entire public health system, from outreach and immunization to health education.

Louis Pasteur was a key figure in the development of vaccines in the 1880s, yet since then, hundreds of millions of people have died of infectious diseases - tuberculosis, malaria, AIDS, dengue fever, smallpox, cholera, plague, influenza and scores of others. And after 30 years of discoveries in molecular biology - including DNA cloning, the sequencing of the human genome, and stunning new developments in techniques for human stem cell research - we still face the daily tragedy of preventable human illnesses, some ancient and others new, unpredicted and even more virulent.

We have much appropriate technology: old and new vaccines, tablets that treat many parasites at once, antibiotics, oral rehydration therapy to counter diarrhea, bed nets to protect against mosquitoes, condoms to protect against sexually transmitted infections, and more but we lack adequate enlightenment, financial commitment, and political will to benefit those most in need. We need fewer global resolutions and more manifest global resolve to help reduce disease and death wherever we can, as soon as we can and for as long as necessary.

Children born in the most advanced industrialized countries experience infant mortality rates of 10 or fewer per thousand live births and can expect to live an average of more than 70 years. Children born in many developing countries, on the other hand, often face infant mortality rates of 150 or more and have a life expectancy under 50 years.

We need to identify what we can do right now on the ground in the less-developed nations of the world.
Dr. Donald R. Hopkins is associate executive director the Carter Center's health programs, based in Atlanta. He previously worked for the U.S. Centers for Disease Control and was awarded a MacArthur Fellowship in 1995, for his work in Guinea worm eradication. Learn more about Carter Center health programs.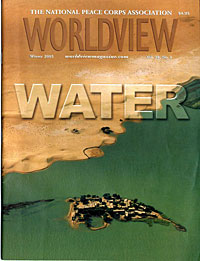 "Ground War," by Donald R. Hopkins, was published in the Winter 2005 issue of WorldView Magazine, a publication of The National Peace Corps Association. This article is posted with permission from WorldView Magazine.