FOR IMMEDIATE RELEASE
CONTACT:
In Atlanta: Jon Moor +1-404-420-5107
In Kinshasa: Colin Stewart +243-81-199-6643
or Sophie Khan +243-81-199-6641
This statement reflects the observations of The Carter Center on the events of the week leading up to and including the elections, and complements our two pre-election statements. For the July 30 vote, The Carter Center deployed a 58-member international delegation to observe the Democratic Republic of Congo's (DRC) presidential and legislative elections, led by the Former Prime Minister of Canada Joe Clark and co-leader John Stremlau, Carter Center associate executive director for peace programs.

The Carter Center conducts its election observation in accordance with the Declaration of Principles of International Election Observation and Code of Conduct adopted at the United Nations in 2005. The Center was invited by the Independent Electoral Commission (CEI) and welcomed by all major political parties. Between April and July, Carter Center representatives observed in every province. We appreciate the important opportunities we have had for effective coordination with other international and domestic observers. The Carter Center has observed 63 elections around the world, 13 of them in Africa.
Summary of key findings:
Voting took place on July 30 in a generally peaceful and orderly manner.
Overall, polling stations were well organized and polling center staff competently fulfilled their duties.

The impact of last-minute changes to voters' lists and polling stations cannot yet be adequately assessed.

The campaign period was marked by a number of issues of concern, namely abuse of governmental authority.

Close observation of the process will continue.
General observations
These historic elections are part of an extraordinary process of transition, which brought together warring parties and forged a consensus on the need for peace and democracy in the DRC. For any first elections such as these, we are well aware that the most demanding aspects of international elections standards cannot be entirely met. The development of democratic processes and institutions is a long-term project, which will require strong ongoing support from the international community. As part of the process of moving forward in the DRC's transition to a stable democracy, The Carter Center believes that the issues raised in this report, while preliminary, must be addressed.

Building on the work of long-term observers who have been in the field since April, all Carter Center teams observed the final days of the election campaign, the opening and closing of polling stations, voting operations, and the vote count. We have also begun to observe the compilation of results.

Election procedures were, on the whole, conducted in a peaceful and orderly manner throughout the country. Many polling stations experienced delayed openings, but voting was underway by 7 a.m. in most cases. Polling stations were generally well organized, and officials appeared to understand the proper discharge of their responsibilities. The Center was pleased to see numerous domestic election observers and poll watchers from multiple parties in voting centers.

Late changes by the CEI to procedures, voters' lists, and the number of polling stations, which fortunately seem to have caused operational disruptions in only some areas, nonetheless undermined the safeguards intended to guarantee integrity and transparency. The ultimate impact of such late changes remains to be seen.
The Campaign
The campaign period in the DRC, although largely peaceful and democratic, was characterized by a number of issues of concern to The Carter Center. As we have previously noted, political parties did not always make the best use of the campaign period to inform and educate the electorate on matters of concern to them, and there was fairly widespread destruction of campaign materials. We have further observed that, in a number of cases, those who had access to the levers of power misused their authority and access to public resources during the campaign, by:

Misusing security personnel to obstruct legitimate democratic activity, Imposing bureaucratic and practical obstacles on the free movement of candidates, and Obstructing candidates' campaign material at ports of entry. Inequitable and politically-biased media coverage was also an issue throughout the campaign, which, despite some good efforts, the High Media Authority (HAM) was unable to resolve satisfactorily, primarily due to its lack of enforcement powers. The burning and looting of buildings housing the HAM and the National Human Rights Observatory (ONDH), and serious attacks on some employees, during a large presidential campaign rally in Kinshasa, was a further blow to two already under-resourced institutions of the democratic transition.
Voting procedures
Carter Center observers reported some procedural irregularities and others have been brought to our attention. On the whole, these appear to be minor, but we have urged all actors to take their concerns to the appropriate channels, and The Carter Center itself will continue to observe the process closely. The cumbersome ballot papers for the legislative elections in certain constituencies caused some difficulty for voters, compounded by comparatively small polling booths. Crowded voting conditions, makeshift outdoor facilities and the improper placement of polling booths (often to compensate for poor lighting) did not adequately protect the secrecy of voting in some places.

A significant proportion of the Center's observers found that voters' lists were not posted as required at polling stations. Some stations did not receive all of their election materials, notably the lists of omitted voters and lists of voters struck from the roll (generated by the CEI in response to missing and corrupted registration data and the elimination of fraudulently registered voters). These missing materials, which were produced very late by the CEI, generated suspicions and may have resulted in some legitimate voters being unable to cast their ballots. In other polling stations, even where the additional lists were available, they were not always properly consulted. Election officials also did not always consistently check voters for indelible ink or confirm that the photo on the card matched the cardholder. On their own, these deficiencies did not seem to cause undue operational problems, but when taken together, they weakened important safeguards designed to verify the identity of voters.

Police were visible, but not intrusive at most polling locations. There were serious breaches of security in several places, including the destruction of a number of polling stations as well as attempts to prevent voters from entering certain voting centers. While significant and deplorable, these attacks were clearly the exception, and the Center is pleased that the CEI immediately took steps to reopen these polling stations by sending new material.
Tabulation
Initial observations of the tabulation suggest that experiences vary widely across the country. In some areas, very few results envelopes had arrived in the Local Results Tabulation Center (CLCR) as this statement was prepared. This may be due to the fact that votes were still being counted in many polling stations, but it also appears that the CEI does not have an adequate collection plan to ensure timely delivery of results to all CLCRs. In other cases, CLCRs have received results but do not possess the necessary resources or organization to process them efficiently. Bottlenecks have been reported in the reception of materials, and there are cases of continued confusion and tensions around the issue of payment to poll center staff. We urge the CEI to make the smooth and effective functioning of the CLCRs (especially transport of results) a top priority.

This results process will take weeks to complete, and that will require patience on the part of all parties and the population in general. Given the need for transparency, the CEI must ensure that final results are published for each polling station and that they may be cross-checked by party poll watchers and observers.

Carter Center teams will remain deployed throughout the country to observe the ongoing tabulation process. We hope that any election disputes can be resolved openly through the appropriate legal channels or mediation efforts, and that the final results are accepted with confidence by all.

The Carter Center was founded in 1982 by former U.S. President Jimmy Carter and his wife, Rosalynn, in partnership with Emory University, to advance peace and health worldwide. A not-for-profit, nongovernmental organization, the Center has helped to improve life for people in more than 65 countries by resolving conflicts; advancing democracy, human rights, and economic opportunity; preventing diseases; improving mental health care; and teaching farmers to increase crop production. To learn more about The Carter Center, please visit: www.cartercenter.org.
---
DECLARATION PRELIMINAIRE CONCERNANT LES ELECTIONS DU 30 JUILLET EN REPUBLIQUE DEMOCRATIQUE DU CONGO
mardi, 1 août 2006

POUR DIFFUSION IMMEDIATE
CONTACTEZ:
à Atlanta : Jon Moor +1-404-420-5107
à Kinshasa : Colin Stewart +243-811-996-643
ou Sophie Khan +243-811-996-641
Cette déclaration reflète les observations de la Fondation Carter concernant les évènements de la semaine en amont et jusqu'aux élections. Elle fournit le complément à nos deux déclarations pré électorales. Dans le contexte des élections du 30 juillet, la Fondation Carter a déployé une délégation internationale de 58 membres pour observer les élections présidentielles et législatives en République Démocratique du Congo. L'ancien Premier ministre du Canada, Joe Clark, est à la tête de cette délégation, avec John Stremlau, Directeur exécutif associé de la Fondation Carter.

La Fondation Carter conduit son observation électorale conformément à la Déclaration de Principes de l'Observation Electorale Internationale et le Code de Conduite adoptés aux Nations Unies en 2005. La Fondation était invitée par la Commission Electorale Indépendante (CEI) et bien accueillie par tous les principaux partis politiques. Nous apprécions les opportunités importantes qui nous ont été offertes de coordonner de manière effective avec d'autres observateurs internationaux et nationaux. La Fondation Carter a observé 63 élections à travers le monde, dont 13 en Afrique.
Résumé des constats clé
le vote s'est déroulé le 30 juillet d'une manière paisible et ordonnée;
globalement, les bureaux de vote étaient bien organisés et leur personnel a rempli ses devoirs de manière compétente;

l'effet de changements de dernière minute au niveau des listes d'électeurs et de bureaux de vote ne peut pas encore être évalué de manière appropriée;

la campagne était marquée par un nombre de problèmes préoccupants, en particulier l'abus de l'autorité gouvernementale;

l'observation du processus se poursuivra.
Observations générales
Ces élections historiques s'inscrivent dans le cadre d'un processus extraordinaire de transition qui a réuni des parties belligérantes et forgé un consensus autour du besoin de paix et de démocratie en République Démocratique du Congo. Dans le cas de premières élections comme celles-ci, nous sommes conscients que les aspects les plus exigeants de normes internationales d'élections ne peuvent pas être entièrement remplis. Le développement de processus et des institutions démocratiques est un projet à longe haleine qui demandera un soutien solide et continu de la part de la communauté internationale. La Fondation Carter croit, néanmoins, que la bonne réussite de la transition de la RDC vers une démocratie stable nécessite que les problèmes soulevés dans ce rapport soient traités, même s'il est préliminaire.

Ayant construit sur le travail d'observateurs à long terme qui ont sillonné le terrain depuis le mois d'avril, les équipes de la Fondation Carter ont observé les derniers jours de la campagne électorale, l'ouverture et la fermeture des bureaux de vote, les opérations électorales, et le dépouillement des votes. Nous avons aussi commencé à observer la compilation des résultats.

Dans l'ensemble, les procédures électorales se sont déroulées de manière ordonnée et paisible à travers tout le pays. De nombreux bureaux de vote ont connu des retards à l'ouverture, mais dans la plupart des bureaux le vote était en cours à 7 heures du matin. Les bureaux de vote étaient généralement bien organisés et les agents ont exercé leurs fonctions de manière adéquate. La Fondation était heureuse de voir de nombreux observateurs nationaux et témoins de partis dans les bureaux de vote.

Les changements tardifs apportés par la CEI aux procédures, aux listes d'électeurs et au nombre de bureaux de vote, qui semblent avoir malheureusement causé des interruptions opérationnelles dans certains cas, ont tout de même diminué l'efficacité des garde-fous censés garantir l'intégrité et la transparence. L'effet ultime de ces changements tardifs reste à être vu.
La Campagne
La période de campagne en RDC, bien qu'essentiellement paisible et démocratique, était caractérisée par un nombre de problèmes préoccupants pour la Fondation Carter. Comme nous l'avons remarqué précédemment, les partis politiques ne se sont pas toujours servis au mieux de la période de campagne pour informer et éduquer l'électorat sur les questions qui les concernent, et nous avons constaté la destruction de matériel de campagne à une assez grande échelle. Nous avons également remarqué que dans certains cas, ceux qui avaient accès aux leviers du pouvoir ont abusé de leur autorité et leur accès aux ressources publiques pendant la campagne,

en utilisant le personnel de sécurité pour faire obstruction à des activités démocratiques légitimes;

en imposant des obstacles bureaucratiques et pratiques sur le libre mouvement de candidats;

en faisant des obstructions à l'entrée de matériel de campagne de candidats au niveau des ports d'arrivée.

La couverture médiatique inéquitable et partisane était aussi un problème pendant la campagne. Malgré quelques bons efforts, la Haute Autorité des Médias (HAM) était incapable de résoudre ce problème de manière satisfaisante, essentiellement en raison de son manque de pouvoirs d'application. L'incendie et le pillage des bâtiments de la HAM et de l'Observatoire National des Droits de l'Homme (ONDH), ainsi que les violences dont certains employés ont été victimes, au cours d'une importante manifestation de la campagne présidentielle à Kinshasa était un autre coup dur pour deux institutions de la transition démocratique qui manquent de ressources.
Procédures de vote
Les observateurs de la Fondation ont rapporté des irrégularités procédurales, et d'autres nous ont été signalés. Globalement, ces irrégularités semblent, à ce stade, être mineures, mais nous avons encouragé tous les acteurs de porter leurs contentieux aux autorités pertinentes. La Fondation Carter elle-même continuera à observer le processus de près. Les bulletins de vote volumineux pour les élections législatives dans certaines circonscriptions ont causé des difficultés pour des électeurs, exacerbées par les isoloirs relativement petits. Des conditions de vote étriquées, des installations extérieures temporaires, et l'emplacement inapproprié d'isoloirs (souvent pour compenser le faible éclairage) n'a pas toujours protégé le secret du vote dans certains endroits.

Une proportion significative des observateurs de la Fondation ont trouvé que les listes d'électeurs n'étaient pas affichées dans les bureaux de vote. Certains bureaux n'avaient pas reçu tout leur matériel électoral, notamment les listes des omis et les listes des radiés (générées par la CEI en réponse aux données d'enregistrement manquantes et l'élimination d'électeurs frauduleusement enregistrés). Ce matériel manquant, qui fut produit très tard par la CEI, a généré des suspicions, qui est peut être la raison pour laquelle certains électeurs légitimes n'ont pas pu voter. Dans d'autres bureaux de vote, même lorsque les listes supplémentaires étaient disponibles, elles n'étaient pas toujours systématiquement consultées. De même, les agents électoraux n'ont pas toujours vérifié si les électeurs n'avaient pas déjà une marque d'encre sur le doigt, ou confirmé que la photo sur la carte correspondait au détenteur. En elles-mêmes, ces déficiences ne semblaient pas causer des problèmes opérationnels insurmontables, mais pris ensemble ils ont affaibli certains garde-fous importants censés vérifier l'identité des électeurs.

La police était visible, mais non intrusive dans la plupart des bureaux de vote. Il y a eu des incidents d'insécurité sérieux dans plusieurs endroits, y compris la destruction d'un nombre de bureaux de vote, ainsi que des tentatives d'empêcher des électeurs d'entrer dans certains centres de vote. Bien que significatives et déplorables, ces attaques constituaient clairement l'exception, et nous sommes heureux de voir que la CEI a pris immédiatement des mesures pour rouvrir ces bureaux de vote en envoyant du nouveau matériel.
Compilation

Les observations initiales de la compilation suggèrent une grande variété d'expériences à travers le pays. Dans certains endroits, très peu d'enveloppes de résultats n'étaient arrivés aux Centres Locaux de Compilation des Résultats (CLCR) au moment où cette déclaration est publiée. Ceci peut être dû au fait que dans de nombreux bureaux de vote les votes continuaient à être comptés, mais il semble aussi que la CEI n'ait pas un plan de ramassage adéquat pour assurer la livraison des résultats à tous les CLCR. Dans d'autres cas, les CLCR ont reçu les résultats mais n'ont pas les ressources ou l'organisation nécessaires pour les traiter de manière efficace. Des goulots d'étranglement ont été constatés au niveau de la réception de matériel, et il existe des cas de confusion et de tensions continues autour de la question de paiement de salaires du personnel des bureaux de vote. Nous faisons appel à la CEI d'accorder une priorité au fonctionnement des CLCR (notamment pour ce qui est du transport des résultats).

La compilation des résultats prendra des semaines à compléter, et cela nécessitera de la patience de la part de tous les acteurs, et de la population en générale. Les candidats et leurs supporters doivent être patients pendant un processus de compilation. Etant donné la nécessité de transparence des résultats de la compilation, la CEI doit s'assurer que les résultats définitifs soient publiés pour chaque bureau de vote, de manière à ce qu'ils puissent être vérifiés par les témoins des partis et les observateurs.

L'équipe de la Fondation Carter restera déployée à travers le pays pour observer le processus de compilation en cours. Nous espérons que tout contentieux peut être résolu à travers les canaux juridiques appropriés ou par des efforts de médiation, pour que les résultats finaux soient acceptés avec confiance par tous.

La Fondation est une organisation non gouvernementale qui a été fondée par l'ancien président des États-Unis, Jimmy Carter, et sa femme, Rosalynn. Créée en partenariat avec l'Université Emory à Atlanta en 1982, la Fondation oeuvre pour promouvoir la démocratie; combattre les maladies, la faim et la pauvreté ; protéger et promouvoir les droits de l'homme; et résoudre les conflits à travers le monde. Pour de plus amples renseignements, veuillez consulter le www.cartercenter.org.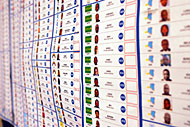 Carter Center Photo: Deborah Hakes
Read more about the Carter Center and the 2006 Democratic Republic of Congo elections.