By Michelle Faul
Associated Press, March 2007
Posted with Permission


SAVELUGU, Ghana – The little girl screams in pain and convulsively reaches for the hand inflicting the torture -- the hand slowly drawing a thin, white worm from her blistered foot.

"Stop it! Do stop it!" she begs as a woman holds her.

Finally, the worm is out, and the verandah full of other infected kids explodes in claps and shouts of congratulation.

It took six weeks to draw that worm out. Another is about to emerge from her other foot.

A 20-year fight to eradicate guinea worm disease, or dracunculiasis, is in the last, and most difficult stages. It could be the first parasitic disease eradicated, and only the second disease to be eradicated in the world, since smallpox in 1979. But Ghana provides a glimpse of the serious obstacles that stand in the way of guinea worm being vanquished.

Enormous strides have been made since former U.S. President Jimmy Carter dedicated himself to the cause and rallied others -- including the Bill and Melinda Gates Foundation, UNICEF, the U.N. World Health Organization and the Japanese government -- after seeing a worm emerging from a woman's breast in Ghana's remote north in 1988.

Carter estimated it would be eradicated in 10 years. Now, at age 82, he hopes it will happen in his lifetime.

In 1989, the disease afflicted a reported 3.5 million people in 23 countries in Africa and Asia. In 2005, only 10,674 cases were reported in nine countries -- all in Africa.

The last cases always are the most difficult phase of eradication. That is in part because, at a point when so much effort and money already has been extended, monitoring has to be stepped up to ensure no cases have been missed. It is also near the end when donors' attention tends to shift to new crises.

In Ghana, reported guinea worm cases dropped from 180,000 in 1989 to about 4,000 in 1994. But in January, there were 1,001 new cases, almost double the number a year ago.

"Ghana has been our worst disappointment," Carter said in a visit to this country last month.

Ninety percent of Ghana's remaining cases are within 100 miles (160 kilometers) of Savelugu, a semiarid Sahelian stretch of dusty farm plots and scrubland prone to drought, where guinea worms breed in manmade dams. About 25,000 people live in the region.
Aid workers built the dams in low-lying flat areas to catch rainwater because wells were so difficult to drill through Savelugu's rockbed. But in the dry season, the dams become breeding reservoirs for guinea worm.

Guinea worm eggs lodge in a microscopic water flea, which people swallow with untreated water. The eggs lodge in abdominal tissue where they hatch and mate. A year later, the worm starts emerging, most often through legs and feet and measuring a meter (yard) and more, in a revolting and painful process that can stop people from working for three months.

To relieve the fiery pain, a victim puts the foot in water, and the worm emerges and breeds. Just one worm can discharge a million eggs. So hundreds of people using a dam can practice safe water use and one 3-year-old child can ruin the communal effort.

Guinea worm does not kill its victims but debilitates them, at huge cost to communities that already are among the poorest of the poor. Infected farmers cannot farm, infected children cannot walk to school. Few studies have been done on the economic losses, but the Carter Center says that in one year rice farmers in northeast Nigeria lost US$20 million because of guinea worm.

The eradication campaign involves no treatment or vaccine. Instead, health authorities call for distributing water filters, using a mild pesticide to kill the flea carrier in water holes, and counseling villagers to drink only safe water and stay out of the water supply if they're infected.

Carter has said Ghana is putting too little emphasis on these simple steps, and instead focusing on providing expensive water systems to villages.

Dr. Kofi Issah, government director of health services for the Savelugu district, said guinea worm competes for attention with a host of other diseases, including killers. But he said guinea worm deserved attention because "it has to do with a fundamental right to clean water."

Jim Niquette, the Carter Center's Ghana representative, is confident the disease can be eliminated in four to seven years.

Obstacles, though, include water sources that villagers hide from officials and superstitious beliefs that the worms should not be fought because they are punishment meted out by the gods or witches, said Joe Bariki-Laar, the regional coordinator for Ghana Health Services.

Three of Savelugu's four dams had dried up by March, and volunteers were recruited to police the use of water at the remaining dam, a shrunken pond where girls and goats, donkeys and boys, women and cattle come miles (kilometers) for water. Mauve water lilies struggle to survive in one corner.

Infected people are told not to enter the water. Guards try to keep animals and humans apart. Filters are provided. Once a month the water is treated with a nontoxic pesticide, provided free by BASF chemical company. Volunteers teach about preventing water contamination.

It's easy to slip up, especially for a child. Up to 65 percent of those infected are children, probably because they're the main water carriers.

Guinea worm has debilitated mankind for centuries. Some suggest that guinea worms were the Biblical "fiery serpents" that plagued the Israelites during their exodus from Egypt. In Ghana, it's also called fireworm.

As the temperature soared above 90 degrees soon after dawn one morning in Savelugu, it was easy to sympathize with 15-year-old Abubakari Sadik who admitted, with a shamefaced grin, that he was infected last year, had even more worms this year, and knew very well why.

"It was hot and I was swimming and drinking in the dam," he said at a house where Carter Center volunteers extract worms. More than 1,000 children have been treated there this year, and four worms have emerged from Abubakari's feet and legs. He has one more to go.

The emerging worm is wrapped around a bit of stick and, each day, an inch or more is extracted.

"It's so painful that I cannot sleep at night," he said.
All photos: Louise Gubb/The Carter Center
A Guinea worm is extracted by a health worker from a child's foot at a case containment center in Savelugu, Ghana.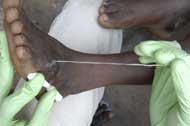 A 20-year fight to eradicate Guinea worm disease, or dracunculiasis, is in the last, and most difficult stages. It could be the first parasitic disease eradicated, and only the second disease to be eradicated in the world, since smallpox in 1979.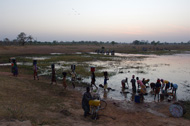 The Dukunani dam, on the edge of Savelugu, serves as a main water source for the community.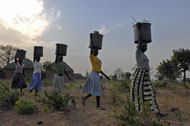 Women carry water home that they collected at the Dikunani dam in Savelugu, Ghana.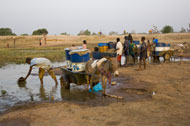 A boy collects water from a dam potentially contaminated
with Guinea worm disease. To prevent the spread of the disease, he pours the water through filters attached to the barrels on his donkey cart before selling it in town.