The rolling, lush landscape of the Ethiopian countryside surrounded the straw and mortar shelter. Inside, Ababora Abajobar, 70, sat in the thick-walled darkness. His weathered hands perched upon his walking stick, his blue socks neatly folded around his scarred shins.
As a young man, Abajobar recounted, he was strong and hardworking and his crop yields were bountiful. He had a wife and seven children. But over time, the living that sustained him also ruined him.
His coffee farm, settled nearby a picturesque stream, was an ideal setting to grow strong coffee plants, but the stream's current also created ideal conditions for black flies to breed. Biting flies are a daily nuisance for farmers working in the low lying area, and Abajobar probably thought nothing of the swarming insects, as he constantly waved them from his skin. It is estimated that in Ethiopia, men, women, and children are bitten by these flies as many as 20,000 times each year.
Today, the scars on his shins and his fading vision tell the story of what happened so long ago. Abajobar suffers from onchocerciasis, or river blindness, a parasitic disease spread by the bites of those irritating black flies. Approximately 17.7 million people worldwide are infected with the disease and 123 million are at risk of it. The unbearable itching caused by the disease, compelled Abajobar to scratch through layers of his skin leaving pink trails of scars up and down his legs.
Hardship befell Abajobar when his wife died. The burden of caring for his children and farm by himself left him destitute.
"It's a very terrible experience I have had. You can see my house here. I had a corrugated metal sheet cover before and I just took off those things at the time when I was desperately in need of money to feed my children. I just took off those sheets and sold them out," Abajobar said.
In order to combat disabling illness caused by river blindness, The Carter Center, in partnership with Ethiopia's Ministry of Health and Lions Clubs International, developed a community-based health system to provide education and distribute Mectizan®, a drug donated by Merck & Co Inc., to villages in Ethiopia affected by the disease. Ethiopia's river blindness program has not only prevented millions of people from contracting river blindness but also has saved multitudes of communities from near extinction. People who once abandoned fertile land near rivers to avoid being bitten have returned to their land and revived their local economy.
Thanks to annual treatment with Mectizan, Abajobar no longer suffers the affects of river blindness. The treatments also will ensure that future generations in the village will never suffer from the disease.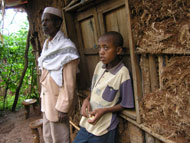 Ababora Abajobar, 70, stands with his grandson outside his house. At one time Abajobar was so poor he sold his roof to feed his children. "The only hope I have is my children and my grandchildren, they are the only hope I have of the future," he said.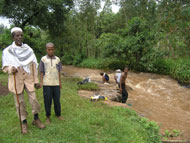 Near where his coffee fields used to be, Abajobar stands next to the stream where black flies breed and spread onchocerciasis, river blindness. At 70, plagued by vision problems and chronic pain from another illness, Abajobar can not work and spends most of his time in bed.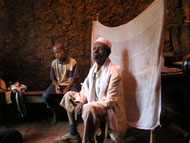 "I am very weak, very old, incapacitated, I don't have anywhere to go," he said. (All photos: The Carter Center)
Learn more about the Carter Center's River Blindness Elimination Program »