By Pat Bellinghausen
MILES CITY – Dr. Susan Gallo practices medicine close to home. A Hysham native, she returned from medical school to Montana to train for rural practice in Billings. Upon graduating from the Montana Family Practice Residency last summer, she took a job in Miles City, an hour's drive east of her hometown.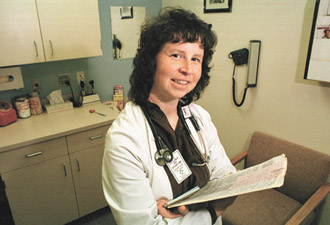 Gallo isn't a psychiatrist, but, in less than a year, she has found that mental health care is a significant part of her family practice in the clinic at Holy Rosary Health Center.
"In residency, we saw a lot of psychiatric patients, and it was good experience," Gallo said in a quick lunch break from the clinic. Caring for psychiatric patients during her three years of residency training has made her more comfortable in taking on patients with serious mental illness in her rural practice. Not all rural physicians are willing to see these patients.
"I don't blame them," Gallo said. "It's a difficult area. I don't see myself as an expert in this, but I think I know enough that I can help most people."
Some patients come in to see Gallo and already have psychiatric diagnoses but don't want to see a psychiatrist. Some see a Billings psychiatrist occasionally but need a local doctor, too. She performs medication management and strives for "good, informal communications" with mental health professionals involved in the patient's care.
Oftentimes, people who are depressed come to see the doctor for other complaints. Gallo makes a point of asking them about symptoms of depression.
"I ask about their sleep, appetite, weight loss or weight gain, withdrawal from social life, whether they have ideas of hurting themselves, tearfulness, loss of interest," she said.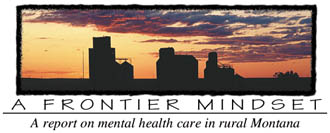 National research confirms what Gallo has observed in Miles City. For example, a study by the University of Virginia School of Medicine found that 19 percent of patients seen in a rural primary care office could be diagnosed with specific mental illnesses, including depression and anxiety disorders. A study of rural Arkansas residents found that they were less likely to seek treatment for depression than were urban residents and that the rural residents preferred seeing their regular doctor to seeing a psychiatrist. Overall, research indicates that mental illnesses are as common in rural areas as in urban areas, but the rural regions have fewer mental health care resources.
Gallo was among six graduates in the class of 1999, the first graduating class of Montana's only residency program. Five of the new family physicians, including Gallo, went into rural practice, and the sixth joined the Indian Health Service research division.
Gallo and the other residents gained most of their psychiatric care experience at the Deering Clinic, a primary care clinic in Billings.
The Yellowstone City County-Health Department, which operates the Deering Clinic, 123 S. 27th St., reports that 60 percent of its 25,000 patient visits last year were people who had no insurance, no Medicare, no Medicaid and, usually, little money. Forty-one percent of patients had incomes below poverty level. Although the clinic's mission is to provide access to primary health care, it has had to become a major provider of mental health care, and it's medical director, Dr. Doug Moore, a public health specialist, spends half of his work week seeing mental health patients. Moore figures that he could work full time in mental health care because of the demand for care by people who have no connection with other mental health resources.
Moore and his colleagues at the health department have become experts in what he calls "primary care mental health." It is a unique partnership. Moore, nurse practitioners and physician assistants on the Deering Clinic staff see patients. Also, the health department contracts with the Montana Family Practice Residency for its physician faculty members and residents to see patients. The residency offices are in the health department building, just down the hall from the clinic.
To help this contingent of primary care providers meet the needs of seriously mentally ill patients, Deaconess Billings Clinic pays for services one day a week from a private psychiatrist, Dr. Duncan Burford.
Over the past several years, Burford, who has a solo practice on the West End, has developed a strong interest in primary care delivery of psychiatric care. The residency program also pays Burford to work one day a week teaching its residents.
Burford sees advantages in treating the whole patient, rather than splitting out psychiatric care "from the rest of the body care." He would like to see mental health professionals going into primary care settings to work side by side with family physicians. This is a change that doctors would have to be trained for, he said.
"Psychiatrists could work with primary care doctors and teach them and have enormous impact and help them take care of problems that are overwhelming the practice," Burford said.
That's what he and Moore are doing at Deering Clinic. From Moore's perspective, mental health care is "core primary care," just as dealing with heart attacks or babies are central to primary care.
"With Dr. Burford here, we can take more complex cases," Moore said. "Primary care doctors should work side by side with psychiatrists. We talk. It's a team approach."
"I have some patients here who I shouldn't be managing, but they have nowhere else to go," Moore said. "We handle mental health differently than we do somebody with a bad heart. You don't have a place to send them."
Moore likes working with mental health patients but believes that most primary care doctors don't want to deal with such cases. He and Burford aren't sure that their side-by-side approach to primary care mental health will be widely accepted. But they are certain that the need for psychiatric consultants to rural doctors will continue.
"There's not going to be enough psychiatrists ever in rural areas," Moore said.
Although no psychiatrists are based in Miles City, Gallo and her colleagues have some connections to help their patients with serious mental illness. Some of Gallo's patients see Billings psychiatrists via telemedicine at a conference room in the Eastern Montana Mental Health Center, just two parking lots away from her office. A psychiatrist from the Mental Health Center in Billings visited Miles City recently to give local physicians a presentation on psychiatric medications. A Deaconess Billings Clinic child psychiatrist visits the organization's Miles City clinic for two days a month. Gallo also frequently calls Burford, but he and other Billings psychiatrists are busy. It's not always possible to get a consultation.
Dr. George Westerman, a psychiatrist who has practiced in California and Montana, has two jobs that involve mental health care education for primary care providers. As medical director of St. Vincent Hospital and Health Center's Medical Practice Division, Westerman has administrative responsibility for a network of primary care clinics in Billings and six outlying rural communities. But as a psychiatrist working with primary care clinics, he also serves as a consultant and a resource for family doctors and physician assistants, some of whom are their communities' sole medical practitioner.
Westerman also sees patients through St. Vincent's Behavioral Health Associates and is working with Yellowstone Community Health Plan, the nonprofit health maintenance organization co-owned by St. Vincent and Blue Cross and Blue Shield of Montana. He has organized training for all YCHP network physicians on treatment of depression. Such continuing education is useful for primary care physicians because psychiatric medications are being updated rapidly, he said.
"There aren't enough psychiatrists in Montana to care for all the people with mental illness," Westerman said. "Primary care doctors deliver more psychiatric care in Montana than psychiatrists do."
Dr. Carmen Johnson, a family physician in Sidney, estimates that mental health care may account for 60 percent of her patient visits. Johnson has always had an interest in mental health care, and it has grown in the 61/2 years since she began working for the Sidney Health Center, the only hospital in Richland County.
"The need was great and you are able to do a lot to help people, especially with the newer medications," Johnson said. She was interviewed by cell phone as she was driving 90 miles from her office in Sidney to Plentywood where she would be the sole physician covering the Sheridan Memorial Hospital emergency room for the weekend.
In her regular practice, she concentrates on addiction treatment and pain management as well as mental health. "There's a lot of overlap" in patients who need care for mental illnesses and chemical addictions, she said.
There's no psychiatrist in Sidney. Johnson believes that some of her mental health care patients would rather see their family doctor for psychiatric care anyway.
"I can do their Pap smears as well as take care of their depression, their husband with bipolar and their kids with snotty noses," the doctor said.
Although family doctors get "a little bit of counseling training" in residency, Johnson has worked to learn more about mental health in her rural practice. She reads to keep current on mental health care, works closely with a clinical psychologist on the Sidney Health Center staff and sometimes calls psychiatrists in Billings or Dickinson and Williston, N.D., for consultations. However, all of the psychiatrists are busy, she said.
Johnson also gleans continuing medical education from audio tapes provided by pharmaceutical companies. She listens to tapes on long drives through Eastern Montana where traffic is light, save for the deer and cattle along two-lane roads.
The doctor has seen improvement in community attitudes toward mental illness. When she first arrived in town, she saw many cases of depression, but the stigma of getting mental health treatment was so great that patients didn't want to take the medicine that would relieve their depression. People feared becoming addicted to medications and felt they should be able to handle their problem on their own, she said.
"It's taken a lot of education, but I think we're making progress," she said.
In Glasgow, Dr. Gordon Bell has seen a significant number of mental health patients in his family practice ever since the community's only psychiatrist retired – 20 years ago. Bell, who has practiced in Glasgow for 22 years, also is on the faculty for the Montana Family Practice Residency. Two family practice residents train under his supervision at Frances Mahon Deaconess, the sole community hospital.
"In rural health care, mental health is the largest unmet need," Bell said in a lunch-time telephone interview. Although the availability of psychiatric referrals has improved a great deal with an increase in the number of Billings psychiatrists, not all Glasgow area families can make the trip.
"It's 280 miles one way. For a lot of people, that's impossible," Bell said.
Mental health care providers and their patients struggle with a lack of resources, but their biggest challenge is public understanding, the doctor said.
"Probably, the single, biggest need is more public education to deal with the stigma," Bell said. "There are still a large number of folks who won't seek care because of the stigma."
Like Burford and Moore in Billings, Bell supports the idea of psychiatrists mentoring and consulting with primary care physicians to treat people with serious mental illnesses. Bell would like to have Burford work in Glasgow one day a week. The problem with this care model is that there is no insurance, Medicare or Medicaid reimbursement for a psychiatrist working with a family doctor.
However, the Montana Family Practice Residency plans to enhance its psychiatric training, thanks to a grant from the federal Health Resources and Services Administration. A grant of $109,831 was awarded for the year beginning July 1.
In Billings, Residency Director Dr. Roxanne Fahrenwald said the grant would expand mental health education for the 18 doctors in training for rural practice. The residency is seeking three years of grant funding to expand psychopharmacology teaching, as well as role modeling, telemedicine, counseling, Internet research and consultants to the Glasgow-based medical residents.
Rural doctors themselves have to learn to manage the stress of their work, Fahrenwald said. Dr. Melinda Payne, a Billings psychiatrist in private practice, works with the residents in a support group to help them work with patients who cause a lot of stress. In rural communities, doctors may have to give patients more support because of a lack of other supports, Fahrenwald said.
"You get very close to your patients," she said.
Fahrenwald said the Montana residency offers more mental health care experience than the norm for family practice training. But she said the experience is valuable.
"In most family practice residencies, psychiatry is a small part of the residency, say one month," Fahrenwald said. "You would manage diabetes, etc., but refer (psychiatric illnesses) to a psychiatrist. You would have little involvement in managing mental illnesses. The residents here get really good experience in that. We have people walk in here with completely unmanaged mental illness."
It's also challenging in busy rural practice to recognize mental illness and to make referrals to mental health care.
"I think rural doctors are uniquely able to do that. They know their patients; they're part of the community," Fahrenwald said.
Used with permission of the Billings Gazette, copyright 2000