By Pat Bellinghausen
After being hospitalized for five days at Deaconess Psychiatric Center in Billings, Richard had a psychiatrist and prescriptions for two medications to manage his bipolar illness. And he had to go back home to Sidney – 275 miles from his doctor and hospital.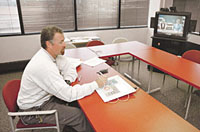 But this 47-year-old Medicaid patient, who requested that his real name not be used in this report, is doing well, working part-time and still seeing his Billings psychiatrist every few months.
"I go out here to the hospital and use the telemedicine to talk to him," he said in an interview at the Sidney day treatment center. "Our telemedicine out here in Eastern Montana is the best in the Union. It's great."
It is private, convenient and saves Richard 10 hours of driving. Two-way audiovisual equipment links Richard in a conference room at Sidney Community Health Center with his psychiatrist at Deaconess Behavioral Health in Billings. They can talk to and see each other in real time on television screens. Their conversation is as private as a telephone conversation because the telemedicine system uses telephone lines to carry the compressed digital signal between doctor and patient.
His psychiatrist usually spends half an hour talking to him on the telemedicine system. Visits in the doctor's office tend to be shorter.
Like Richard, many other clients and professionals who have used telemedicine say they like it. When the choice is a long trip or telemedicine, the convenience of technology often outweighs the appeal of being in the same room as the psychiatrist. Technology is making mental health care more accessible to people who are a long distance from medical specialists. The network that Richard uses, the Eastern Montana Telemedicine Network, saw more than 1,000 patients last year, and 899 of them were mental health patients.
"We can provide better access and, from our viewpoint, improve health care," said Thelma McClosky Armstrong, coordinator at Deaconess Billings Clinic for the EMTN. "Our numbers are going up consistently."
So far this year, the network has added links to the Billings Clinic offices in Miles City and Columbus and has applied for a federal grant to add four sites in central Montana and northern Wyoming.
In 1999, the Eastern Montana Telemedicine Network, linking communities as far east as Sidney and Baker, ranked as the fourth busiest telemedicine network in the nation. Ninety percent of its clinical service is in mental health. The reason for the high volume is simple: There are no psychiatrists in Montana east of Billings. The network spans a service area larger than most. It's more than 300 miles from Billings psychiatrists to the network's most distant sites in Culbertson and Glasgow.
Kay Dorr, a Glasgow native and the only clinical psychologist at the Eastern Montana Mental Health Center in her hometown, sees patients from the five counties in the northeastern corner of Montana. Most of her telemedicine patients have serious mental illnesses and use the network to see Billings psychiatrist David Carlson for medication checkups. Children and adult clients are satisfied with telemedicine, Dorr said, adding that transportation is a big issue when a trip to the psychiatrist means driving for two days.
Adults see telemedicine's advantages, said Marie Logan, a counselor at the Mental Health Center in Sidney.
"It makes the physician accessible," she said. "Otherwise, families would have a long drive that many cannot afford in terms of time or money."
Vernette Torgerson, children's case manager in Sidney, goes to telemedicine appointments at the local hospital with her clients. Torgerson can hear the psychiatrist's recommendations and help arrange what her young clients need. If they were going to Billings, she wouldn't be able to accompany them. She said that talking to a doctor on a television screen doesn't faze the kids.
"They're open to it. They don't think it's out of the ordinary," Torgerson said.
Her take on telemedicine is supported by a study published this spring by the medical journal "Pediatrics." The survey involved child patients, their care givers and medical professionals in a telemedicine project in Georgia where patients and pediatric specialists were 177 miles apart. All groups reported high satisfaction with the quality of the service. Similarly, a research project that delivers psychological consultation from Seattle specialists to children in clinics as far away as Alaska, Montana and Wyoming, reports that 92 percent of patients, referring professionals and consultants like the service.
The Eastern Montana network is a member of the Montana Health Telecommunications Alliance, an organization with a goal of establishing as many connections as possible. The members represent six networks and the Montana Office of Rural Health. The six networks recently had combined capabilities of reaching 39 Montana communities.
"All of us across the state are trying very hard to facilitate those connections. We really want to encourage our systems to be open," said Armstrong, who serves as president of the Montana alliance and is a board member for the American Telemedicine Association. She said it's no problem for doctors to connect to the Eastern Montana Telemedicine Network from the St. Vincent Hospital system or vice versa.
The Partners in Health Telemedicine Network based at St. Vincent Hospital and Health Center is still gearing up for regular clinical use, according to Jan Smith, telehealth coordinator. "Psychiatry is an application we're pursuing," she said.
The St. Vincent network links the Billings hospital with its sister hospitals in Butte and Miles City as well as with the Indian Health Service Clinic at Lame Deer, the IHS hospital at Crow Agency and Wheatland County Memorial Hospital in Harlowton, which St. Vincent is managing. By the end of summer, St. Vincent primary care clinics in Bridger, Red Lodge, Absarokee and Hardin will be on the network.
After seven years of telemedicine, the Eastern Montana network's schedule runs much like a regular doctor's office routine.
"On Monday, from 9 a.m. till 3 p.m., we're doing mental health," Armstrong said. It's not unusual for telemedicine patient appointments to be scheduled all morning or all afternoon.
"Telemedicine technology has turned out to be so similar to in-office visits," said Dr. David Carlson, who has practiced psychiatry at Deaconess Behavioral Health for 14 years and has seen patients via telemedicine since the network started. For the doctor, practicing by telemedicine means walking down the hall in the fourth-floor clinic to the telemedicine conference room. His patients are scheduled, just as they would be in the office. But instead of waiting at his clinic, they are in a telemedicine conference room in their hometown.
Carlson specializes in use of psychiatric medications. All of the patients he sees by telemedicine either are using medications or are being evaluated for possible prescriptions. The system has excellent audiovisual capabilities, Carlson said. He converses with his patients, and, if they consent, he talks with family members and case managers during the telemedicine visit. He can use the camera to zoom in on eyes or tongue or ask the patient to walk so he can evaluate tremor, stiffness and other possible side effects of medication.
In the past, Carlson always saw patients at least once in person before seeing them by telemedicine. But in the past couple of years, he has had new patients who strongly preferred not to come into his Billings office at all. So the doctor has begun seeing some new patients via telemedicine. He still slightly prefers having a face to face meeting for the first visit.
The availability of telemedicine encourages people to see the psychiatrist when they would otherwise not get treatment because of the long trip to Billings, the doctor said. Other patients who live in small towns see both Carlson and a local primary care doctor who may be better able or more willing to work with a patient who also is getting care from a psychiatrist. Communication with the patient's local health care providers is critical to telemedicine, Carlson said.
Many of his telemedicine patients are elderly, and they are most uncomfortable with the idea of a long drive to the doctor's office. Carlson said that many of them wouldn't get care if it weren't for telemedicine. However, Medicare discourages use of telemedicine, especially for psychiatry. Medicare hasn't covered any mental health services delivered by telemedicine, the doctor said. Deaconess Billings Clinic, a private, nonprofit organization, received no payment for 147 Medicare mental health patients seen via telemedicine last year.
All 11 of the Deaconess Behavioral Health psychiatrists and clinical psychologists see patients over the telemedicine network. Armstrong said the network also is open for use by Billings mental health professionals outside the Deaconess organization.
"With very few exceptions, patients have really liked the system. The families of chronically mentally ill people are much happier with this," Carlson said. "I think we have saved the state a lot of money in (Medicaid) transportation. We have provided a lot better care and kept people out of hospitals. Patients are making this choice."
Used with permission of the Billings Gazette, copyright 2000