By Pat Bellinghausen
Father, educator and wrestling coach, Bob Charette is a storyteller, too. Stories are one way of sharing Indian culture with his children and his students, said Charette, a member of the Turtle Mountain Chippewa Tribe.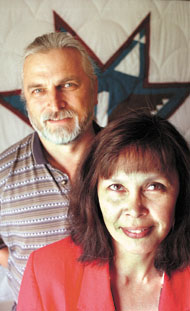 In Indian tradition, stories were used to teach children morals and lessons. Today, traditional stories also teach Indian children about their culture.
"Each tribe has its own language, customs and history. Despite hardship and massacres, Indians are resilient and have much to give," Charette said in an interview in his Lockwood home.
Charette and his wife, Connie, are one of 90 foster families in the In-Care Network, which provides therapeutic foster care for Native American children with serious emotional or medical problems.
"Anyone wanting to care for an Indian child needs to commit themselves to learning as much as possible about Indian culture," Bob Charette said.
Even if an Indian child hasn't been raised in an Indian culture, someday he will confront it, Charette said. If the child has brown skin, people will ask him about being Indian. Indian children face issues of cultural identity in school.
Charette's daytime job is working with Indian students at Billings West High School and Garfield Elementary School. He is one of nine Title 9 workers employed by the district to serve about 1,000 Indian students throughout the district. After school, Charette coaches the All Stars and Stripes Wrestling. His program emphasizes health and fitness, but it also has trained a number of champions in the 21 years he has been coaching.
Charette grew up knowing elders who spoke their native languages and shared vivid memories of Indian traditions. His upbringing on the Fort Peck Indian Reservation is the reason that he and his wife, Connie, became therapeutic foster parents with In-Care Network. They trained to be good parents to children with serious problems.
"It's kind of an Indian tradition to take somebody's child when people are under duress," he said. "I was taken by people when I was 9 months old and raised in a home where there were foster children. We would take kids until their parents got back on their feet."
"We were one of the initial families of In-Care," Charette said. Married 27 years, the Charettes have raised their own two sons along with several foster children.
Charette recalled how he, along with Bill Snell and Corbin Shangreau, first talked about the lack of culturally appropriate foster care for Indian children with serious medical or emotional problems. The three had been involved in foster care, but saw that the programs in place were not meeting cultural needs.
"So we took a gamble and established a program to serve Indian children. It's been 15 years now," Charette said.
Sixty-five children were in In-Care therapeutic family care homes in Missoula, Great Falls, Havre, Wolf Point, Hardin and Billings recently, according to Executive Director Bill Snell, who is Crow and Assiniboine. In-Care has a goal of providing 70 percent Native American homes – homes in which least one parent is American Indian.
Filling a need
The need for culturally appropriate care is great, said Deborah Wetsit, a clinical psychologist with In-Care, a former University of Montana professor and a member of the Assiniboine Tribe. Thirty percent of the Montana children in foster care are Indians, although Indians account for only 6 percent of the state population.
In May, 656 Montana Indian children were in either regular or therapeutic foster care, according to the Montana Division of Child and Family Services in Helena. Among 176 children in therapeutic foster care, 68 were Indian children, according Gail Clifford of the Division of Child and Family Services. Clifford's numbers include all children whose care involves the child services division, but other state reports indicate that there are about 100 additional youngsters – Indian and non-Indian – in therapeutic foster care through other agencies.
"When we started 14 years ago, the state only had one Indian foster home in this region," Wetsit said. Now In-Care has 90 therapeutic foster homes statewide among 255 licensed by the state.
The U.S. Surgeon General's report on mental health, published in December, advocates use of therapeutic foster care and culturally appropriate care. "Mental Health: A Report of the Surgeon General" said: "Research has shown that programs that specialize in serving identified minority communities have been successful in encouraging minorities to enter and remain in treatment."
The report, prepared under the direction of Surgeon General David Satcher, summarized controlled studies and other research on therapeutic foster care. The report noted that the majority of emotionally disturbed children cared for in these special foster homes made significant improvements in adjustment, self-esteem, sense of identity and aggressive behavior. "It is clear from these studies that therapeutic foster care produces better outcomes at lower costs than more restrictive types of placement," the report said.
In-Care receives referrals from tribes, from the Bureau of Indian Affairs and from the state Division of Child and Family Services.
"We get them because they aren't able to remain in home, foster care or kinship care," Snell explained. All of the In-Care children have special medical and emotional needs; most are Crow or Northern Cheyenne. The average age of children in care is 8.3 years, but the children range from newborn to 21. In-Care works to find the children homes in their own community, although that is not always possible.
"We value the family very strongly. Our ultimate goal is to reunify," Snell said.
One gap In-Care has identified is a lack of care once children leave the therapeutic foster home. So the organization tries to use whatever resources are available in the child's home community.
"In a rural setting, you have to look at spiritual leaders, appropriate extended families and clans," Snell said. In-Care tried to involve spiritual leaders as members of the team dedicated to the child's wellbeing.
Finding the fit
When Brenda and Charles Redfield first started doing therapeutic foster care in Wolf Point two years ago, there weren't any other In-Care foster families in this Fort Peck Indian Reservation community. Charles Redfield is Crow.
"We were the only In-Care home. Now we have three and several more in the works," Mrs. Redfield said. Having a small community helps in foster care. "It encourages other people to help," she said.
The Redfields became foster parents because his parents were foster parents. The younger couple saw "the children they took in blossom into beautiful people."
The Redfields, who have three daughters of their own, saw that each of their two foster sons fit right into the family. One of the Redfields' foster sons has a success story; he returned home to his biological mother. The Redfields' second foster son didn't return to his biological family. On the day a reporter spoke with Mrs. Redfield, she was getting ready for the arrival of a new foster daughter. That little girl was one of four Indian children whom In-Care had been asked to place in the Wolf Point area. Two of the other children needed more care than a therapeutic foster home could provide. Work was under way to license a relative of the fourth child to provide foster care.
Mrs. Redfield also works for In-Care part time in administration and recruiting foster parents. Her recruiting pitch is her own experience as a foster parent:
"The biggest thing we've found is being willing to listen and let the child know he's loved," she said. "Just the gratification from helping one child is tremendous."
Pam and Darrell Lehnen's career as foster parents is tied to their love of the foster children. The Billings couple became foster parents because there was enough room in their hearts and home for a third child. They became therapeutic foster parents when one of their foster children needed more intensive care. They became In-Care therapeutic foster parents when their Native American foster son's care was transferred to In-Care. The child had already had a dozen placements before he arrived at the Lehnens' home.
"We've become very good parents," said Mrs. Lehnen, a registered nurse.
In addition to their own two elementary school-age children, the Lehnens recently have been caring for a preschooler and a second-grader as foster children. The two foster children have serious medical disabilities.
The older foster child has been with the Lehnens for more than a year. Mrs. Lehnen takes him to regular visits with his family and to powwows.
"We find it very important to know his culture," she said. "He's got so much potential. He just needs some time and attention, and my children love him."
Another Billings foster parent, Sandra Lucero, has made sure that her foster daughter attends In-Care programs that teach about Indian culture. The little girl, whose family lives in a small Montana town, is in the Grand Child Journey program to learn about tradition from tribal elders, and she dances at powwows.
Lucero invited her foster daughter, a second-grader, to be part of a cultural awareness day at Castle Rock Middle School where Lucero is a special education assistant. The little girl grinned when she talked about the opportunity to dance in her beautiful blue jingle dress adorned with many tiny golden bells. In-Care volunteers made the dress just for her.
Lucero was a mother and a grandmother before becoming a therapeutic foster parent. Being a therapeutic foster parent means being a really good parent to children who have problems, she explained. She has friends who work for In-Care and decided last year to apply as a foster parent.
"It's worked out really well," she said.
For her part, the child likes playing with Lucero's toddler grandson and seemed to smile every time her foster mother smiled. The girl said she likes math, reading, drawing, and, of course, dancing.
She is Lucero's second foster child. The first was a teenager who ran away.
"I wanted a teenager because I work with seventh- and eighth-graders. Do I want a teenager now? No. I'll stick to the little kids," Lucero said.
Understanding the demands
Bob and Connie Charette agreed that foster parenting is rewarding, and they agreed that potential foster parents need to understand the demands of the job.
"It's not for the faint of heart," Charette said. "You shouldn't approach this unless you are really committed. These children have a lot of problems. They have had many placements. It's something everybody in the family has to sign on to."
"If you are taking a high-risk child, you must consider how it's going to affect your family," Mrs. Charette said. For example, she said, a child who is a sex offender could present a risk for young children in the family. "There is a need to match the family and the child. Your No. 1 priority is your own family."
For Mrs. Charette, being a foster mother is about loving children. The mother of two boys, she longed for a baby girl. Her dream came true 15 years ago when In-Care brought a 15-month-old girl to the Charette home. The baby had cerebral palsy and couldn't move.
"I instantly fell in love with her," Mrs. Charette said. "She couldn't even hold her head up. The doctors told us she wouldn't get any better."
The baby grew up, learned to walk and went to school. Now a teenager, she is still part of the family. Most foster care placements are much shorter than that of the Charettes' foster daughter, and they have had other foster children for less time.
"She's quite a kid," Charette said of his smiling, bright-eyed foster daughter.
"We've gotten as much as we've given her," Mrs. Charette said. "She's been a real joy for us."
Used with permission of the Billings Gazette, copyright 2000